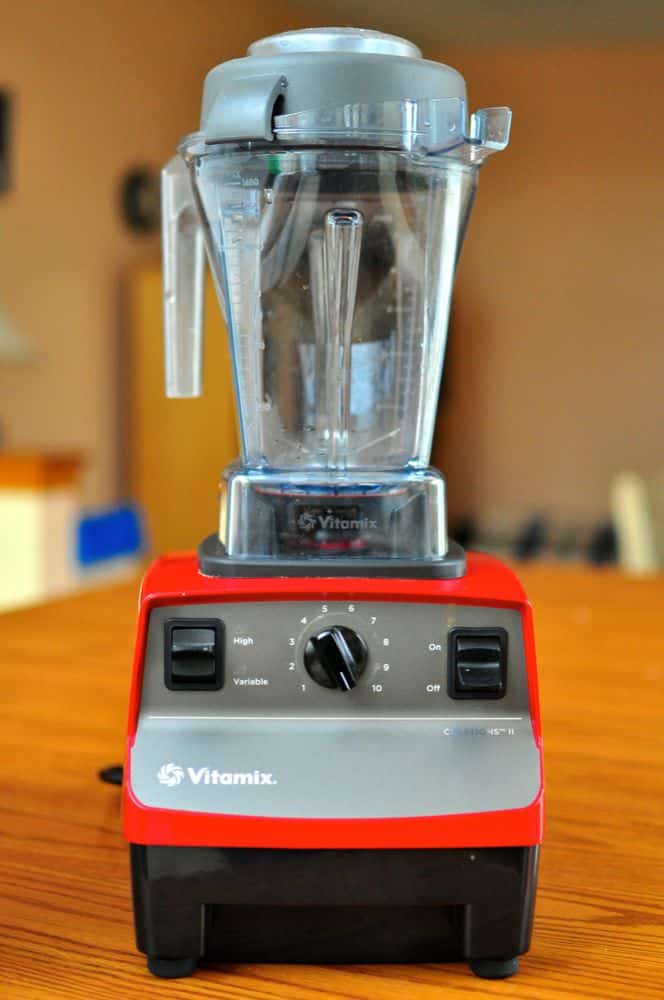 Vitamix - the blender of the pros. When I visit a smoothie shop, they have a line of Viatamix blenders, each with a noise reducing cover. My health food store uses them to make shots of wheatgrass juice.  If you know a Raw Food fanatic, someone who believes cooking food kills nutrients, I'll bet they have a Vitamix on a pedestal in their kitchen.
I'm a gadget hound. I always want bigger and better. This is a bad thing in the kitchen, because good enough is usually good enough. But I keep looking for an excuse to trade up.
My blender was the exception. I use a blender exclusively for frozen margaritas. Everything else goes in the food processor, or I use a stick blender. My wife and kids, however, are smoothie fiends. They make them every chance they get, and twice on weekends. My wife hinted to me that she wouldn't mind a better blender…especially since she was taking classes with someone who worked for Vitamix.
That's how I found out the Vitamix factory is just up the road from me in North Olmstead, Ohio. And they have a factory outlet store in a nearby strip mall Solon, OH. Road trip!
[Update 8/29/2014 - The North Olmsted Vitamix store is closed, and the new Vitamix Culinary Exploration Center is open in Solon, OH, in a much nicer space. So, a lot of what I said about the store itself is out of date. Not about the deals though - they're still available, though the prices may vary over time.]

Vitamix Factory Outlet Store Solon
6134 Kruse Drive
Solon, OH 44139
Phone: (440) 782-2002
Web: vitamix.com/contact
Email: vitamixstore@vitamix.com
Hours: M, T, W, F 10AM-6PM EST
Thurs 10AM-9PM ET
Sat 10AM-6PM ET
Sun 12PM-5PM ET
The outlet store is...well, let's be kind, and call it minimalist. Boxes of blenders are lined up against the wall. A small stage is in the middle of the store, with a few blenders out so the salespeople can show them. On the weekends they have demos on the stage; local chefs come in to show what you can do with a Vitamix. If you go there during the week, you don't get a show. What you get is a good deal on a monster of a blender.
I bought a refurbished Vitamix 5200 with their shorter, 48 ounce container, for $329 (plus tax), which goes for $450+ new. The same blender with the tall container was roughly $380, and the pro model, with built in sound damping, was a little more than that.
*I'm not sure why Vitamix calls it a "Pro" model - all their blenders are built for professional use.
Now, is the Vitamix worth $300+ dollars? It is the best blender I've ever owned, by far. It churns its way through everything I've thrown at it. I'm glad I got it, but it sure is expensive for a blender.
But it doesn't matter what I think. My wife and kids love "their" Vitamix. Every weekend they pore over the cookbook and add things to my grocery list. We've had mixed berry smoothies, apple smoothies, orange and banana smoothies, and mango smoothies. We've had peanut butter cup milkshakes and strawberry milkshakes. We've had margaritas made by throwing whole limes in the blender. (Which are good, but not as good as Mexican Martinis.)
Diane even made soup, using the blender's ability to heat ingredients. The Vitamix is so powerful that if you leave it running for five minutes, it will heat the ingredients to a it heats the contents. Now, don't trust this to pasteurize anything; it warms the soup, but doesn't cook it. (And I have to say, the spinach and potato soup was excellent.)
If you want the best blender available, don't want to pay full price, and live in Northeastern Ohio, stop by the Vitamix factory store.
Online refurbished Vitamix Blenders
If you can't get to Northeastern Ohio, Vitamix has online deals for refurbished blenders. Check out Vitamix Refurbished Blenders. If you use that link, I'll get a commission for sending you their way, and you'll get free shipping. (If you use one of the links on this page, you should automatically get the free shipping code - look for it when you get to the checkout page.)
*FCC Disclosure - I did not receive any compensation for this post, and purchased the Vitamix with my own money. I did sign up as a Vitamix affiliate; if you buy a blender through the links on this page, you get free shipping, and I get a commission.
Resources
Why Viatmix over BlendTec, or other brands? Read this summary at TheWirecutter.com: The Best Blender.
Vitamix.com - Official site, full of ideas and recipes.
Map
Vitamix Culinary Exploration Center:
*Enjoyed this post? Want to help out DadCooksDinner? Subscribe to DadCooksDinner using the RSS or Email options on the right, link to this post from your blog, recommend DadCooksDinner to your friends, or buy something from Amazon.com
through the links on this site. Thank you.