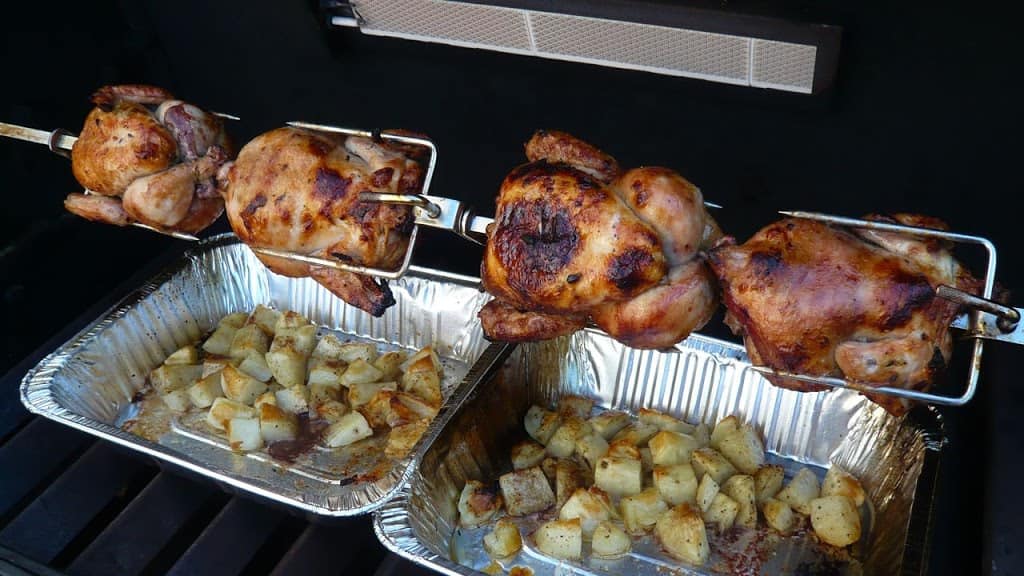 I've been writing this blog for a little while now, and I've been amazed at the number of readers that my rotisserie recipes attract. I know from my own research that rotisserie recipes are few and far between - when I find a new one, I get excited about something else I can try with my favorite grill gadget.
The recipe that everyone seems to find is my Rotisserie Cornish Game Hens. That post has three times more viewers than any other post I've done. I was even more amazed to find out that I show up on the first page of search results if you Google "rotisserie cornish game hens".
*My blog? Showing up "above the fold" on Google? Whoohoo! I've hit the big time! On a busy day, I have dozens of readers. Dozens! Hmm. That doesn't sound as impressive as it did when I said it in my head.
**I'm addicted to Google Analytics. Every morning, I get up and check my stats from the day before - how did I do? What search terms brought people to my blog? Wait...someone in the Czech Republic visited my blog? Where are they from? Liberec? Where's that?
I was inspired to do a follow up post. If people like one rotisserie cornish game hen recipe, why not another one? The main reason I wanted to revisit my little chickens is: Usually, I don't pre-salt the hens.
*It's a great way to do it, but the overnight salting takes more foresight than I have under normal circumstances.
Instead, I usually brine my cornish game hens. Brining gives you more of a temperature cushion in poultry, because the brine causes the meat to suck up more moisture. That's good if you accidentally cook the breast meat past 165*F - the extra moisture keeps them from getting too dry to be good to eat. Also, and more important, it seasons the meat all the way through, and if you add a little sugar to the brine it gives it a nice hint of sweetness.
Recipe: Rotisserie Cornish Game Hens, Brined and Herbed
Equipment
Print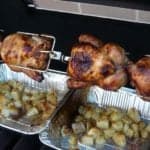 Rotisserie Cornish Game Hens, Brined and Herbed
---
Author:

Mike Vrobel

Total Time:

4 hours 45 minutes

Yield:

6

-8

1

x
Description
Rotisserie Cornish Game Hens, brined and rubbed with a herb paste from my garden.
---
4

(1.5 pound) cornish hens
Brine
½ cup

table salt

¼ cup

sugar

2 quarts

water
Herb rub
4 teaspoons

fresh thyme, minced

2 teaspoons

fresh oregano, minced

2 teaspoons

fresh rosemary, minced

2 teaspoons

sage, minced

1 teaspoons

freshly ground black pepper
Zest of

1

lemon (roughly

1.5 teaspoons

)

2

cloves garlic, minced

2 tablespoons

extra virgin olive oil
---
Instructions
Brine the hens: In a container large enough to fit all the hens, mix the salt and sugar in the water until dissolved. Submerge the hens in the brine, and refrigerate for 2-4 hours.
Prep the hens: Put the herb rub ingredients in a small bowl, mix to combine, and set aside. Remove the hens from the brine, and pat dry with paper towels. Be thorough - wet hens won't brown! Loosen the skin covering the breasts of the hen by carefully running your finger under the skin. Get a little of the herb rub on the breast meat where you just loosened it, and spread it all over the breast. Rub the hens with the rest of the herb rub, making sure to get some inside the cavity as well. Truss the hens and put them on the spit. It helps if you have four sets of forks for your spit for this. Put the hens on in two sets of two - first bird on the spit feet first, then the second bird breast first, so the neck part of the backbone of the two hens are touching. Then use a fork to secure the first pair of hens. Repeat for the second set of hens. Let sit at room temperature while you prepare your grill.
Prepare the grill: Set your grill up for rotisserie cooking at high heat. For my Weber Summit, this means removing the grates, turning the two outer burners (burners 1 and 6) to high, and turning the infrared burner to high. Then I put my drip pans in the middle, over the unlit burners.
Cook the hens: Put the spit on the grill, put your foil pans under the hens, and start the spit spinning. Cook with the lid closed. It will take for 30-45 minutes, depending on the size of the hens. (It took 45 minutes for my 1 ½ pound hens). Check the internal temp on the hens after 20 minutes, and every 10 minutes thereafter - you want 160*F to 165*F in the breast, and 170*F to 180*F in the thigh. Remove the spit from the grill (while wearing gloves!), and remove the hens from the spit. Cover the hens with foil, and let rest for 15 minutes before serving.
Final prep and serve: Cut the hens in half - I find a half a hen to be a good serving for an adult, with one hen per person if they're a big eater. If you have poultry shears or kitchen shears, cut the chicken along one side the backbone, and then through the middle of the breast to separate the hen into two halves. If you don't have shears, use a large knife. On a cutting board, run a chef's knife through the cavity and split the chicken along the backbone, then turn it over and split through the breast.
Prep Time:

4 hours

Cook Time:

45 minutes

Category:

Rotisserie

Cuisine:

American
Variations:
*Different Herbs: The herbs listed above are what you get if you buy a "Poultry Pack" of fresh herbs, which is what I look for when I want a variety of different fresh herbs. Use whatever herbs you like, just try to use roughly the same amount, total, that I have above. Oh, and watch out for rosemary. A little is good, too much and you wind up with something that tastes like a pine tree. During the summer, when our garden is producing, I'll use what we have grown - usually some combination of parsley, basil, thyme, and rosemary.
*Of course, after making this, I went out and checked our garden - the thyme is growing like mad. Darn! I could have used it in the recipe. Next time...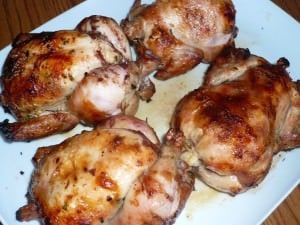 Notes:
*Watch your hands with the hot spit! Use oven mitts or (preferably) welding gloves.
*As you can see in the pictures, I made my rotisserie pan potatoes along side this recipe. They're almost as good as the hens - potatoes browned in chicken fat. Just don't pretend you're on a diet when you eat them...
*If you can find them, use fresh hens. It's been a busy week, and I didnt' want to make the trip downtown, so I used frozen hens this time around. It worked out - with the brine and the herb rub, they tasted great. If you do use frozen hens, make sure they're thawed before brining them. The brine doesn't get absorbed if the hens are frozen.
*I made a big mess trying to remove these hens from the spit. The back pair of hens dripped all over the table and the floor while I was trying to get the front pair loose and on the platter. Next time I'm going to line up a sheet pan next to my platter, to give me a landing strip for the juices.
*I love these Rubbermaid 8 quart food service containers
for brining. They're the perfect size for 4 cornish hens (or 2 chickens) to just fit. If you don't have one of these, try your stockpot. If you need more brine to get your chickens submerged, just use a ratio of ¼ cup salt, 2 tablespoon sugar, and 1 quart water to make more.
*Are cornish game hens really a game bird? No, they're just a young chicken.
What do you think?  Questions?  Other ideas?  Leave them in the comments section below.
Related Posts:
References and inspirations:
Alton Brown
introduced me to brining, but
Cooks Illustrated
helped me get it down to a science.
The Cooks Illustrated's Guide to Grilling And Barbecue
---
Everything you could ask about the rotisserie,
plus 50 (mostly) new recipes to get you cooking.
It's a Kindle e-book, so you can download it and start reading immediately!
---
*Enjoyed this post? Want to help out DadCooksDinner? Subscribe to DadCooksDinner using the RSS or Email options on the right, link to this post from your blog, recommend DadCooksDinner to your friends, or buy something from Amazon.com
through the links on this site. (Like my Rotisserie Grilling cookbook...)