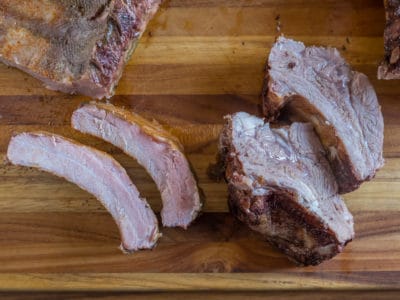 I wanted to sous vide a rack of baby back ribs - they were on special at my local grocery store, and I've been meaning to try pork ribs sous vide. When I went looking for recipes, I found out there were two schools of thought on how to sous vide ribs:
6 hours at 167°F/75°C. Use sous vide as a precise version of low and slow barbecue. Set the sous vide machine to 167°F, wait six hours, and pull out tender, shreddable ribs.
48 hours at 141°F /60.5°C. Cook the baby back ribs like pork chops…for a very long time. In this method, you let the ribs cook for at least 24 hours - I go with 48 hours
That got my curiosity going - what's the difference? Which should I use? So, I ran back to the store, picked up a second slab of ribs, and plugged in my sous vide cookers. One batch went for two days, and the second went for four hours. Which contender came out on top?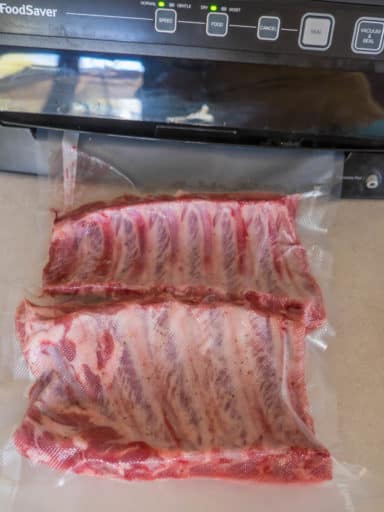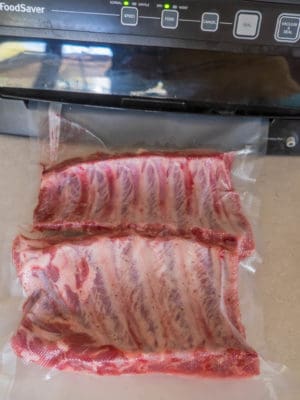 In the right corner… 6 hour, 167°F Ribs
Cooking at traditional "low and slow" temperatures results in a traditional rib, with tender meat that comes off the bone in shreds. The results are like oven baked ribs, but they're not as good as what you'd get from a true barbecue smoker. 1You lose the smoke and the crusty "bark" on the outside. Still, they're good ribs, especially slathered with a layer of barbecue sauce and run under the broiler to crisp up. If you're cooking for people who - ugh - boil their ribs to "tenderize" them before finishing on the grill, make these instead.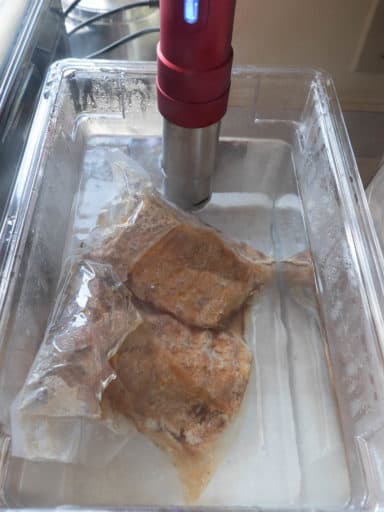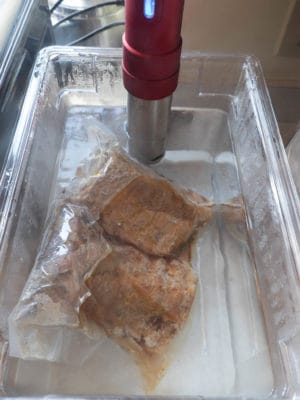 In the left corner…48 hour, 141°F Ribs
This is modernist cooking, using food science and precise temperatures. The long cooking time breaks down the collagen in the ribs, even at this low of a temperature, resulting in tender ribs, but the meat doesn't dry out because of the low cooking temperature. These ribs are a revelation, with meat that slips right off the bone when you take a bite. It is perfectly tender, but still has a hint of pink and medium doneness. It is like biting into the most tender pork roast you've ever had.
The winner is…
Which do I prefer? The 48 hour ribs. I'm definitely going to make those again. The 6 hour ribs are a good, not great version of traditional ribs. I'd rather fire up my grill and get a good dose of smoke and some bite to the outside of the ribs. The 48 hour ribs are something completely different, and worth their own cooking technique.
I do think 6 hour ribs have their place. Sometimes life gets in the way, and dinner is about getting good food on the table instead of searching for the perfect meal. A bag of ribs in the freezer means I'm ready to go - I can drop them in the sous vide at lunchtime and get back to work. Then I have tender ribs ready any time I need them, between 6PM and 9PM; cut open the bag, brush with sauce, run the ribs under the broiler for a couple of minutes, and I have a minimal effort dinner. 2Sure, if I'm on the ball, I can do this a couple of days ahead of time and make the 48 hour ribs. But I can't seem to make that work in real life - dinner two days from now? I'm dealing with a baseball/softball double header tonight - I don't have time for that!
Recipes
Notes
Owning multiple sous vide units comes in handy when I'm doing tests like this. And, I have to say, I really like the SousVide Supreme unit for multi-day cooking. The insulated, one piece body with a lid holds on to heat better than my other units, and I don't have to worry about evaporation.
What do you think?
Questions? Other ideas? Leave them in the comments section below.
Related Posts
48 Hour Sous Vide Grilled Beef Short Ribs
Sous Vide Carnitas
Sous Vide Rack of Lamb With Dijon Bread Crumb Crust
Enjoyed this post? Want to help out DadCooksDinner? Subscribe to DadCooksDinner via eMail or RSS reader, recommend DadCooksDinner to your friends, and buy something from Amazon.com through the links on this site. Thank you.