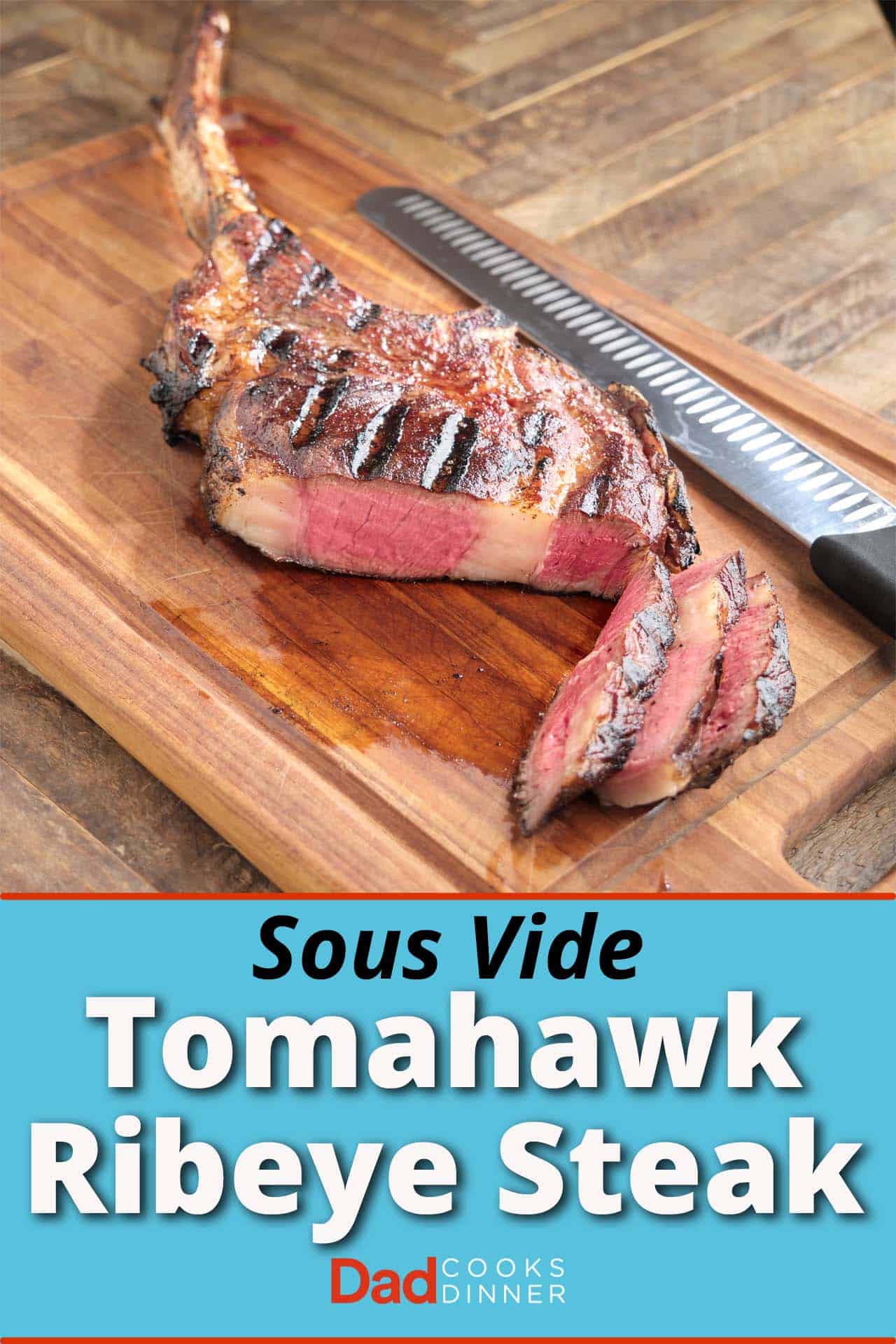 Sous Vide Tomahawk Ribeye Steak. Massive ribeye steaks with a Flintstones-worthy bone cooked Sous Vide in my (extra-large) container.
My birthday present (to myself) was a trip to The Farmers Rail for tomahawk steaks. My eyes were bigger than my stomach, so I bought three of them. (One for me, two to split between everyone else.) It wasn't until I got home that I realized quite how much beef I had bought. I grilled two of the massive steaks (2-inch thick, 2 ½ pounds of beef, 2 feet of bone), which was plenty of steak for all five of us. Then I vacuum sealed the third one and stashed it in the back of the freezer for later.
That was back in June.
I'm digging through my freezer, trying to squeeze in a bag of tater tots, and I realize I have a hidden treasure taking up all that space - my extra ribeye! Time to get out the sous vide tank…wait a minute…time to measure the sous vide tank and make sure this monster will actually fit.
(Nope. One trip to Amazon later…)
OK, it fits in my new, big sous vide tank…but barely. Time for some beef!
I like my ribeye on the medium side of medium-rare, what my friends at Certified Angus Beef referred to as "Medium Rare Plus". That extra little bit of temperature - 135°F - helps render a little more of the fat in the ribeye, while still leaving it on the edge between red and pink in the middle.
And that is the best part of sous vide cooking - it allows very precise cooking, to exactly medium-rare plus, without fear of overcooking. The sous vide water bath is set to the temperature I want my meat, and it will get there, and never go over. Perfect pink every time!
Recipe: Sous Vide Tomahawk Ribeye Steak
Print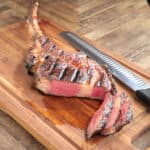 Sous Vide Tomahawk Ribeye Steak
---
Description
Sous Vide Tomahawk Ribeye Steak. Massive ribeye steaks with a Flintstones-worthy bone cooked Sous Vide in my (extra-large) container.
---
2

-inch thick tomahawk ribeye steak (about

2 ½

pounds)

1 teaspoon

fine sea salt (or

1 ½ teaspoons

diamond crystal kosher salt)

½ teaspoon

fresh ground black pepper
---
Instructions
Prep the sous vide water bath: Preheat the sous vide water bath to 135°F/57°C for medium-rare plus. (Medium-rare is 130°F/54.5°C, medium is 140°F/60°C, rare is 120°F/49°C).
Season and vacuum seal the roast: Measure a roll of vacuum bag long enough to fit the roast. Seal one side of the bag, then season the roast with the salt and pepper, slide it into the bag, and vacuum seal the bag.
Sous Vide the roast: Put the bagged roast in the sous vide water bath, and sous vide for at least 3 hours or up to 6 hours. (If cooking from frozen, cooking time is 5 to 8 hours). Remove the roast from the vacuum bag and pat dry with paper towels.
Sear the roast: Preheat a grill set for high heat on one side of the grill (For my Weber Summit, I preheat the grill with all burners set to high for 15 minutes, then turn off half the burners and leave the other half on high. For my Weber Kettle, I light a full basket of charcoal, then spread it out over ⅓ of the grate, about 3 coals deep, with no coals on the other side) Sear the steak for 4 minutes, flipping every minute, and rotating the steak 90 degrees after the first flip to get a crosshatch of grill marks, and moving the steak if it starts to flare up. (There is a lot of fat in a ribeye - it will flare up.)
Slice and serve: Let the steak rest for a few minutes, then cut it away from the bone. I slice the steak into ½ inch thick slices to serve, and take the bone as a chef's treat.
Notes
Don't have a blazing hot grill? You can broil for 1-2 minutes a side with your oven broiler set to high, with the steak as close to it as you dare. My broiler doesn't get as hot as my grill, and I want a nice sear, so I go with the grill.
I can't use my usual "ripping hot cast iron pan" trick, because the bone won't let the steak lay flat in the pan. If you have a flat cast iron griddle it might work, but all I have are frypans with high sides.
This massive steak serves 2 to 4 people, depending on how carnivorous they are. (It's more of a small roast than a large steak.)
The wide range of cooking times is because Sous Vide will hold the meat at the temperature of the bath. 3 hours is the minimum, but you can leave the beef for a few hours without any loss of quality. What happens if you keep going? The meat starts to over-tenderize. (I use this trick with tougher cuts on purpose, but with a tender cut like ribeye, I don't want to over-tenderize it.)
What do you think?
Questions? Other ideas? Leave them in the comments section below.
Related Posts
Grilled Tomahawk Steak (Long Bone Ribeye, Reverse Seared)
Sous Vide Boneless Ribeye Roast
Sous Vide Peppercorn Filet Mignon
Sous Vide Flat Iron Steak with Baby Kale Salad
24 Hour Sous Vide Chuck Steak
How to Cook a Wagyu Ribeye Steak
My other Sous Vide Recipes
Enjoyed this post? Want to help out DadCooksDinner? Subscribe to DadCooksDinner via email and share this post with your friends. Want to contribute directly? Donate to my Tip Jar, or buy something from Amazon.com through the links on this site. Thank you.