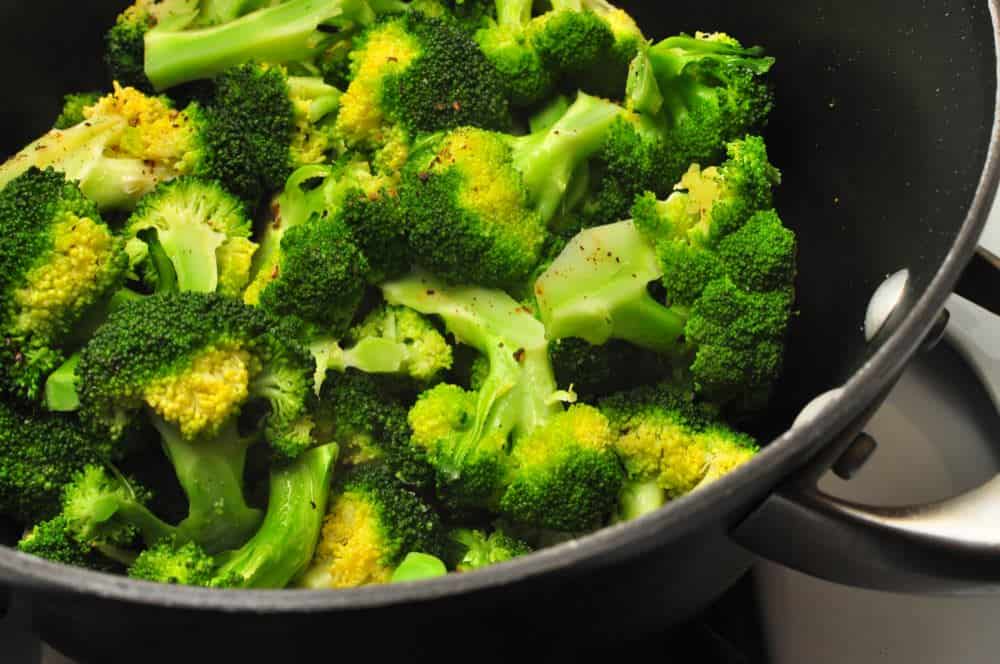 Looking for a way to add a little pizazz to plain old steamed broccoli? Looking for a side dish that has an intriguing combination of flavors, but fast enough for a weeknight dinner? Broccoli with Parmesan and bread crumbs is a quick side dish that is fancy enough for company.
*Steamed broccoli makes a regular appearance in my weeknight dinner schedule. I don't think a meal is complete without something green, and broccoli is almost always on sale at my local grocery store.
This recipe combines the soft texture and mild vegetable taste of steamed broccoli with nutty, salty Parmesan and crispy, toasted bread crumbs. The flavors are complex enough to impress adults, but the cheese and crunchy bread crumbs make the recipe kid friendly.
I've found I can (sometimes) sell broccoli to my kids as "little trees". I know, it's silly, but whatever works....
Recipe: Steam-Sauteed Broccoli with Parmesan and Bread Crumb Topping

Adapted from Pam Anderson How to Cook Without a Book: Recipes and Techniques Every Cook Should Know by Heart
Equipment:
Wide saucepan or fry pan with a lid
Ingredients:
½ cup panko bread crumbs (or 2 slices of bread, ground in a food processor)
1 lb broccoli florets, cut into one inch pieces
½ cup water
½ teaspoon kosher salt
½ teaspoon ground pepper
1 tablespoon olive oil
¼ cup grated Parmesan cheese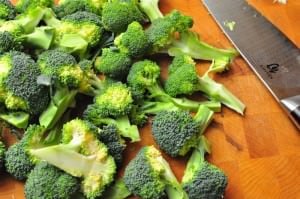 Broccoli cut and ready to go
1. Toast the bread crumbs: Toast the bread crumbs in the pan over medium heat, tossing and stirring constantly until golden brown. Move the crumbs to a bowl and wipe out the pan for the next step.
*Pay attention while doing this - bread crumbs go from pale to burnt very quickly. If you are distracted at the wrong moment, it can be a disaster.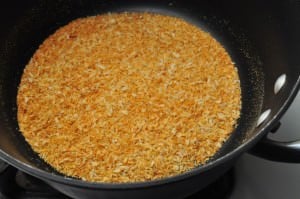 Panko bread crumbs, perfectly browned
2. Steam the Broccoli: Put the broccoli in the pan. Add the ½ cup water, and sprinkle with the ½ teaspoon kosher salt, ½ teaspoon ground pepper, and 1 tablespoon olive oil. Cover the pan, and turn the heat to medium-high. Wait for the water to come to a boil, then cook, covered, for 5 minutes, or until the broccoli turns bright green.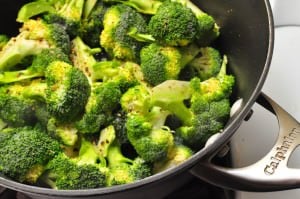 3. Saute the Broccoli: Remove the lid, and cook, tossing the broccoli occasionally to coat it in the liquid in the pan. Keep cooking until the broccoli stems are just tender when pierced by a paring knife.
*You should be left with just the olive oil in the pan, and you'll know you're there when you hear the broccoli start to sizzle.
4. Top the broccoli: Remove the broccoli to a serving platter, and immediately sprinkle the grated Parmesan on top so the hot broccoli melts the cheese. Top with the bread crumbs just before serving.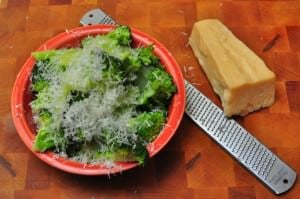 Grating the Parmesan onto the broccoli
Variations:
*I'm in a real hurry: Skip the bread crumb topping, and use pre-grated Parmesan. (Not the "Parmesan" in a green canister, please! Get it from your mega mart's refrigerated cheese section. It won't be as good as fresh-grated, but it is decent.)
*I want to be really healthy: Skip the bread crumbs, cut the Parmesan back to 2 tbsp, cut the olive oil back to 1 teaspoon.
*Butter makes everything better: Substitute butter for the olive oil.
*Asian: Add 2 cloves of minced garlic with the broccoli, substitute ¼ cup soy sauce for half the water, and substitute 2 teaspoon vegetable oil and 1 teaspoon toasted sesame oil for the olive oil.
Notes:
*Trimming broccoli: My local grocery store always has a sale on broccoli heads, so I usually don't have to deal with the stems. I hold the head with the stem facing me. I rotate the head, cutting broccoli florets free as I go around. When all I have left is one big floret, I cut it in into bite-sized pieces through the stem, then go back and cut any big florets into bite sized pieces.
*Trimming broccoli stems: When I do get broccoli with stems, I cut them off just below the head, trim the dry bottom of the stem off, then "peel" them by squaring them off lengthwise with my knife. The result is the heart of the stem cut into a large rectangle. I cut that rectangle lengthwise into ½" thick planks. I put these planks into the pan first, because they take longer to cook, and having them sit in the boiling water speeds them up.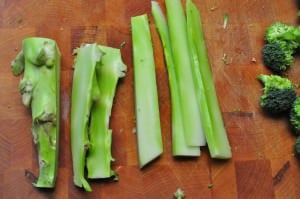 L to R:
Stem that is being squared off, trimmed stem, sliced ½ inch thick
What do you think? Questions? Other ideas? Leave them in the comments section below.
Related Posts:
Steam sauteed green beans
Steam sauteed asparagus
Sauteed Swiss Chard
Inspired by:
Pam Anderson: How to Cook Without a Book
*Enjoyed this post? Want to help out DadCooksDinner? Subscribe using your RSS reader or by Email, recommend DadCooksDinner to your friends, or buy something from Amazon.com through the links on this site. Thank you!