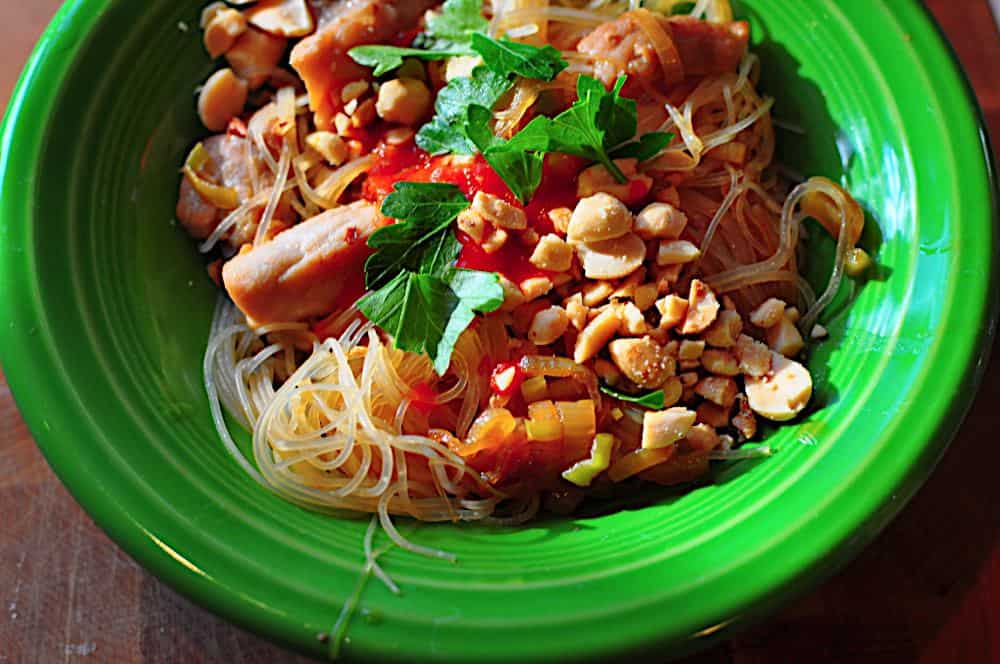 Noodle stir fries are a quick weeknight meal in my recipe arsenal. I turn to it when I'm bored with my standard chicken stir fry with a side of white rice. The kids would be happy if we had rice every night, but I want some variety in my stir fries. I can't live on rice alone.
*I think my kids would be willing to try living on rice alone.
Rice vermicelli noodles are the key ingredient. They are a quick cooking replacement for the rice, and they add some needed bulk to the meal. Rice vermicelli doesn't need boiling water; the noodles soften when soaked in hot tap water for 20 minutes. Drain them, and they're ready to go in the pan with the stir fry.
This recipe is improvised from Su-Mei Yu's rice noodle stir fry technique (Fine Cooking Feb/Mar 2006). I was thinking about Pad Thai when I started, but I was missing some key ingredients. I adapted what I had into a general Thai noodle dish. Thai flavors are a big hit with my kids; they love the "sweet" part of the hot, sour, salty, sweet balance in Thai cuisine.
*While my kids are starting to appreciate heat in their food, I cut back on Thai heat for them. I serve some thin-sliced serrano chiles on the side with my Thai dishes, so I can add my extra heat at the table.
**I cut back on "Thai heat" for myself, too.  Thai is one of the cuisines where "hot" is defined, as John Pinette once said, not as "oooh, my tongue is tingling", but as "AAAAAAAAAH!"
***My list so far consists of Thai, Indian and Chinese. Never dare a chef from those areas to make it "really hot".
Recipe: Thai Noodle and Pork Stir Fry

Adapted from: Su-Mei Yu's rice noodle stir fry technique from Fine Cooking [Feb/Mar 2006]
Cook time: 6 minutes
Ingredients:
4 ounces rice vermicelli
hot tap water (to cover the vermicelli)
Sauce Ingredients
¼ cup soy sauce
2 tablespoon fish sauce
2 tablespoon sugar
1 tablespoon hoisin sauce
Juice of 1 lime
¾ lb thin boneless pork chops
2 teaspoon soy sauce
1 teaspoon cornstarch
2 tablespoon peanut oil (or vegetable oil)
2 cloves of garlic, smashed
pinch of red pepper flakes (or 1 tsp, if you like it hot)
2 scallions, trimmed and cut into 1 inch pieces
¼ cup unsalted peanuts, crushed (or leave them whole)
¼ cup coarsely chopped cilantro, or basil, or a mix of the two
1 serrano or jalapeno chile, sliced thin (optional)
Directions:
For an overview, see my Basic Technique: Stir Fry
1. Preparation: Soak the noodles in hot tap water for 20 minutes, or until softened. Meanwhile, mix the sauce ingredients in a small bowl until the sugar is dissolved. Slice the pork chops into ¼" thick slices, and toss with the soy sauce and cornstarch; let the pork soak in the soy/corn starch until ready to cook. Smash the garlic, slice the scallions, chop the cilantro, and crush the peanuts. Set all these ingredients aside until you need them.
| | | |
| --- | --- | --- |
| Soaking the rice noodles | Slice the pork chop thin | Crushing the peanuts |
2. Stir fry: Heat the 2 tablespoon of peanut oil in a large nonstick skillet over medium-high heat until the oil is shimmering. Add the smashed garlic, then immediately add the pork. Stir fry the pork for 2 minutes, until it is starting to brown. Add the scallion and cook for 1 more minute. Add the sauce, and bring to a simmer. Add the noodles, and toss until the noodles have evenly absorbed the sauce.
| | | |
| --- | --- | --- |
| Brown the pork | Sauce to a simmer | Noodles tossed with sauce |
3. Top and serve: Remove the pork and noodles to a serving bowl. Top with the peanuts, cilantro, basil and serrano chile. Or, put the noodles in individual serving bowls before topping with the nuts and spices.
Variations:
*Chinese style: In the sauce, replace the fish sauce with 1 tablespoon rice wine vinegar, and the lime juice with 1 tablespoon oyster sauce. Top with thin sliced scallion in place of the cilantro and basil.
*More vegetables: I like to add thinly sliced onions and bell peppers to this dish. After cooking the pork, remove it to a plate with a slotted spoon, then stir-fry the vegetables until browned and just softening. Add the pork back to the pan, and continue with the recipe.
*Side dish: If you want a vegetarian side dish instead of a one-pot meal, skip the pork. Or, replace it with the "more vegetables" option above.
Notes:
*Organization is the key to stir frying. I have less steps in this recipe than I usually do, because everything needs to be prepped before the stir fry starts. Once it starts, things move quickly, and the recipe comes together in five to ten minutes. Make sure you have your mise en place* before you start.
*French kitchen slang, defined by cooks as having everything in place for cooking. According to Tony Bourdain, this is usually shortened to "meez" in professional kitchens, as used in this sentence: "Get your *&#$@#$ing meez done, here comes the dinner rush."
*This is a good stir fry for a beginner - knife skills are less important than they are in most stir fries. If you buy "stir fry pork", pre-sliced from your local grocery store, you only have to cut up the scallion, herbs and hot pepper.
What do you think? Questions? Other ideas? Leave them in the comments section below.
Related Posts:
Basic Technique: Stir Fry
Chicken with Peppers and Onions Stir Fry recipe
Bok Choy Stir Fry recipe
Velveted Chicken Stir Fry
Adapted from:
Su-Mei Yu's rice noodle stir fry technique from Fine Cooking [Feb/Mar 2006].
Su-Mei Yu The Elements of Life


*Enjoyed this post?  Want to help out DadCooksDinner?  Subscribe using your RSS reader or by Email, recommend DadCooksDinner to your friends, or buy something from Amazon.com through the links on this site.  Thank you!