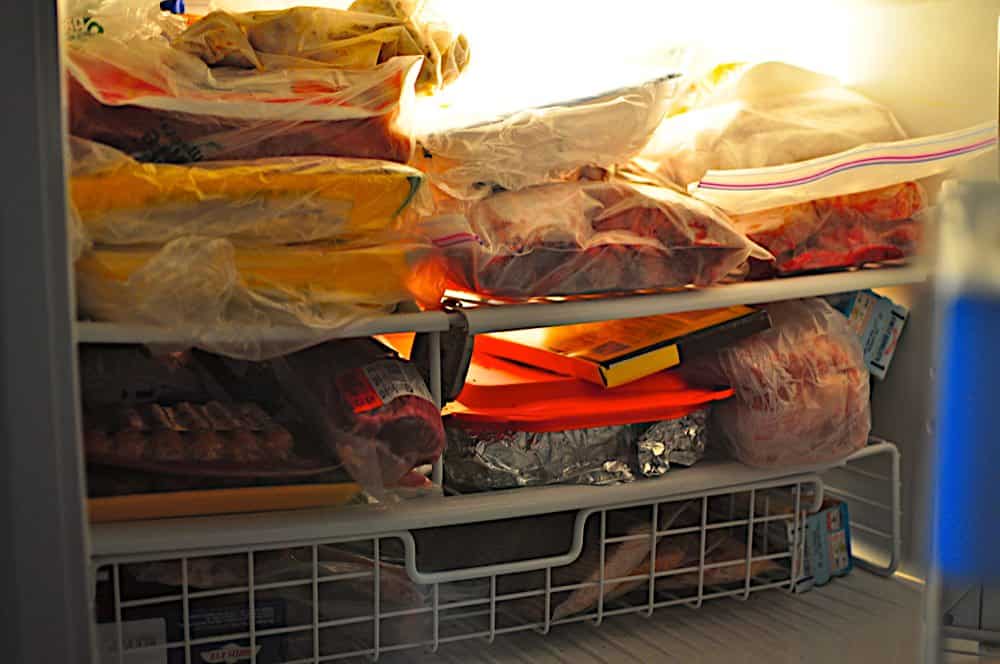 Here there be monsters. Or frozen pork chops? Either way, I should have labelled the package.
I'm not big on buying food ahead of time. I like to keep my options open, and go where my weekly grocery flier, trip to the farmers market, or CSA box take me.
But...occasionally, when a deal is too good to pass up, I'll buy extra and store it in my freezer. I bought an extra corned beef brisket on sale for St. Patrick's day, and it barely fit into my freezer. The current contents of my freezer, and why it wound up in there:
One whole turkey (Thanksgiving special - $.59/lb)
One slab of baby back ribs (Out of grilling season special - $1.99/lb)
Two pork shoulder "steamship" roasts (After New Year's special - $.69/lb)
One pork leg "steamship" roast (After New Year's special - $.99/lb)
One pork loin roast ($1.99/lb)
One pork tenderloin ($2.99/lb)
Two packages Johnsonville Brats (Out of grilling season - Buy one get one free sale)
Two packages chicken thighs ($.99/lb)
Bacon (Various sales)
Six pounds butter (Various sales)
Lamb Shoulder Chops (Farmers Market - last ones available until spring)
3 pounds grass fed beef hamburgers (Farmers Market)
2 pounds ground buffalo (Farmers Market)
2 slabs Pork Belly (Asian Market)
3 pounds beef short ribs (Mexican Market)
2 pounds Hungarian Sausage (Al's Quality Meats)
1 pound Chorizo Sausage (Al's Quality Meats)
...plus that corned beef I just bought. Also, various pre-made ingredients like meatballs, chicken stock, and a lasagna in case of emergency.
One thing I've realized, from writing up this list - almost everything on it comes cryovaced - that is, vacuum packed in thick plastic. I've found that cryovaced meat will last in the freezer for quite a while without freezer burn.
Also, it shows my split personality. Half of the items made me say "wow, that's such a deal! I can't pass that up!". The other half made me say "I've been looking all over for that! I can't pass that up!"
*I don't have a shopping problem - I can quit any time I want. I don't go out of my way to visit new and interesting ethnic markets and gourmet grocery stores... Oh. Wait...
The good thing about doing this inventory? I learned that I have to eat into my stash, and not buy meat for the next couple of weeks. That way, I'll have room for the next deal I can't pass up. It is comforting to know I am stocked up. Because, in the end...I like having frozen assets.*
*Thank you, thank you, I'll be here all week.
What do you think? What do you keep in your freezer? What deals make you stock up? What do you need to thaw out and cook? Let me know in the comments, below.
*Enjoyed this post? Want to help out DadCooksDinner? Subscribe using your RSS reader or by Email, recommend DadCooksDinner to your friends, or buy something from Amazon.com through the links on this site. Thank you!