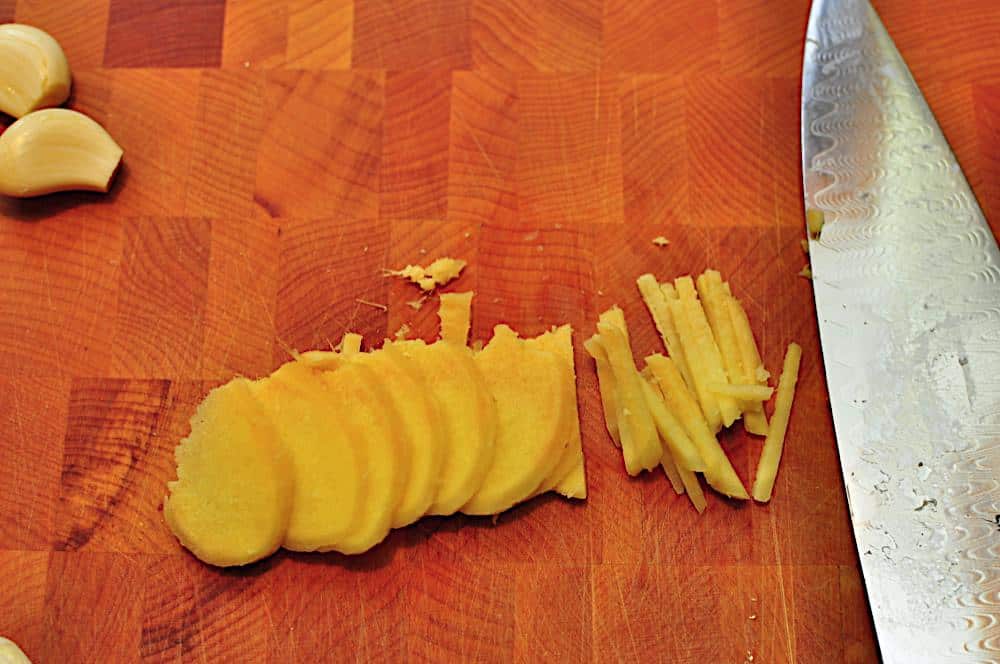 The real star of the show is in the background...
The first purchase I made specifically for this blog was my wood, end grain chopping block
. Why? Well...my white plastic cutting board wasn't photogenic enough; I needed the look of natural wood in my pictures. That's right - my first vanity purchase, bought just because of the way it looks on the blog.
| | |
| --- | --- |
| Before... | After... |
I may have bought it for its good looks, but that slab of wood has become my second favorite kitchen tool, just behind my knife. And, really, the two are inseparable. My love for this wooden board is all about feel. Cutting on a solid wood block feels natural. The wood cutting board gives just a little when chopping - it isn't harder than the knife. It is probably all in my head, but when I use my plastic boards, it hurts. There is no give there; it feels like I'm cutting on rock. I may be imagining it, but I can feel the edge of the knife getting dull as it pounds on the hard plastic.
*If you want the worst of all worlds, get a glass cutting board. Hard as stone, breakable, dulls knives instantly. Who buys them? We have one at my family's cottage, and I hiss like a vampire confronted with garlic whenever I see it. Which reminds me...time for a burial at sea (or, at least Lake Erie) for that board.
The chopping block is a solid chunk of wood, 18 by 12 by 1.75 inches of maple. When I put it on the counter, it stays on the counter, no matter how enthusiastic I get with my chopping.* Or pounding - the first step I always take when mincing garlic is to smash it flat, and this heavy wooden board stays solid beneath my pounding. I've had plastic cutting boards that would jump across the counter when I did that.
*Tip: Whether you are using a plastic or wood cutting board, it helps to put a piece of grippy rubber shelf liner
, cut to size, under the board to hold it in place. With my wood board I only need it occasionally, but my plastic boards are useless without it. I wind up chasing them across the counter as I cut on them.
I also love the extra height of the thick wood board. I'm a tall guy, 6 feet 3 inches, and my counter tops are too low for someone my size. When I'm working on a recipe that requires a lot of knife work, I feel it in my back. The extra thickness of the wood board raises the cutting surface closer to where I need it. *Ideally, my countertops would be higher. Julia Child had her countertops raised 2 inches to match her 6 foot 2 inch height. While higher counters would help me, it would make them way too tall for Diane, who is 5 feet 4 inches. I'm contemplating one of these extra-thick boards
to get it higher still. But I love my end grain board, and I don't think it's worth trading in for the extra half inch.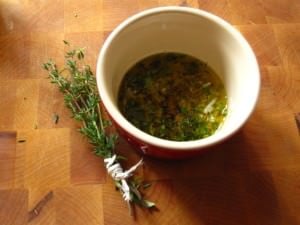 With all this love going on, why did it take me so long to switch to a wood cutting board? I was worried about maintenance and sanitation. The advantage to plastic boards is you can toss them in the dishwasher, and they come out clean and sanitized. Easy, no fuss. You have to take better care of a wooden cutting board; it needs occasional rubdowns with mineral oil
, and it needs to stay dry. The good news is you don't have to be a fanatic about it. I only oil my board occasionally - usually, when it starts to smell a little funky. Yes, I know, shame on me for neglecting my board, but it hasn't been a problem. As for keeping it dry, I regularly wipe it down with a damp cloth to keep it clean, and store it on its edge, to help it dry quickly. In other words, in spite of my neglect, the wooden board is thriving - it is not the delicate flower I was lead to believe it was.
As for sanitation, there are certain things I won't cut on my wooden board. Meat, obviously. Uncooked meat goes on one of my plastic boards; cooked meat only goes on my carving board. I also avoid anything that would leave permanent stains - beets come to mind - they go on my plastic boards as well. All the rest of my prep work happens on my wood board. Wood has an interesting antibacterial property - it absorbs harmful bacteria, and traps it just below the surface of the wood. Bacteria needs water to survive, so when the wood dries out, the bacteria dies, and the board is sanitized again.
Interested in improving your knife skills without any additional practice? Try out a heavy wood cutting board.
What do you think? Questions? Other ideas? Leave them in the comments section below.
John Boos RA03 24-by-18-by-2-¼-Inch Reversible Maple Cutting Board
*Enjoyed this post? Want to help out DadCooksDinner? Subscribe using your RSS reader or by Email, recommend DadCooksDinner to your friends, or buy something from Amazon.com through the links on this site. Thank you!