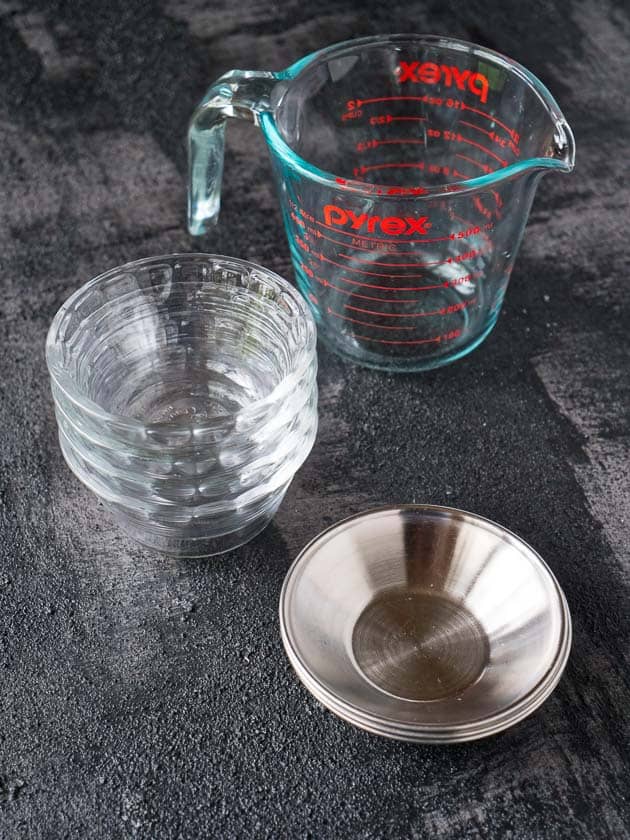 Get your %@#$ together with your @#$%$#@ing Meez
-Anthony Bourdain, Kitchen Confidential
Mis En Place - from the French "Everything in its place" - is how professional chefs think about their work. They have to have Mis En Place - shortened to Meez in the hustle of a restaurant kitchen. To serve hundreds of meals a night, everyone needs their prep work done, and to know exactly where it is at all times. "Get your Meez together"...usually punctuated with a few choice words...means that you're not ready, that you're falling behind.
Meez is a great idea in home kitchens, too. Now, I don't go as far as professional chefs. I'm only cooking a few dishes at once, and I can multitask my onion chopping while the meat browns, and make the salad dressing while the pasta boils - but I can feel the difference once I have everything prepped and ready to cook. Everything slows down, and all I have to do is cook. That's when I can relax, and enjoy the process.
(Unless I'm cooking a stir fry. I have to have everything ready to go before I start heating the pan - a stir fry moves too quickly to be prepping my meez once I've started.)
---
FCC Notice: My "Things I Love" posts are not sponsored - I paid for everything myself, and use them in my own kitchen. I am an Amazon affiliate, though. Any purchases you make through the links on this site will earn me a small commission, and help support DadCooksDinner at no extra cost to you. Thank you!
---
My key to keeping my meez in order? Pinch bowls. I love pinch bowls! I have a few different pinch bowls, which I grab for different things:
Bring me ALL THE BOWLS
Amco Stainless Steel pinch bowls: Years ago I picked up a 4-pack of these small pinch bowls. They are 4 inches across, about ¾ inch deep, say "AMCO, 18/8 stainless, India, 238" on the bottom. I love them - and I've never been able to find them again. These small metal bowls with low, sloping sides are perfect for holding spices, herbs, and small amounts of aromatics. They're steel, so they're indestructible and easy to clean, and the low sides make it easy to grab a pinch, or pour into the mixer. I keep these in a cabinet at my right hip, so I can grab one whenever I need it. Now, if only I could find more. (The link above is the closest thing I could find on Amazon - uxcell stainless steel "dipping dishes". I bought a set of ten - they're cheap - and I hope they come close to my beloved pinch bowls.)
Pyrex 6-ounce Custard Cups: These are my bigger pinch bowls, up to about ¾ of a cup. I also use ramekins for this, but I switched to the Pyrex cups because they show of the ingredients better on camera. I'm such a food blogger.
(And...I know I have Amazon links for these, but don't buy them through Amazon unless you're desperate. For some reason they're really expensive on Amazon, and much cheaper if you can find them at a local store.)
(And another thing...as I grab the links from Amazon, I find out there are larger Pyrex 10-ounce custard cups. What?!? Why didn't anybody tell me about those?)
Now, the downside to Pyrex is - it is glass. It's tough glass, and takes a lot of abuse, but it is still glass. Treat them gently and they'll last forever; if you're tougher on your kitchen tools, maybe get some small stainless prep bowls instead.
Fiestaware Fruit Bowls: Fiesta! Look at all the pretty colors! Holds about the same amount as my custard cups, in a wider, lower bowl. I use them when the wider bowl is more useful than the deep bowl of the custard cups.
Pyrex 2-Cup Glass Measuring Cup: Sure, it says "measuring cup". To me, it is a small bowl with a handle. (With convenient measurement markings on the side.) A cup or more of ingredients? Whisking a sauce? Pureeing with my stick blender? It all goes in my Pyrex 2-cup. And yes, I know that's not a pinch bowl…but I had to throw it in.
What do you think?
What are your favorite pinch bowls? Talk about them in the comments section below.
Related Posts
Things I Love: Victorinox Paring Knives
Things I Love: Oxo 7 Piece Measuring Beaker Set
Enjoyed this post? Want to help out DadCooksDinner? Subscribe to DadCooksDinner via eMail and share this post with your friends. Want to contribute directly? Donate to my Tip Jar, or buy something from Amazon.com through the links on this site. Thank you.