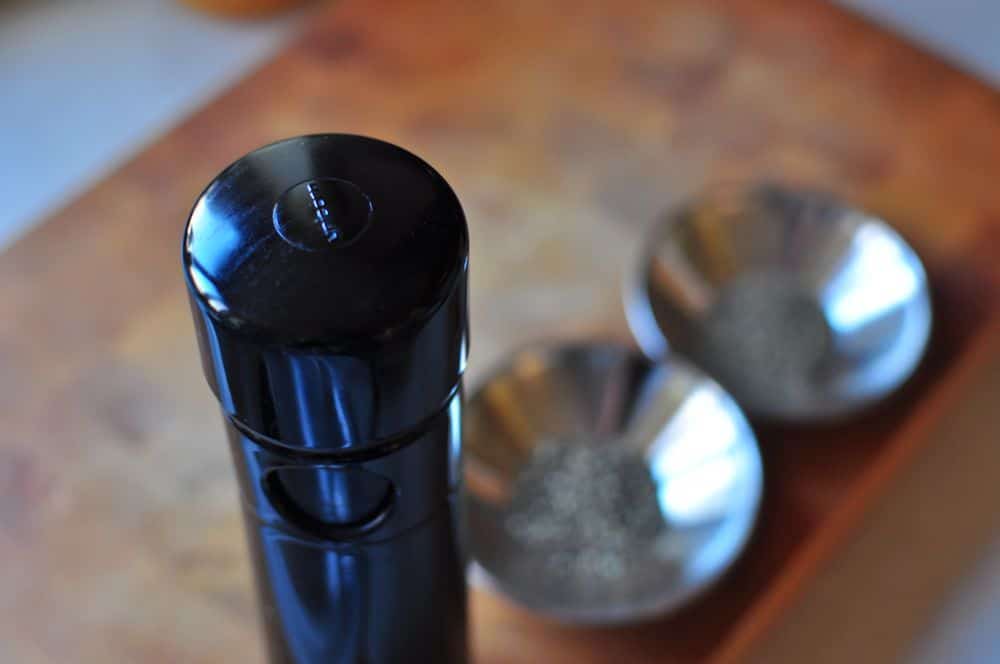 The key to cooking is properly seasoning food. When a recipe ends with the instruction season to taste, I reach for salt and pepper. I use them in just about everything that comes out of my kitchen.
Pre-ground pepper is flat and lifeless. It has a little heat, nothing more. Fresh ground pepper is sharp, spicy, and bursting with flavor. Why use pre-ground? All it takes to improve your cooking is a good pepper mill, so why wouldn't you use one? Well, because some pepper mills are a pain. They're hard to fill, hard to turn, and only grind a tiny amount of pepper.
The Unicorn Magnum pepper mill
is the best pepper grinder around; it solves all those problems, and makes fresh ground pepper easy.
*I love this pepper grinder in spite of the name. Every time I say it, I have to bite my tongue to not follow with: "The most powerful pepper mill in the world
."
The Magnum has a very large grinding mechanism, which produces a huge shower of ground pepper with each twist of the knob.
*15 twists of the top give me 1 teaspoon of pepper, which is a very large amount. I usually start with 7 twists, or a half teaspoon of pepper, when seasoning to taste.
The Magnum has a wide range of grinds, adjusted by turning a small knob in the business end of the mill. The grinds range from a fine powder (my favorite for soups and stews) up to very coarse (perfect for topping a steak).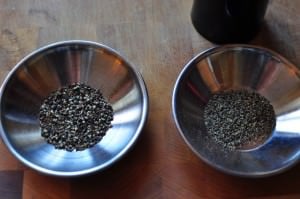 Coarse grind on the left; fine grind on the right
Finally, it is easy to fill. There is a big loading hole in the side, hidden behind a twisting collar just under the grinding knob. You don't have to remove any of the grinder to fill it; twist the collar, pour in the pepper, then twist it shut.
This loading collar is, unfortunately, the only problem I have with the design. The loading collar is directly under the knob. Sometimes, when I'm grinding, I accidentally grab the loading collar along with the knob. This opens up the loading hole, and if the mill is full enough, I get a spray of whole peppercorns bouncing out. I've learned to keep my fingers off the collar when I'm grinding. And, after all the other, really awful loading mechanisms I've dealt with, I'm willing to alter my grinding grip to have the easy loading.
I own the giant Magnum Plus
 model, which is 9 inches tall and holds almost one cup of peppercorns; the regular sized Magnum
 model is 6 inches tall and holds a half cup of peppercorns. Both have identical grind mechanisms, so they have all the benefits I list above. They also come in any color you like...as long as it's black.
*Everyone who reviews it makes a reference to Darth Vader. It's the pepper mill that finds your lack of faith...disturbing.
**Sorry, had to do it.
Want to own the best pepper mill? Get yourself a Magnum.
Disclaimer: This month I'm writing about essential kitchen tools. As with all my "Things I Love" posts, I am not receiving anything from the manufacturer, and I bought all the items with my own money. I use these tools every day in the kitchen, and I would hate to live without them. I thought, with Christmas coming, you might need a few gift ideas for the cook in your life. And, as always, if you buy something through the Amazon.com links on my site I get a small commission from the purchase. Thank you!
(OK, I'm good with the FCC now.)
Unicorn Magnum Plus Pepper Mill 9-in.

Magnum Peppermill - 6-Inch
*Enjoyed this post?  Want to help out DadCooksDinner?  Subscribe using your RSS reader or by Email, recommend DadCooksDinner to your friends, or buy something from Amazon.com through the links on this site.  Thank you!