So, when are you going to embrace cooking Sous Vide? Those steaks are begging for a water bath then a quick sear!

Facebook comment
But...but…it's right there, in the menu at the top of the page: Sous Vide. I have dozens of sous vide recipes, from baby back ribs to rack of lamb to salmon. And steaks, oh so many steaks. Sous Vide Peppercorn filet mignon, Strip Steaks with maitre d'hotel butter, Ribeye with Salsa Criolla. I even have a Beer Cooler Sous Vide Grilled New York Strip Steaks recipe, from back before I owned a sous vide circulator. (Which is a great way to test out sous vide - hot water, a beer cooler, a thermometer, zip-top bags, and you're ready to go.) Because the commenter is right - steaks are begging for a water bath and a quick sear, especially if you love rare to medium-rare beef.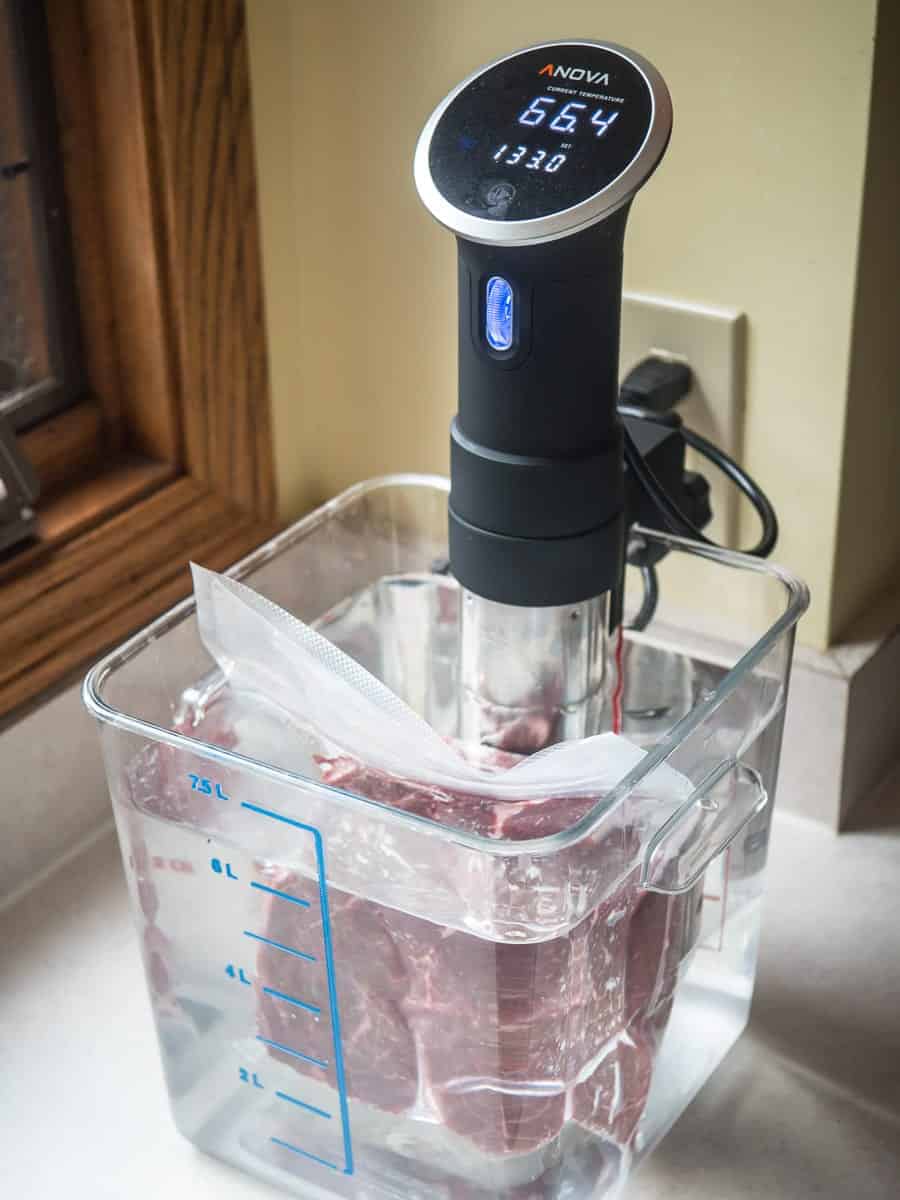 I know I've focused on Instant Pot recipes recently, but I still sous vide at least a couple of times a month, mainly from frozen. I stock up at my local grocery store's meat sale: they have great deals on strip roasts and ribeye roasts, so I buy one of each, cut them into 2-inch thick steaks, vacuum seal them, and toss them in the freezer. This is my definition of "frozen assets" - when I need a treat, a steak goes from the freezer to the water bath, with no thawing required. An hour and a half later, I have perfectly cooked steak, medium-rare from edge to edge, just waiting for a quick sear.
I know Facebook is probably the problem, keeping this commenter in their walled garden, where they never visit my (pleasant, welcoming) website. Or they are using the mobile version of DadCooksDinner, where my Sous Vide index is not on the top of my homepage, but under the Menu on the side. (With my other recipe indexes - go check out Pressure Cooker, Rotisserie, Grilling, All Recipes, and theKitchen Tools and My Rotisserie Cookbooks pages.)
So, let me ask: Did you know about my recipe indexes before I just told you? Also, I'm looking for new sous vide suggestions. Any sous vide recipes you want to see? Let me know in the comments.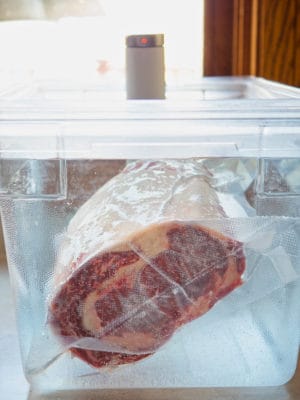 Recipes
Enjoyed this post? Want to help out DadCooksDinner? Subscribe to DadCooksDinner via email and share this post with your friends. Want to contribute directly? Donate to my Tip Jar, or buy something from Amazon.com through the links on this site. Thank you.