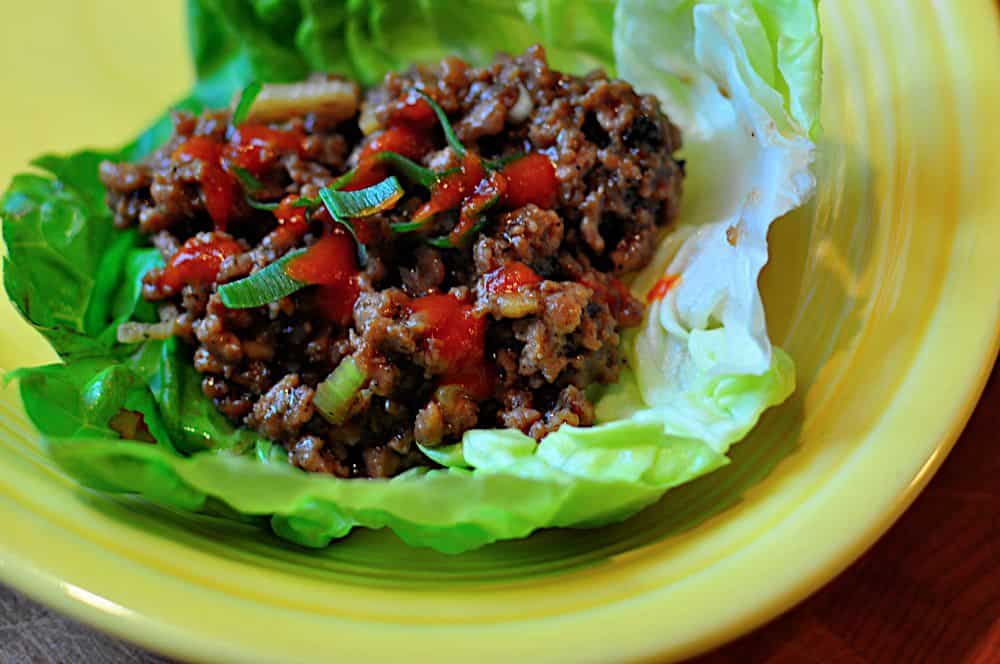 Ben, my oldest, will not eat vegetables or fruit. This is painful for me. While I will never become a vegetarian, I do enjoy all the vegetable options I get from my CSA and farmers market. I plan two vegetable side dishes with every meal. And Ben? Until recently, he wouldn't allow them on his plate. They were too "Yucky."
Now, he'll try a bite of a fruit or vegetable. Then he'll make a face, and look at me and say "it was OK."
*Translation: "I took a bite. What more do you want from me?"
Recently, I had a breakthrough. He has always liked stir-fried chicken. He made the mistake of showing a slight bit of interest in lettuce wraps, so I made him take a taste of this recipe at dinner. I laid on the sales job: "Lettuce doesn't taste like much, really, and it adds a nice crunch with the chicken. Try it!"
Eventually, after much persuasion, he took a bite. And, to my surprise, he kept going. He finished the one lettuce wrap, and started making himself another one. "Dad, this is my favorite meal!" he announced. I was stunned. My son? Eating a vegetable? I tried to keep my hopes in check - It would never last.
Boy, was I wrong. He's been asking me to make lettuce wraps ever since, and when I told him I was doing this recipe for the blog, he gave me a big hug.*
*A hug! For a vegetable!
So. Are you looking for a quick, easy, weeknight stir fry, that even vegetable-averse kids will eat? Have I got a recipe for you...
Recipe: Turkey Lettuce Wraps, Chinese Style

Inspired by: Joanne Weir, Weir Cooking In the City
Cook time: 10 minutes
Ingredients:
1 ½ lbs ground turkey
2 tablespoon peanut or vegetable oil
2 cloves garlic, minced
1 inch piece of ginger, peeled and minced
1 scallion, trimmed and sliced thin
1 head bibb lettuce, separated into leaves
Marinade:
1 tablespoon soy sauce
1 tablespoon dry sherry
1 teaspoon cornstarch
Sauce
2 tablespoon soy sauce
1 tablespoon hoisin sauce
1 tablespoon dry sherry
1 teaspoon sriracha sauce (optional - I omit this for the kids, and pass it at the table)
1 teaspoon sugar
1 teaspoon cornstarch
1 teaspoon sesame oil
Directions:
See my stir fry basic technique for an overview
1. Prepare the ingredients: Break the ground turkey into large chunks, and put in a medium sized bowl. Whisk the marinade ingredients together until the cornstarch dissolves, then pour over the turkey. Let the turkey marinate while preparing the other ingredients. Whisk the sauce ingredients together until the cornstarch dissolves. Mince the garlic, ginger, and scallion, and set aside. Separate the Bibb lettuce leaves, rinse clean, and dry in a salad spinner.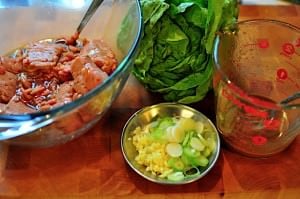 2. Preheat wok or pan: Put 1 tablespoon of the peanut oil in a 12" to 14" wok or fry pan, and heat over high heat until just showing wisps of smoke.
3. Stir fry the turkey: Remove half the turkey from the marinade using a slotted spoon and add to the wok. Stir-fry, breaking up the turkey as it cooks, until it has just lost its pink color, about 3 minutes. Remove the cooked turkey to a plate. Add the remaining 1 tablespoon peanut oil to the wok, and heat for one minute. Add the rest of the turkey to the wok, and stir-fry for another three minutes, until it has just lost its pink color.
4. Add the aromatics and sauce: Add the plate of cooked turkey with its juices back into the wok. Make a hole in the center of the wok, and add the garlic, ginger, and scallion. Cook without stirring for 30 seconds, or until you can smell the garlic, then stir into the turkey. Slowly pour the sauce into the wok, stirring as you go, and cook and stir until the turkey is coated with sauce and looks glossy, about another minute. Transfer to a bowl, and serve with the bibb lettuce.
Variations:
*Really quick sauce: Mix equal parts soy sauce and hoisin sauce. Or, just use hoisin sauce - squeeze it straight into the pan.
*Other sauce options: See my stir-fry basic technique for other ideas for the sauce, or use a favorite stir-fry sauce.
*Hide some vegetables in the mix: I like this with diced red bell pepper, or thin-sliced cabbage, added with the second batch of turkey. But, my kids can be suspicious of extra stuff in the mix. I'm pushing my luck with the scallions as it is, so I usually stir-fry a batch of vegetables as a side dish, and add them into the lettuce wrap as I'm assembling it.
Notes:
*Quick white rice is the traditional side dish - you can add it to the lettuce wraps, or if you have really, really picky eaters (like I did...right up until the events of this post), they can eat the rice and chicken without the lettuce.
*I always put a bottle of hoisin sauce and a bottle of sriracha on the table, so people can add a little more sweet or hot sauce if they'd like. Slicing up another scallion and passing it as a condiment is also a good idea.
What do you think? Questions? Other ideas? Leave them in the comments section below.
Related Posts:
Stir fry basic technique
Thai noodle and pork stir fry
Green bean stir fry
Inspired by:
Joanne Weir, Weir Cooking in the City
*Enjoyed this post? Want to help out DadCooksDinner? Subscribe using your RSS reader or by Email, recommend DadCooksDinner to your friends, or buy something from Amazon.com through the links on this site. Thank you!