The beans are coming! The beans are coming!
It's green bean season at my CSA. Pretty soon, maybe even by the time you're reading this, I'll have all you can pick green beans. Have I mentioned that Diane loves green beans before? Yes? Well, this time of year is heaven for her. Normally, she feels a little competition with our CSA. Diane is proud of her garden, and wants to make sure that I'm cooking HER vegetables first, before the CSA veggies. But not when it's green bean season. That's the one time of year she is 100% behind the CSA. She'll take the kids to Crown Point for the you-pick-em beans.
My first thought when I see a new vegetable at the CSA is "stir fry it!". Beans aren't new, but the idea still stands. I love the wave of fresh green beans...at first. After a month or so, I get a little bored. When I get tired of steam-sauteed beans, or grilled beans, or pickled beans...my stir fry technique is waiting to make them interesting again.
I made a major change in my stir fry technique recently. Kenji Alt inspired me to try a real carbon steel wok with his Wok 101 series. He challenged the skillet vs wok rules that I learned from my culinary teachers, Pam Anderson and Cooks Illustrated. CI has said, over and over, that a skillet is better than a wok on an American stove. Kenji (who worked at CI for a while) says that, while they usually know what they're talking about, they missed the boat with woks:
What I haven't seen in print is anyone saying anything about how the food actually tastes, and I'm certain it's because the same folks conducting the tests didn't actually know how to use a wok properly. Fortunately, I've conducted blind taste tests myself on identical dishes prepared in a skillet and in a wok on the same range, and I can tell you with absolute certainty that stir fries cooked in a well-seasoned wok taste better than those cooked in a 12-inch skillet.
[Kenji Alt, Stir Fry 101, SeriousEats.com]
Now, them's fightin' words. (Read the rest of that link for Kenji's thoughts on why. He can't give a scientific reason...which for him seems like an admission of a personal fault.) Of course, being a gadget obsessed cook, I saw this as an excuse to buy a carbon steel wok. Especially when the wok Kenji recommends
is under $30. I figured I could try it out and see who I agreed with - Kenji or CI. Now, this recipe is my first attempt, but Kenji is on to something here. I liked the stir-fry results with the wok, and I think they may have been better than with my frypan. This was my first test run - I'll need to do more research. When is Bok Choy season again?
*While Kenji says he prefers the carbon steel to the All-Clad wok
, I know what I'm going to be buying at the next All-Clad sale - more testing is required. Who hoo! New toys!
**Don't have a wok? Forget everything I said above, and use a fry pan or skillet. It's worked fine for me for years. This is probably a case of the best being the enemy of good enough.
Recipe: Green Bean Stir-Fry

Adapted From: Cooks Illustrated Magazine
: Sichuan Green Beans


Ingredients:
1 lb green beans (or yellow beans), trimmed
2 cloves garlic
1 inch piece of ginger
1 scallion
2 tablespoon peanut oil
Sauce:
1 tablespoon soy sauce
1 tablespoon dry sherry
1 tablespoon chili-garlic paste
1 teaspoon honey
1 teaspoon cornstarch
1 teaspoon sesame oil
Directions:
For a Stir-Fry overview, see my Stir Fry Basic Technique.


1. Prepare the vegetables and sauce: Trim the green beans, and set aside. Mince the garlic and ginger, slice the scallion, and combine the garlic, ginger, and white part of the scallion; save the green part of the scallion for a garnish. Combine the sauce ingredients, and whisk until the corn starch dissolves.
| | | |
| --- | --- | --- |
| Trimmed beans | Minced garlic and ginger | Ready to start stir-frying |
2. Preheat a wok or pan: Put the peanut oil in a 12" to 14" wok or fry pan and heat over high heat until just showing wisps of smoke.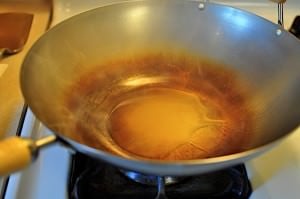 3. Stir Fry the beans: Add the beans to the pan and cook, stirring and tossing constantly. The beans will turn spotty black almost immediately; that's OK, just keep them moving and they won't burn. After five minutes or so the beans will wrinkle up and soften. Test for doneness by biting into one of the bigger beans - it should be cooked through, but still have some crunch left in it. Make a hole in the center of the pan, and add the garlic/ginger/scallion mix. Cook for 15 seconds, or until you can smell the garlic, then stir into the beans. Drizzle in the sauce, and toss until the beans are coated. Serve.
Variations:
Season the oil: This is another addition to my basic stir-fry technique that adds some finesse to the end result. Add a peeled clove of garlic and a quarter-sized slice of ginger to the oil after it is heated, and let cook until browned, about 30 seconds. Remove with a slotted spoon, then continue with the recipe. (This is not absolutely necessary, but adds an extra hit of garlic and ginger to the dish that I like. Just make sure you get all of the garlic and ginger out - anything left in the oil will burn.)
Simple weeknight version: Replace the sauce with 2 tablespoon soy sauce and 2 tablespoon hoisin sauce.
Notes:
Don't let the sauce sit in the pan. The cornstarch will thicken the sauce quickly once it hits the heat of the pan, so make sure you toss the beans quickly, or you will have a big blob of sauce.
Ummm...not that I did this because I was taking pictures for a blog or anything...
*Don't worry about the beans blackening a bit at first - black spots are a sign that your wok is hot enough. If you let them sit, though, they will burn - if you have to step away from the pan for more than a minute, make sure it is off the burner. Or, turn the heat down to medium-high and cook for longer, say ten minutes total. Then you don't have to watch the beans so closely, but they don't quite get the seared exterior and crunchy interior that makes a great stir fry.


What do you think? Questions? Other ideas? Leave them in the comments section below.
Related Posts:
Swiss Chard Stir-Fry
Bok Choy Stir-Fry With Basil Lemon Sauce
Adapted from:
Cooks Illustrated Magazine
: Sichuan Green Beans
*Enjoyed this post? Want to help out DadCooksDinner? Subscribe using your RSS reader or by Email, recommend DadCooksDinner to your friends, or buy something from Amazon.com through the links on this site. Thank you!