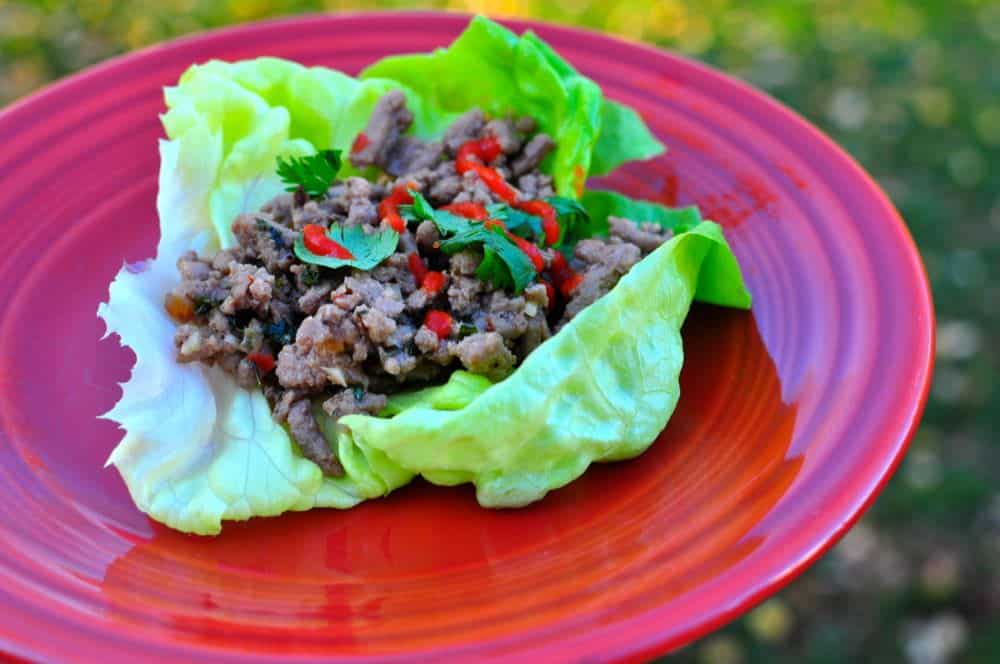 I have been looking for a Thai flavored variation of my turkey lettuce wraps. After a lot of trial and error, I have one worth sharing.
Ground Turkey can be dry and lean; it needs a good sauce to help it out. I've been fascinated Larb*, the Thai/Laotian ground meat and toasted rice dish that is served with lettuce. I've been playing with the sauce, trying to find that balance of hot, sour, salty and sweet that is the backbone of Thai cooking.
*AKA Laap, or Laab, or Larp. Why so many names? Apparently, there is no standard way of transcribing Thai script into English.
I was struggling until I came across Leela Punyaratabandhu's blog, SheSimmers.com. After reading her posts, especially the one on Thai Three Flavored Sauce, the light bulb went on. I was making this more difficult than I needed to. Instead of trying to build all the flavors into my sauce, I layered them throughout the dish. I stripped the sauce down to sour (lime juice), salty (soy and fish sauce), and sweet (brown sugar). I moved the heat in the recipe into the pan, by toasting some red pepper flakes, and added cilantro at the very end of the cooking time.
*And I skipped the toasted rice. It never really worked for me, but that's why I can't call this dish Larb. Or Laap, Laab, or Larp. Oh, never mind. You know what I mean.
The result? Delicious. Even better, it is quick easy, and suitable for a weeknight. We have a winner!
Recipe: Turkey Lettuce Wraps, Thai Style

Inspired by: SheSimmers.com and Joanne Weir, Weir Cooking In the City
Cook time: 10 minutes
Ingredients:
2 tablespoon peanut or vegetable oil
1 large shallot or 1 small onion, minced
2 cloves garlic, minced
½ teaspoon red pepper flakes
1 ½ pounds ground turkey
¼ cup minced cilantro, leaves and stems (plus more for passing at the table)
1 head bibb lettuce, separated into leaves
Sauce
Juice of 2 limes
2 tablespoons brown sugar
2 tablespoons soy sauce
2 tablespoons fish sauce
Directions:
See my stir fry basic technique for an overview
1. Prep the ingredients and the pan: Combine the sauce ingredients, and whisk until the sugar dissolves. Put the peanut oil in a 12" to 14" fry pan or wok, and pre-heat over medium-high heat until just showing wisps of smoke.
2. Stir fry the aromatics: Add the shallot to the pan and cook, stirring often, for 2 minutes or until softened and starting to brown around the edges. Add the garlic and red pepper flakes and cook for 1 minute, or until fragrant.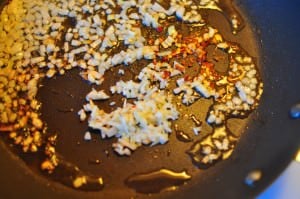 3. Stir fry the turkey: Add the turkey to the pan. Stir-fry the turkey for 3 minutes or until it has just lost its pink color, breaking up the turkey as it cooks.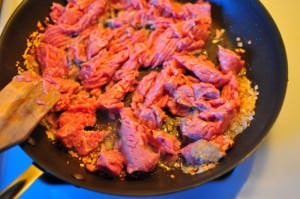 4. Finish with the sauce, then the cilantro: Stir the sauce into the pan and bring to a boil. Boil for 2 minutes, or until the sauce reduces a little. Turn off the heat and stir the minced cilantro into the turkey. Transfer to a bowl. Serve with the bibb lettuce leaves for wrapping, and extra minced cilantro to sprinkle on top.
Notes:
*Jasmine rice is the traditional side dish. Thai rice noodles, or coconut rice are also good accompaniments.
*I can't add as much heat to the recipe as I would like; I don't want to blast the kids. I add sriracha to my lettuce wraps at the table. When I'm not worried about the kids, I slice up a thai bird's eye pepper or a serrano and add it to the pan with the onions.
*As Leela says in her Three Flavored Sauce recipe, the key to the sauce is balancing sweet-sour-salty to your taste. When you try this recipe, whisk the sauce together, then take a taste. Is it the right balance of sweet, salty and sour? I loved these proportions, but maybe you like more sweet (add sugar), or more sour (add lime juice), or more salty (add fish sauce or soy sauce). Then you'll have your own balanced sauce.
What do you think? Questions? Other ideas? Leave them in the comments section below.
Related Posts:
Turkey Lettuce Wraps, Thai Style
Stir fry basic technique
Thai noodle and pork stir fry
Inspired by:
SheSimmers.com, and Joanne Weir, Weir Cooking in the City
*Enjoyed this post? Want to help out DadCooksDinner? Subscribe using your RSS reader or by Email, recommend DadCooksDinner to your friends, or buy something from Amazon.com through the links on this site. Thank you!