Looking for a gift for a home cook? I've got a few ideas for you.
Essential Grilling Tools
I've covered these before, but just in case, every grill master needs: a good set of tongs, a grill brush, a spatula, an instant read thermometer, silicone basting brushes, skewers, aluminum foil, welding gloves, a griddle, and a vegetable grate.
Oh, and a rotisserie ring for their kettle grill - but I may be biased about that one.
Did I already mention my rotisserie grilling cookbook? And that it makes a great gift? I did? Sorry.
I get asked about the speckled enamelware pan I use in my grill. Here it is, the Crow Canyon Large Roasting Pan. Enamelware is extraordinarily durable - I've had the same pan for over five years - so I don't have to constantly buy new aluminum foil drip pans. It's available in a wide range of colors; my favorites are red and blue.
ThermoWorks makes my favorite instant read thermometer, the Thermapen. It's a professional level tool, and I love it every time I use it. ThermoWorks released a probe thermometer version, the ChefAlarm.
I love the idea of probe thermometers - stick the probe in the meat, run the cable to the base unit, and wait for the alarm to go off at the perfect temperature. When they work, they're great. My problem is, I use probe thermometers on the grill. Cheap probe thermometers have cables that are only rated to about 400°F. A lit grill is a lot hotter than that - I burnt out a lot of cheap probes when the cable got too close to the coals.
The ChefAlarm has a high-temp cable, rated up to 700°F, high enough to handle the grill. I've got this on my Christmas list, but if I don't get it, I'm buying one for myself on December 26th.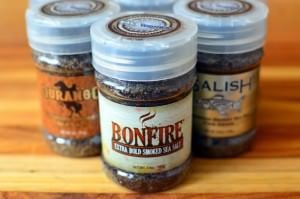 I wrote about bonfire smoked salt a while back, and the people at SaltWorks were kind enough to send me a sampler of their smoked salts. They're all very good, with subtle differences between them. I still prefer the bonfire salt, but I think the applewood salt is my second favorite, and the kids are hickory salt fans. My wife loves sprinkling smoked salt on baked potatoes, and I like to add it as a finishing salt to roasted meat.
Last year I recommended a ceramic slicer as a gift. I should have mentioned these gloves at the same time. They have a cut resistant Kevlar weave, so you don't have to worry about shaving off bits of your fingernail (or worse) as you use a mandoline.
FCC Notice
I was not paid to mention any of these items. I'm recommending them because I found them useful. If you buy them (or anything else) through the Amazon links on my site, I get a small commission. Thank you!
What do you think?
What kitchen gadgets are you looking forward to this Christmas? Let us know in the comments, below.