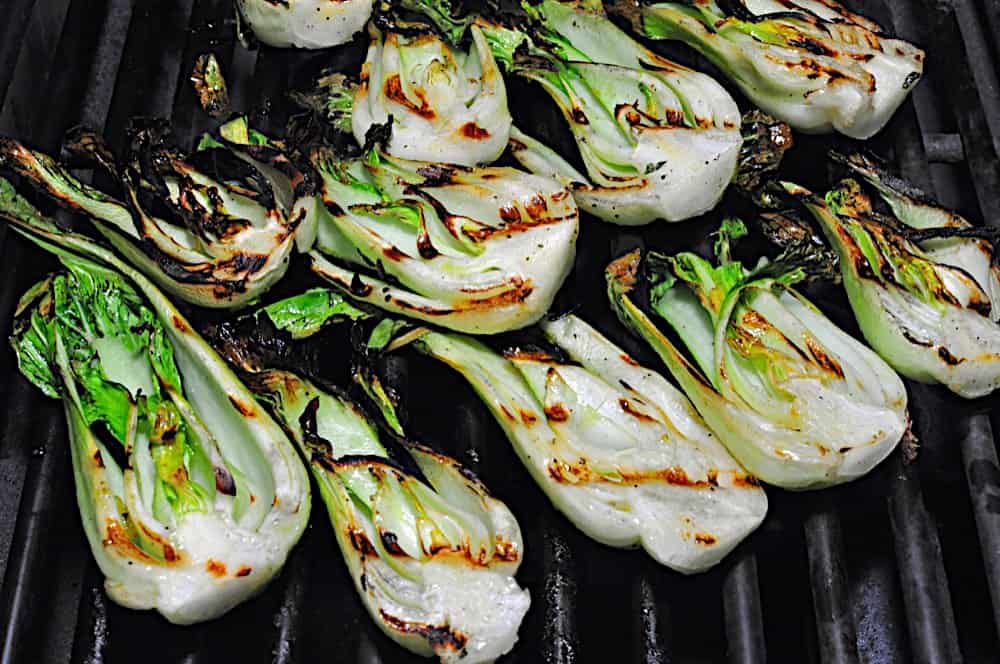 I wanted to know what else I could do with bok choy, an ingredient that always looks good at the farmers market this time of year. The answer from my loyal readers - grill it!
*Why didn't I think of that? It should have been obvious to me, Mr. Winter Grilling, Mr. Everything tastes better grilled.
Recipes for grilled bok choy all use the same basic technique. Purchase baby bok choy - small heads, 4 to 5 inches long, are better for grilling.  Split them, then trim the leaves on the top so they won't burn on the grill. Toss the bok choy in a flavorful vinaigrette, then grill until tender and cooked through.
*Martha Stewart's recipe was the first one recommended, and was a good one. What do you know - Martha knows what she's talking about!
**Kidding! Just kidding! I may have some issues with Martha, but when it comes to recipes, I love her perfectionism. Her recipes just work.
Most of the recipes had an Asian flavor profile; bok choy is an Asian vegetable, after all. (It is sometimes called Chinese cabbage). I was serving it with a grilled steak, so I wanted a western flavor profile. I tossed the bok choy in a lime vinaigrette before grilling (using my lemon dressing basic technique). The sweet and sour of the vinaigrette punched up the tender and crisp bok choy; the tart dressing made it a perfect counterpoint to the grilled beef.
Looking for something new to do with bok choy? Try this one out.
*And - thank you to everyone who recommended grilling bok choy - you were right!  Tami (aka  Dine In Diva) suggested the Martha Stewart version within seconds of my asking the question.  Thank you, Tami!
Recipe: Grilled Baby Bok Choy

Adapted From: Martha Stewart Everyday Food
, Grilled Bok Choy
Cook time: 12 minutes
Equipment:
Ingredients:
6 heads baby bok choy (about 1.25 pounds), split in half, and large leaves trimmed from the top
1 teaspoon Kosher salt
Vinaigrette:
Juice of 2 limes (about ⅓ cup)
zest of 2 limes
2 teaspoon sugar
pinch of kosher salt
½ teaspoon fresh ground black pepper
⅓ cup olive oil
Directions:
1. Prep the bok choy: If the bok choy is dirty, soak it in a few changes of water in a salad spinner, then spin dry. Sprinkle the dried bok choy heads with the teaspoon of kosher salt. Whisk together the vinaigrette ingredients in a large bowl, then toss with the bok choy. Let the bok choy rest in the marinade, tossing occasionally, until it is time to grill.
2. Preheat the grill: Preheat the grill, brush the grates clean, then set to medium-low heat. On a gas grill, this is easy - preheat on high for 15 minutes, then turn the burners to medium-low. For a charcoal grill, see the notes section for suggestions on how to get to medium-low heat.
3. Grill the bok choy: Remove the bok choy from the vinaigrette, letting any excess drip back into the bowl. Place the bok choy over the medium low heat, starting it cut side down. Grill for six minutes, or until the bok choy has nicely browned grill marks. Flip the bok choy, then grill for another six to eight minutes, or until the bok choy is crisp-tender. (It will give just a little resistance when poked with a paring knife.) Move the grilled bok choy back to the bowl with the vinaigrette and toss to coat. Rest in the bowl until it is time to serve, letting the bok choy soak up the vinaigrette. Toss one last time before serving.
Variations:
*Herbs or garlic are good additions to the vinaigrette. Add a teaspoon to a tablespoon of your favorites.
*Asian vinaigrette: Use the following vinaigrette: ¼ cup rice wine vinegar, 2 teaspoon sugar, 1 tablespoon soy sauce, ⅓ cup vegetable oil
Notes:
**You can probably see in the pictures that I didn't trim the leaves off the top of the bok choy, and a few of them came out burnt. I'm recommending you chop them off in the recipe; think of it as giving the heads a flat-top haircut.
*Gas grilling vegetables is easy - set the temperature to medium-low, wait until the vegetables are browned and tender, and you're done. Charcoal grilling is more of an art, because of the constantly changing temperature of live coals.
*I seem to have two stages of heat on my charcoal grill: too much heat, so the vegetables burn instantly, or not enough heat, so they take a long time to cook.
My favorite method for charcoal grilling vegetables is to cook the protein first; the extra twenty minutes lets the coals burn down, and the heat drops to where the vegetables won't burn before they cook through. (Also, on my Weber kettle, I usually don't have space for both the protein and vegetables at the same time.) When I am only grilling vegetables, I fill a charcoal chimney half full, then spread the coals in a single layer over ⅔rds of the charcoal grate.
What do you think? Questions? Any other bok choy suggestions? Leave them in the comments section below.
Related Posts:
Grilled Green Beans (guest post on BlackIronDude)
Grilled Lamb Chops with Grilled Fennel (guest post on ThreeManyCooks)
Grilled Asparagus
Adapted from:
Martha Stewart Grilled Bok Choy, from Everyday Food
 September 2004

*Enjoyed this post? Want to help out DadCooksDinner? Subscribe using your RSS reader or by Email, recommend DadCooksDinner to your friends, or buy something from Amazon.com through the links on this site.  Thank you!