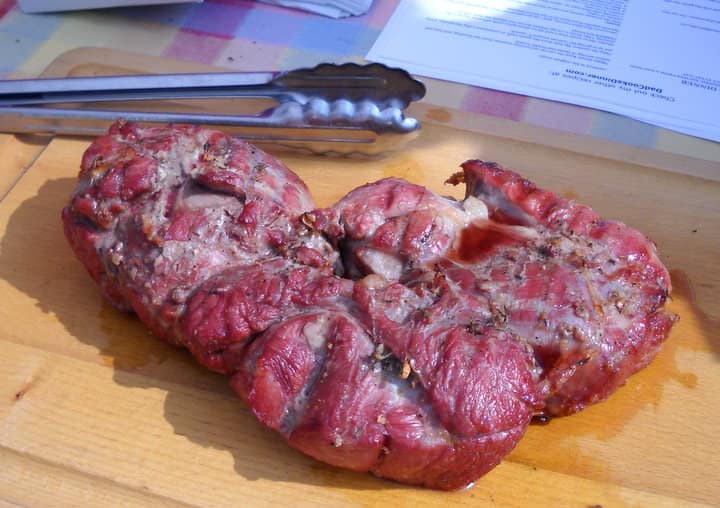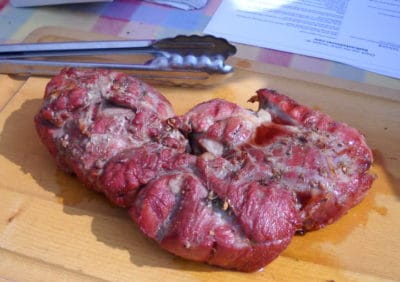 I am a fan of the taste of lamb, especially grilled lamb. The "labminess" that seems to worry people is an extra depth of flavor that I love.
*Is lambiness a word?  Not according to my spell check.  I'm going with it anyhow.
I don't understand the concern about the flavor. When I cook lamb for people, they seem surprised at how much they like it. I had this exact reaction at the farmers market cooking demo I did last weekend. The one quote I remember was:
Taster: The pork is delicious!
Me: Um...that's butterflied leg of lamb.
Taster: Oh, really? Wow, I never would have guessed. It's good!
Another was..."That was lamb?  It tasted interesting." I'm guessing that most of the tasters liked it - they ate every last scrap of lamb I served.
There were a number of lamb fans in the audience, who got excited when they heard I was serving lamb. When I told Jane Snow that we would be tasting the lamb in twenty minutes, she got a gleam in her eye and said "I'll be back."
*Think Arnold Schwarzenegger in Terminator
 level "I'll be back". I could see that gleam in her eye through her sunglasses.
If you haven't had lamb in a while, and think you don't like it, give it a try. You'll be pleasantly surprised. Particularly if you get a good, locally grown lamb, like the leg I was cooking, donated at cost by Great American Lamb.  My only regret about the lamb was they couldn't make it to the market last Saturday, and people kept asking where they could buy it.  They will be at the market this weekend, so stop by and pick something up from them.  (And tell them I sent you.)
Recipe: Grilled Butterflied Leg of Lamb, Dry Brined with Garlic, Lemon and Herbs
Adapted From: Pam Anderson CookSmart
Equipment:
Print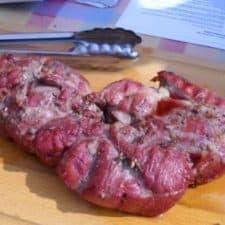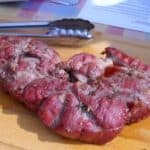 Grilled Butterflied Leg of Lamb, Dry Brined with Garlic, Lemon and Herbs
---
Author:

Mike Vrobel

Total Time:

25 minutes

Yield:

6

-8

1

x
Description
Grilled Butterflied Leg of Lamb, Dry Brined with Garlic, Lemon and Herbs recipe. My favorite way to grill lamb - easy and delicious.
---
1

boneless leg of lamb, about

3

pounds
Garlic, Lemon and Herb Dry Brine
1 ½ tsp

kosher salt (about

½ tsp

per pound)

½ tsp

fresh ground pepper

4

minced garlic cloves
Zest of

one

lemon

1 tsp

minced fresh thyme

1 tsp

minced fresh rosemary
---
Instructions
Dry brine the lamb: 1 to 3 days before cooking, trim any excess fat from the lamb. Boneless lamb roasts are usually butterflied; it should open up like a book. If it isn't butterflied, the roast will look like a cylinder, with a hole in the middle where the bone was. Cut through one side of the roast to open it up. Sprinkle evenly with all the salt. Mix all the rest of the dry brine ingredients together, then rub evenly over the lamb. Refrigerate the lamb in a roasting pan, covered with plastic wrap. Remove the plastic wrap the night before cooking to allow the moisture on the lamb to dry. Remove the lamb from the refrigerator one to two hours before cooking. (The dry brine works as long as it is applied at least 8 hours before cooking. If you can't season taht far ahead, do it just before putting the lamb on the grill.)
Prepare the grill: Prepare your grill for cooking on indirect medium-high heat. For my Weber kettle, I light a chimney starter three-quarters full of charcoal, wait for it to be covered with ash, then pour it in a thick single layer of coals, on the charcoal grate. (The coals should cover about half of the kettle's charcoal grate). I put a drip pan on the grate opposite the coals. Then I put the grill grate in, cover for five minutes to heat it up, and clean it with my grill brush.
Grill the lamb: Put the lamb on the indirect side of the grill, over the drip pan, and close the lid. Grill for 15 minutes, then flip the lamb and cook for another 10 to 20 minutes. I like my lamb cooked medium, which means an internal temperature in the thickest part of the meat of 130°F. (115°F for rare, 120*F for medium-rare). That is usually where I'm at after 35 minutes of total cooking time, but I start checking after I flip the lamb.
Rest, carve and serve: Remove the lamb from the grill, and let rest for 15 minutes before carving. Slice the lamb into ¼" to ½" thick slices, and serve.
Prep Time:

0 hours

Cook Time:

25 minutes

Category:

Grilling

Cuisine:

American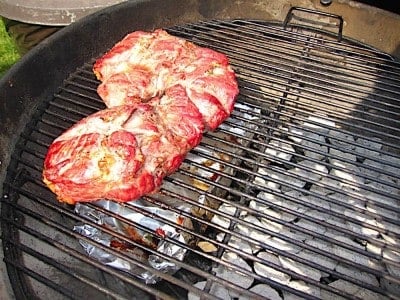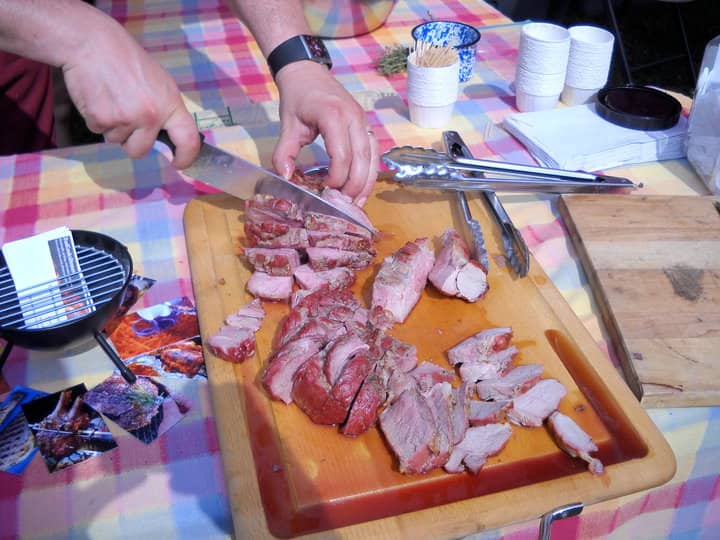 Notes:
Serving options: At the market, I served the lamb with a grated carrot salad; tzatziki sauce is also very traditional. I agree with Michael Symon: an acidic sauce goes well with lamb.
Leftover lamb means Gyros to me. Make some tzatziki sauce, serve with pita bread, sliced red onions and (maybe) a Greek salad. Or, make them middle eastern by using hummus, harissa and pita bread, and serving with tabbouleh.
Leftover lamb also makes a great sandwich. Lamb, mayo, some lettuce (mesclun mix is nice) between two pieces of bread. Make sure the lamb is thin cut, or the sandwich is hard to eat. If I have big pieces of lamb, I chop them into thin strips before putting them in the sandwich.
Oh, and I meant to baste this with the garlic and butter baste I used in my grilled steak recipe, using a herb brush...but I forgot in all the excitement at the market.
What do you think? Questions? Other ideas? Leave them in the comments section below.
Related Posts:
Grilled Lamb Loin Chops Michael Symon Style
Grilled Rack of Lamb
Rotisserie Boneless Leg of Lamb
Special Thanks:
Thanks to Great American Lamb for supplying the lamb for the cooking demo, and this post.
Thanks to Tamara Mitchell at DineInDiva.com for the pictures.
Adapted from:
Pam Anderson: CookSmart
*Enjoyed this post?  Want to help out DadCooksDinner?  Subscribe using your RSS reader or by Email, recommend DadCooksDinner to your friends, or buy something from Amazon.com through the links on this site.  Thank you!