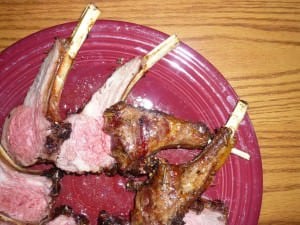 I like to gnaw on bones. This shouldn't come as a surprise to you, if you've been reading this blog for a while. (Say, Grill Roasted Chicken Wings, here or here.) I think rack of lamb is the perfect meal for that - you get a little lamb popsicle, with the bone as the handle.*
*If you're a vegetarian who has stumbled on to my site, you have my sympathy. This is not the post for you. Try this one instead.
Recipe: Grilled Rack of Lamb
Equipment: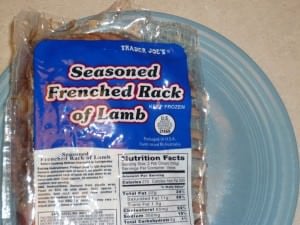 Ingredients:
1 Rack of Lamb (I bought Trader Joe's frozen, pre-seasoned rack of lamb, and thawed it in the refrigerator)
½ teaspoon Kosher Salt
½ teaspoon Pepper, freshly ground
Directions:
1. Prep lamb: One hour before cooking, remove lamb from packaging, and pat dry. Sprinkle evenly with salt and pepper, and let rest at room temperature.
2. Prep grill:
Preheat grill, and set up for indirect-high heat cooking. (See step 2
here
for instructions for different grills.) For my grill, this means preheat with all burners on high for 15 minutes, then turn off all burners except for 1,2 and 6.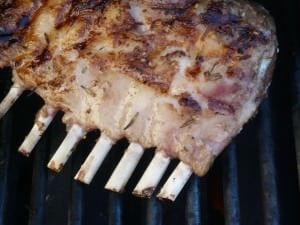 Well browned
3. Sear outside of lamb: Over the direct, high heat part of your grill, sear the lamb until well browned on all sides, about 1-2 minutes a side. (I think of the lamb roast as having 5 "sides" - bone down, bone up, edge without bones, and the two side edges. I use the warming rack on my grill to help prop up the roast for the last three sides - see picture below.)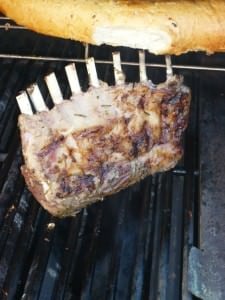 Leaning on the warming rack so I can brown the "bottom"
4. Indirect roast lamb: Move the lamb to the indirect part of the grill (the part without direct flame underneath), and cook for roughly 15 minutes with the lid closed, turning halfway. You want an internal temperature of 125*F in the thickest part of the roast for medium-rare, and that temperature is more important than the time - I take the temperature after 10 minutes when I turn the lamb, at the 15 minute mark, and every 5 minutes after that.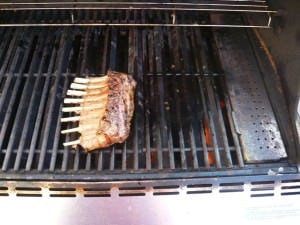 Indirect- you can just see the flames on the two lit burners, to the right of the lamb
5. Rest, carve and serve: Put the lamb on a plate, and cover with foil. Let rest for 10-15 minutes, then carve into chops between the bones to make lamb "popsicles". Serve!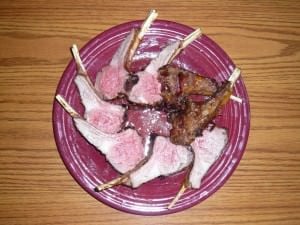 Variations:
*Trim the fat: For ease of preparation, I didn't trim off the extra fat on the rack of lamb. If you want to have the best looking rack, (and especially if you're buying from a butcher), have your rack of lamb "Frenched" so all the fat is removed from the bones.
If you don't buy a frozen, pre-seasoned rack of lamb, try one or both of the following:
*Overnight salt: Instead of salting just before cooking, salt the lamb 24 hours before cooking, then store it in the refrigerator until an hour before cooking time. Continue with step 1, skipping the salt (obviously).
*Garlic and Herb rub: Combine 2 tablespoon extra virgin olive oil, 2 minced cloves garlic, 2 tablespoon chopped thyme, and 1 tablespoon chopped rosemary in a small bowl. Rub this on the lamb after salting it in step 1.
Notes:
*Lamb: I love the Trader Joe's seasoned rack lamb (you can find it in their freezer section). It's (relatively) cheap for a rack of lamb, and the quality is high. Fresh, local lamb is even better, if you can find it; it's also more expensive. New Zealand rack of lamb is OK; it's my last choice. But, I usually don't have a choice; I have to take what's available. Any rack of lamb will taste great with this recipe.
*Quantity: One rack of lamb is good for two people, or one hearty eater.
*Cooking Temperatures: I like my rack of lamb medium-rare. The other temperatures to pull the lamb at are: Rare, 120*F, Medium, 130*F,
Ruined
Well done, 140*F or higher.
*Timings: It was windy the day I cooked this, and it took longer than the 15 minutes I recommend in the directions. That's something you have to remember when cooking on a grill - timings vary based on the heat of your fire, how well insulated your grill is, and the weather conditions. In this case it took about 20 to 25 minutes of indirect heat to cook the lamb to medium-rare. I left the timing the way it is in the recipe, because I'd rather you started checking the temperature early than you overcook your rack of lamb.
*Thermometer: Because internal temperature is so important to cooking, I was willing to spend a lot to get the best cooking thermometer available. That is the Thermapen Instant Read Thermometer. You don't have to spend $80 on your thermometer; any thermometer will work as long as it's properly calibrated.
Questions? Comments? Other ideas? Leave them in the comments section below.
Inspired by:
Trader Joe's
David Rosengarten's newsletter, "The Rosengarten Report", that turned me on to TJ's lamb