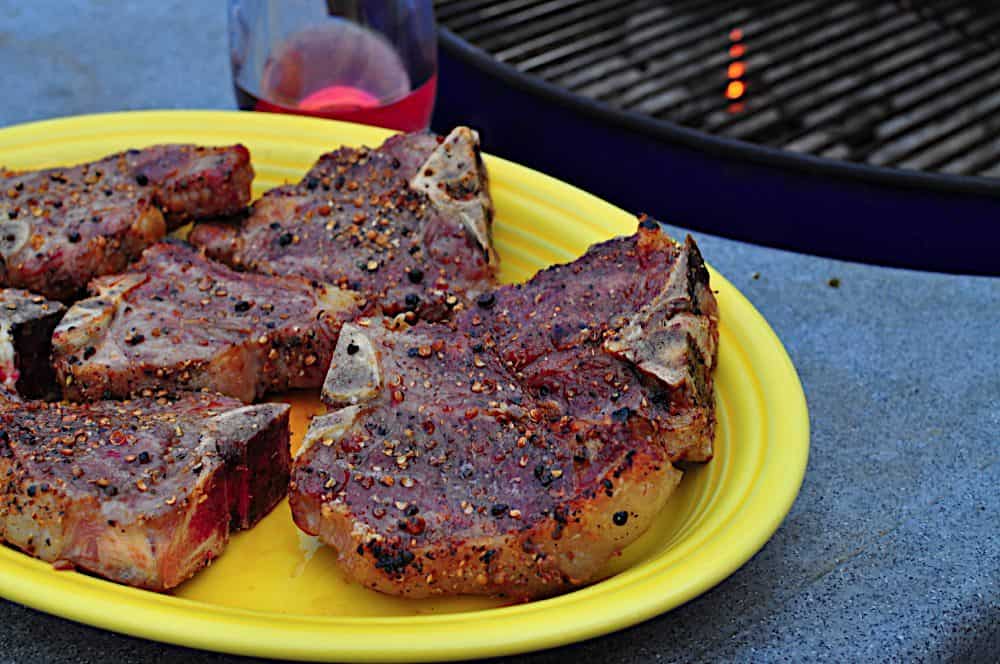 Michael Symon on grilling:
"Leave it alone! Stop messing with it! My friends do this..."
*He dances his tongs around on the grill like he's Erroll Flynn in a pirate movie.
Here is what I tell them. Put it on the grill. Let it sear while you drink a beer. Flip it, then drink another beer. You're done. You don't need to constantly be flipping or turning. You know why they grill that crosshatch pattern at Ponderosa, right?
Cue his maniacal laughter.
*If you've ever been to his restaraunts, or watched him on TV, you know that laugh. It's a kick, hearing it in person.
Lamb loin chops (aka Lamb T-Bones, as Michael calls them) are a slightly more economical cut than rack of lamb. You don't get the same wonderful "lamb popsicle" look that you get from a rack of lamb. But you get more lamb for your dollar, and lamb loin is every bit as tender and flavorful as the rack of lamb.
Recipe: Grilled Lamb Loin Chops, Michel Symon Style

Cook time: 12 minutes
Equipment:
Ingredients:
8 lamb loin chops
2 teaspoon kosher salt (about ½ teaspoon per two chops)
Spice rub
4 teaspoon whole coriander seed
2 teaspoon whole peppercorns
a pinch of red pepper flakes
a pinch of sugar (I used turbinado sugar, but regular, granulated sugar is fine)
Directions:
1. Dry brine the chops: 2 hours before cooking, trim any excess fat from the lamb, then sprinkle evenly with the salt. Grind all the spice rub ingredients until they are coarsely ground. Sprinkle the rub over the lamb chops, and press it into the chops to help it stick. Let the lamb rest at room temperature until it is time to cook.
*You can season the chops up to 24 hours ahead of time. If you do, refrigerate them, then remove them from the refrigerator two hours before cooking. The two hours at room temperature gives them enough time to take the chill off before grilling.
**You can season as little as one hour before cooking and still get the dry brine effect from the early salting. If you can't season one hour before cooking, do it just before putting the chops on the grill.
2. Prepare the grill: Prepare your grill for cooking on medium-high heat. For my Weber kettle, I light a chimney starter* three-quarters full of charcoal, wait for it to be covered with ash, then pour it in a thick single layer of coals on the charcoal grate. (The coals should cover about half of the kettle's charcoal grate). Then I put the grill grate in, and cover for five minutes to heat it up, and clean it with my grill brush. Finally, just before putting the meat on the grill, I brush the grates with a folded paper towel dipped in oil.
*I highly recommend the Weber Chimney Starter
, because it is larger than most chimney starters. It holds 5 quarts of charcoal, which exactly the right size for cooking this recipe.
3. Grill the chops: Put the lamb chops on the hot part of the grill, directly over the lit coals, and cook for 5-6 minutes (or until well browned). Flip the chops, and cook for another 5-6 minutes, until well browned. The chops should have an internal temperature in the thickest part of the meat of 120*F for medium-rare. (115*F for rare, 130*F for medium). If they need more cooking time, move them to the indirect side of the grill, where there aren't any coals, and cook, covered, until you get the internal temperature you are looking for. Remove from the grill, and let rest for 10 minutes before serving.
Notes:
*Lamb chops are small - I serve 2 per person, or 3-4 per person for big eaters.
*Michael loves the classic Greek combination of meat, fat and acidity you get by serving these chops with the yogurt-lemon flavor of Tzatziki sauce. A salad with lemon dressing also makes a great side dish.
*Toast the coriander: Michael highly recommends toasting the coriander before grinding it; it adds another dimension to the flavor. I…um…well…I forgot. And it turned out great, so I'd leave the toasting up to you.
*Grinding the rub: Even if you don't toast the coriander, you'll get a much better flavor if you grind whole coriander seeds. Don't have a mortar and pestle
, or a coffee grinder dedicated to being a spice grinder? Improvise a mortar and pestle using a coffee cup and a spice jar:
What do you think? Questions? Other ideas? Leave them in the comments section below.
Related Posts:
Serve with Tzatziki sauce
Award Winning Grilled Ribeye Steaks with Mediterranean Herb Butter
Grilled Flank Steak with Chimichurri
Grilled Flat Iron Steak with Salsa Verde
Thanks to Great American Lamb for supplying the lamb for this post.
Adapted from:
Michael Symon: Grilled Lamb T-Bones in Live To Cook


*Enjoyed this post? Want to help out DadCooksDinner? Subscribe using your RSS reader or by Email, recommend DadCooksDinner to your friends, or buy something from Amazon.com through the links on this site. Thank you!