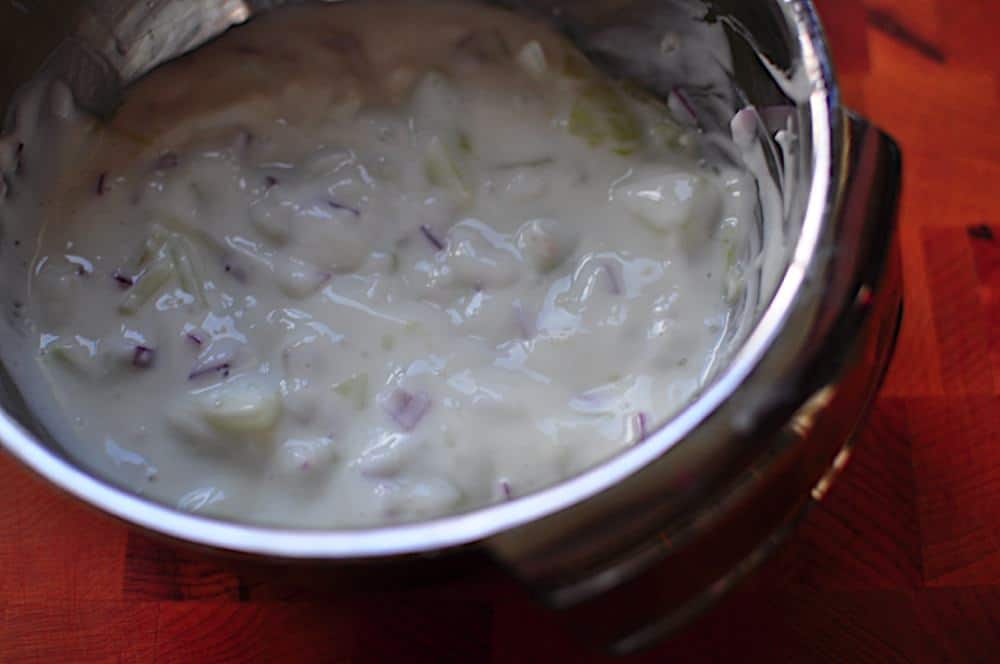 Tzatziki sauce is THE Greek condiment. When you get a gryo, the white sauce served on the side is trying to be tzatziki sauce. It is usually a pale imitation of the real thing. Here is Michael Symon's version, made with thick greek yogurt and a large hit of lemon juice to give it a tart backbone.
Michael Symon's mom is Greek, so he grew up eating a lot of food with a high acid flavor profile. Greek food uses a lot of lemon juice and red wine vinegar; they like to balance sweet, fatty tastes with sharp, tart flavors. Michael finds the classic combination of grilled steak and mashed potatoes to be boring. It's soft, fatty meat with soft, fatty potatoes. Because of what he grew up with, he prefers an acidic side dish with his grilled meat. In class, he said his three favorite things to serve with meat are Tzatziki sauce, Salsa Verde, and Giardinieria.
*In his cookbook, he also mentions dicing up some pickled peppers as a side for grilled meat. I can't wait to try it this summer.
**Come to think of it, that's why pickles go so well on hamburgers. But that is a post for another day.
Recipe: Tzatziki Sauce

Cook time: 15 minutes
Ingredients:
¼ english cucumber, peeled and diced
½ teaspoon Kosher salt
1 cup Greek yogurt (I like fage brand Greek yogurt)
½ shallot, minced (about 1 tbsp, or add another minced garlic clove)
2 cloves garlic, minced
1 teaspoon minced fresh oregano
1 teaspoon minced fresh mint
juice of 1 lemon
salt and fresh ground black pepper to taste
Directions:
1. Salt the cucumber: Toss the diced cucumber with the ½ teaspoon kosher salt, and let sit in a strainer to drain. (Let it drain for 15 minutes, if you have the time).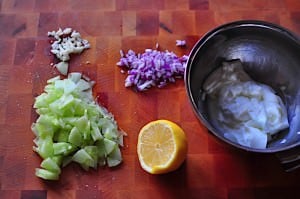 2. Make the sauce: Put all the ingredients except for the salt and pepper in a medium bowl, and stir until well combined. Taste for seasoning; it should be tart and highly seasoned. Add salt, pepper, herbs, or more lemon juice if you think it needs it.
Variations:
*Herbs: Mint and dill are the traditional herbs in tzatziki sauce. I used oregano because I had it on hand. I can find mint overpowering, so go easy on the mint if you use it.
Notes:
*Michael Symon wants this to be a very tart sauce, and I agree. Most recipes use half as much lemon juice as I do. If you prefer a less tart tzatziki sauce, start with the juice of a half a lemon, and add more as you taste.
*Michael also says to always balance grilled meat with something tart. I don't know that I agree with this. At least not all the time. I love steak with herb butter, but I also love steak with Salsa Verde. Oh, darn, I guess I'll have to do more research. Time to fire up the grill!


What do you think? Questions? Other ideas? Passionate defenses of mashed potatoes? Leave them in the comments section below.
Related Posts:
An Evening with Michael Symon
Grilled Lamb Loin Chops, Michael Symon Style (Coming Thursday)
Rotisserie Boneless Leg of Lamb, Greek Style
Adapted from:
Michael Symon: Tzatziki Sauce in Live To Cook

*Enjoyed this post? Want to help out DadCooksDinner? Subscribe using your RSS reader or by Email, recommend DadCooksDinner to your friends, or buy something from Amazon.com through the links on this site. Thank you!