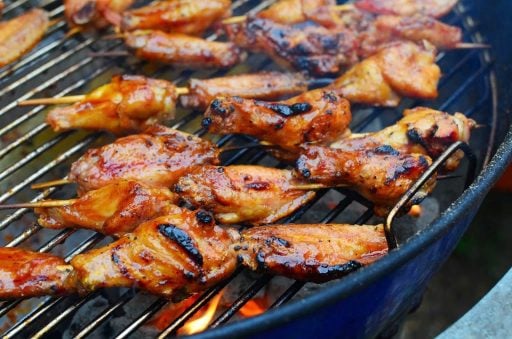 I use a lot of Chinese flavors in my grilling recipes, but I can't find out much about actual Chinese grilling. Allegedly, the 1.3 billion people in China won't use a grill. Grilling is low class food, "not fit for the emperor", so they won't do it. Now, I know that's not true - cooking over an open fire is universal, something that happens in every culture, everywhere. But finding examples of Chinese grilling are few and far between.
That's why I loved this Lillian Chou's article in Saveur about Chuan'r - grilling in Beijing. It turns out, grilling is alive an well in China. It may not be fine dining, but it is popular street food. Chuan means "threaded", and Chuan'r (or Chuanr) has come to mean food grilled on skewers. Chuan'r started as lamb skewers - a specialty of the Uighurs, Muslim descendants of the Turks in Western China - and has spread to all sorts of food on skewers.
Ms. Chou's says Chuan'r cooking "…is heavy handed and the seasonings are over the top." Sounds perfect to me. Her favorite is chicken wings. Here's my version, chicken wings, grilled on skewers, Chinese style.
Recipe: Grilled Chinese Chicken Wings (Chuan'r Chicken Wings)
Inspired by Beijing Chicken Wings, Lillian Chou, Saveur magazine June/July 2013.
Equipment:
Print
Grilled Chinese Chicken Wings (Chuan'r Chicken Wings)
---
Author:

Mike Vrobel

Total Time:

1 hour 10 minutes

Yield:

36

wings

1

x
Description
Grilled Chinese Chicken Wings (Chuan'r Chicken Wings) recipe - Chinese street food style chicken wings from your own back yard.
---
Ingredients

18

whole chicken wings, cut into wing and drumette portions, wing tip discarded

1 tablespoon

Sichuan pepper salt (or

1 tablespoon

kosher salt plus

1 teaspoon

ground Sichuan pepper, or substitute black pepper for the Sichuan pepper)
Sauce
2

-inch piece of ginger, peeled

3

cloves of garlic

2

green onions, root end trimmed

¼ cup

soy sauce

1 tablespoon

toasted sesame oil

¼ cup

sugar

2 tablespoons

rice vinegar
---
Instructions
Season and skewer the wings: Sprinkle the wings heavily with Sichuan pepper salt, then skewer lengthwise. (If you have the time, do this up to 24 hours ahead of time, wrap the wings with plastic wrap, and refrigerate until it is time to grill.)
Make the sauce: Put the sauce ingredients in the blender and blend until completely smooth. Pour into a grill-safe pot. (Or, bring the sauce to a simmer in a small saucepan over medium heat, then set aside.)
Set the grill up for indirect high heat: Set the grill up for cooking on indirect high heat, 450°F or higher, with one zone set for direct heat and another zone set for no heat. For my Weber kettle, I light a chimney full of charcoal, wait for it to be mostly coated with gray ash, and then pour it into two piles on the side of the grill, with a drip pan in the middle.
Roast the wings over indirect heat: Put the chicken wing skewers on the grill over indirect heat, over the drip pan. Close the lid and cook until the wings are cooked through, about 45 minutes. (If you have a grill-safe pot, put the pot on the grill over direct heat after 35 minutes, close the lid, and let the sauce simmer for ten minutes.)
Sauce and sear the wings: Brush the skewers of wings with the sauce, then move them to the direct heat part of the grill, flipping them and brushing them with sauce until they are glazed and browned, about 4 more minutes.
Serve: Remove the wings to a platter and serve.
Prep Time:

20 minutes

Cook Time:

50 minutes

Category:

Grilling

Cuisine:

Chinese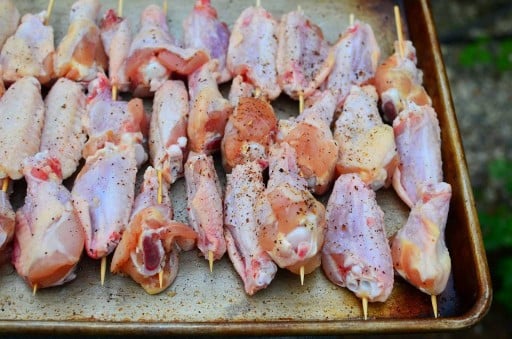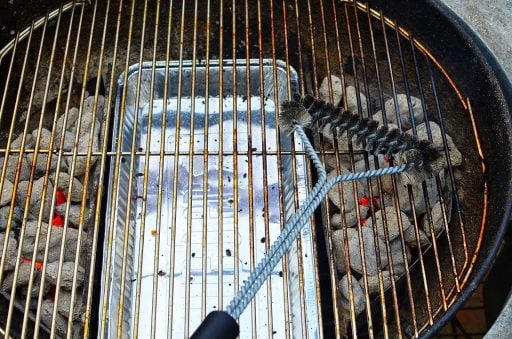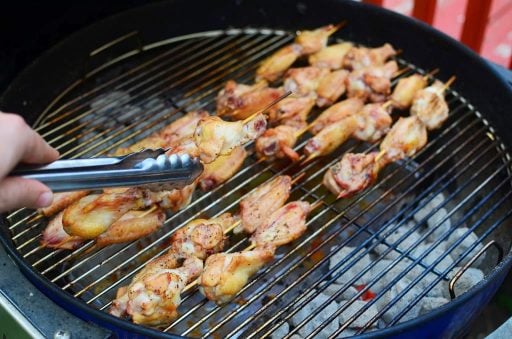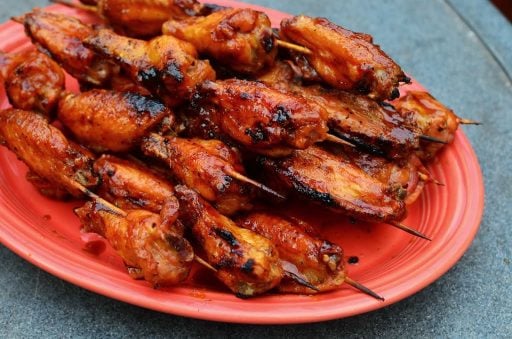 Notes:
For hot wings, add 1 tablespoon chili paste to the sauce
Chicken wings have a lot of fat in them - if at all possible, use a drip pan under the wings during the indirect heat roasting part of the recipe.
The sugar in the sauce will burn over direct heat - when you are searing the wings, keep them moving, and get them off the grill the moment the sauce starts to tighten up, or you see a hint of charring.
Skewering is authentic...but not absolutely necessary. It makes it easier to flip the wings, especially while they're being seared, but I skip it if it feels like too much work.
What do you think? Questions? Other ideas? Leave them in the comments section below.
Related Posts:
Grilled Miso BBQ Chicken Wings
Grilled Buffalo Chicken Wings
Click here for my other grilling recipes.
*Enjoyed this post? Want to help out DadCooksDinner? Subscribe to DadCooksDinner using the RSS or Email options on the right, recommend DadCooksDinner to your friends, buy something from Amazon.com
through the links on this site, or donate through my tip jar. Thank you.