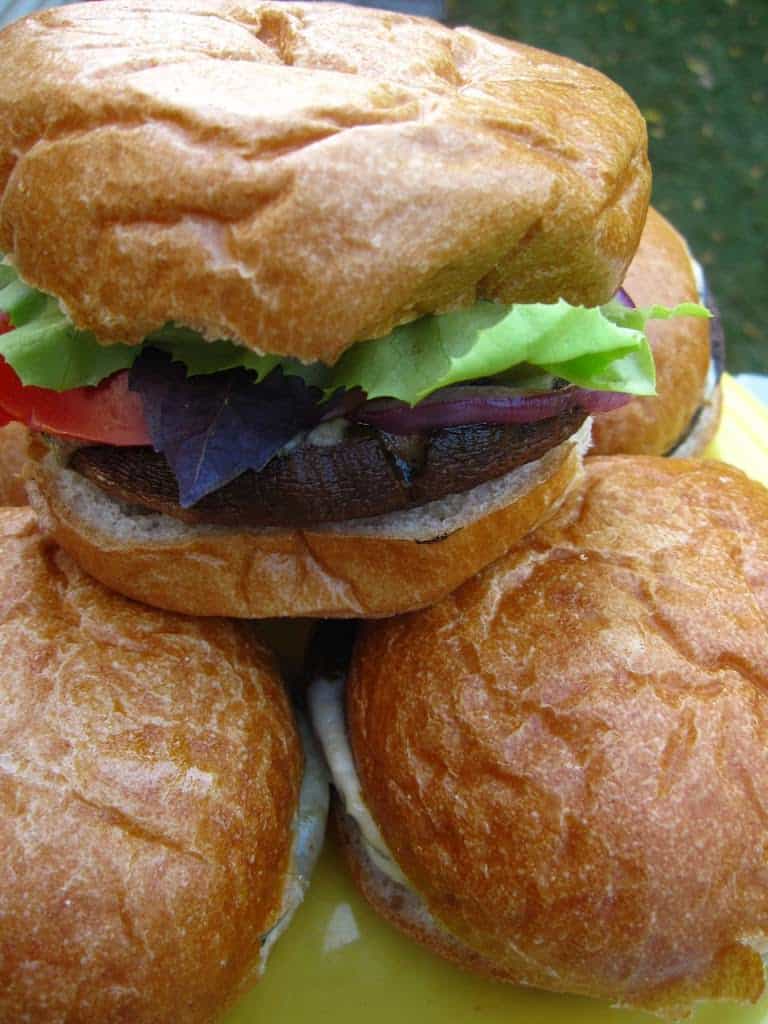 As I've said a few times on this blog, I'm not a vegetarian. But I do have some sympathies with them - my sister is a vegetarian*, and eating lighter on the planet makes sense to me. I try to make a vegetarian dinner at least one day a week.**
*Hi, Deb!
**Yes, I know, you wouldn't know it from reading this blog. I tried Mark Bittman's "Vegan until six" approach from Food Matters
, but I couldn't make it work.  I count too much on intentional leftovers for my lunch.  I kept winding up with gladware containers of dinners that I wasn't "allowed" to eat.  So I switched to being a part-time vegetarian.  I try to eat one or two vegetarian days a week.
Portobello burgers are one of my regular vegetarian dishes. When I do a hamburger cookout for our kids' parties, I always throw a few of these on the grill. That way, my sister has something she can eat, as does anyone who wants something healthier than regular burgers.
*I'm not sure how much healthier; by the time I'm done marinating them in oil and topping them with cheese, I think most of the caloric advantage is gone.  But they sure do taste good!
Recipe: Grilled Portobello Mushroom Burgers with Grilled Onions

Cook time: 12 minutes
Equipment: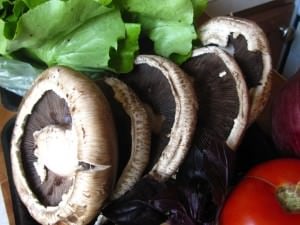 Ingredients:
8 large Portobello Mushroom caps (look for caps a little larger than your hamburger buns)
2 teaspoon kosher salt
8 red onion slices, ¼" thick
Balsamic Vinaigrette Marinade
¼ cup balsamic vinegar
pinch of salt
½ teaspoon ground pepper
1 clove of garlic, minced or pressed with a garlic press
½ cup extra virgin olive oil
Condiments and toppings
8 whole grain hamburger buns
lettuce leaves
tomato slices
pickles (homemade, if you have them!)
whole grain or dijon mustard
Directions:
1. Prep the mushrooms and onions: Wipe any dirt of the tops of the mushrooms with a wet towel, and pull the stem off if it is still attached. Put the mushrooms in a large baking dish, and sprinkle evenly with the kosher salt. Slice the red onion into ¼" thick slices, and sprinkle with salt as well. Whisk the balsamic vinaigrette ingredeints in a small bowl until well combined, then pour evenly over the mushroom caps.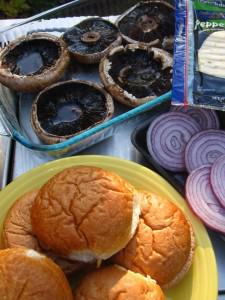 2. Prepare the grill: Preheat your grill, then set it up for grilling on direct medium heat. For my Weber Summit, this means turning all the burners to high and preheating for 10 minutes, then turning them all down to medium and starting to cook.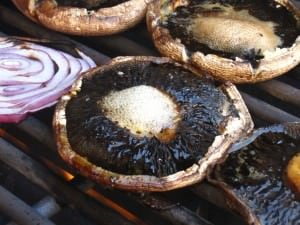 Mushrooms and onions - mushroom just starting to bubble on the top...
3. Cook the mushrooms: Put the mushrooms on the grill, top side down. Put the onions on the grill as well. If you are cooking with a gas grill, all cooking should be done with the lid closed. Cook for 5 minutes. Remove the onions to a plate, and rotate the mushroom caps 90 degrees. Do not flip the mushroom caps - you want to keep all the vinaigrette and juices in the mushroom! Let the mushrooms cook for another 3-5 minutes, or until the juices in the mushroom are bubbling and the mushroom is starting to wilt. Put the pepper jack cheese on top of the mushrooms, then the reserved red onions, and cook for another minute or two, until the cheese is melted. While the cheese is melting, put the hamburger buns, cut side down on the grill to toast - 30 seconds to 2 minutes. Watch the buns carefully; they go from toasted to burnt in a heartbeat.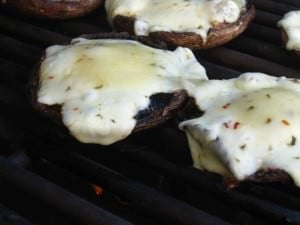 4. Top and serve: Remove the buns to a serving platter. put some grainy mustard on the bottom bun, then put the mushrooms on top. Again, do not flip the mushrooms; you're trying to keep all those tasty juices in the mushroom. Serve with the other condiments on the side so people can finish their burgers the way they want to.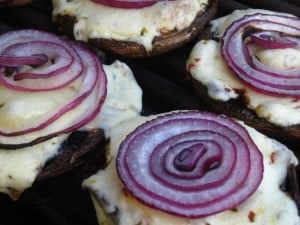 Variations:
*Cheese: Use your favorite cheese. Sharp cheddar works well, melted on top of the mushrooms; my other favorite is to get spreadable goat cheese and spread it on the top of the bun instead of melting it on the mushroom.
*Vinaigrette: Use any vinaigrette you like. For example, lemon herb dressing is a great alternative. I'd stick with a oil/vinegar vinaigrette, instead of the creamy ones - I'm worried they would curdle in the heat of the grill.
Notes:
*Again, the secret to this recipe is to cook the mushrooms entirely with the top of the cap facing down. If you flip it over, you pour all the delicious juices into the grill.  If your mushrooms are starting to burn on the bottom, move them to indirect heat (over an unlit burner) and cook with the lid closed.
*Toppings: My personal burger preference is the "drag it through the garden" approach - if you've got it, I'll try to fit it on top. So, when it comes to toppings, I say "go nuts!" what do you have?  I'd avoid bacon, since the point of this is a vegetarian burger, but anything else is fair game.  I've used avocado slices, roasted red or poblano peppers, pickled onions, barbecue sauce...you name it, it will work.


Questions? Comments? Other ideas? Leave them in the comments section below.
Related Posts:
Why not make a grilled vegetable side dish while you're at it?
Grilled Zucchini recipe
Grilled Corn recipe
Grilled Asparagus recipe
Inspired by:
Mark Bittman: Food Matters: A Guide to Conscious Eating with More Than 75 Recipes
*Enjoyed this post?  Want to help out DadCooksDinner?  Subscribe to DadCooksDinner using the RSS or Email options on the right, link to this post from your blog, recommend DadCooksDinner to your friends, or buy something from Amazon.com
through the links on this site.  Thank you!