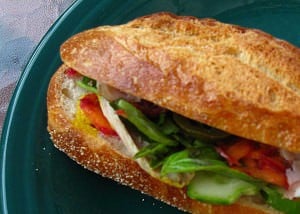 Now we're down to brass tacks. This is why I showed you the butterflied asian chicken, and had you make extra. I just wanted you to have the ingredients for this recipe.
Vietnamese Sandwich, or Bahn Mi, was a flavor revelation to me earlier this year, when I went for dinner at Superior Pho in Cleveland.
*I know, I know - foodies on the coasts have known abut the glory of Bahn Mi for years now. I'm sorry I was late to the party. This recipe is still worth it.
I took one bite, then started dissecting my sandwich right there on the table, to figure out how to make one by myself. The combination Vietnamese-French ingredients - the Vietnamese filling, and the crispy loaf of French bread - is a match made in taste heaven.
*Of course this is the Americanized version of a Vietnamese classic street food. Here's a New York Times article on the variations made in NYC. That article has the best sandwich picture I've ever seen - an exploded view of a Bahn Mi, layer by layer.
I'm taking a couple of short-cuts here, and the main one is using leftover chicken. The meat in a Bahn Mi is usually different varieties of pork, but the grilled chicken works so well that I don't miss it.
Beyond this recipe, use the general idea of "sandwich" with leftovers. Why pay a deli six dollars a pound for chicken breast when you've got some in the fridge? Buy a loaf of french bread at the grocery store, pretend you're the guy making minimum wage behind the counter at Subway*, and start adding whatever else you have in the fridge. If you've got good bread, pickles, peppers, and lettuce, you're always a few minutes away from a great sub sandwich.
*If you ARE the guy making minimum wage behind the counter at Subway, then I don't blame you if you don't make this recipe. After I worked at McDonald's as a teenager, it was years before I could go back into one. I kept having this dream, where all the different beeps that tell you things are done kept getting louder, and louder, and louder...I'd wake up shaking. And wanting to drop some more french fries.


I know I've focused on Asian style food with this set of posts, but think of this as a general idea, not a specific recipe.  What leftovers do you have that would go well on a loaf of french bread?
Recipe: Vietnamese Sandwich (Bahn Mi) with Chicken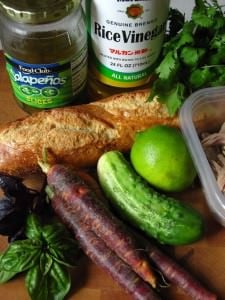 Ingredients:
Vegetable Slaw
¼ cup rice vinegar
2 tablespoon lime juice
1 teaspoon soy sauce
½ teaspoon fish sauce
½ teaspoon sugar
pinch ground black pepper
4 large carrots, grated or julienned (I had purple carrots from my CSA)
Everything else...
1 loaf crusty French bread
2 cups shredded chicken (Half of a leftover chicken, skin and bones removed, meat pulled apart. Or 2 chicken breasts.)
Mayonnaise
½ seedless cucumber, thinly sliced
¼ cup cilantro, leaves and tender stems (I grab the top of a bunch and pull off a small handful)
4 basil leaves, thinly sliced
1 jalapeno, thinly sliced (or use pickled jalapenos)
Directions:
1. Make vegetable slaw: Make the vinaigrette by combining all the slaw ingredients in a small bowl, except for the carrots. Whisk until the sugar dissolves. Add the carrots and toss until well coated. Let the carrot soak in the vinaigrette while you prep the rest of the ingredients.
2. Shred the chicken:
Pull the skin and bones off of your leftover chicken, and shred into pieces roughly ½" thick and 2" long.
*Or whatever size you prefer - sometimes I pull the skin and bones, and slice the chicken ½" thick.

3. Prepare the rest of the ingredients: Slice the loaf of bread lengthwise, almost all the way through, but not quite, so the back side of the loaf can act as a hinge. Chop your cucumber, cilantro, basil, and jalapeno.


4. Build the sandwich: Open the bread, and spread a thin layer of mayonnaise on the bottom. Cover with a thick layer of cilantro, then a thin layer of cucumbers. Top with the vegetable slaw, then the chicken. Sprinkle with the basil and the jalapeno. Drizzle any leftover vinaigrette from the slaw on the sandwich, then close, cut in half, and serve.
*Again, see the exploded view from the New York Times to see what we're shooting for here.
Variations:
*To make the sandwich a little more authentic, add a layer of sliced ham with the chicken.
*Or, replace the chicken entirely with pork. This sandwich works great for leftovers from any of my pork recipes.
*To be more authentic, use some Daikon radish in place of half the carrots in the slaw. Treat it like the carrots; grate or julienne it and toss it in the vinaigrette.
*To be really, REALLY authentic, replace the mayonnaise with Pork Liver Pate. Or, really, any pate; with the grilled chicken, chicken pate is a good alternative. Liverwurst would work as well, and is much cheaper at my local stores than pate.
*And I love saying "Liverwurst." It's a fun word to say out loud.
Notes:
*Good French bread, with a crackling crust and tender crumb elevates this recipe from good to great. If you have a good local bakery, check them out for a French baguette for this recipe. You efforts will be rewarded.
*That said, I've made it with supermarket "French bread", and I'll do it again if I'm desperate, but it really is worth the effort to get good bread for this one.
*You'll notice a lot of similarities between this recipe and the Asian Noodle Salad recipe I just posted. You're swapping the salad, noodles and dressing for a bun with mayo, and stuffing the ingredients in it. This is how you use common ingredients in an ethnic flavor profile. What gives southeast asian cooking its distinctive flavor? Fresh cilantro and basil, pickled carrots, maybe some fresh cucumber, and sauce with lime, soy and fish sauce in it. Once you get the hang of the flavors a region uses, it's easy to come up with something "new" by varying what seem like the main ingredients.
*And, using the same flavor profile in a set of meals is an efficient use of your shopping dollars. If you're buying cilantro, lime, and basil for a Thai recipe, why not use it multiple times during the week? A roast, a salad, a sandwich...you get variety, but also use up the cilantro and basil before the start to go bad.
Questions? Comments? Other ideas? Leave them in the comments section below.
Related Posts:
Click here for my Grilled Butterflied Chicken to make the chicken for this dish
Click here for my Asian Noodle Salad to use up the rest of the leftover chicken
Click here for my Grill-Roasted Thai Chicken Breasts if whole chickens aren't your thing
Inspired by:
A Classic Vietnamese Sandwich Absorbs Local Flavors [nytimes.com]
*Enjoyed this post?  Want to help out DadCooksDinner?  Subscribe to DadCooksDinner using the RSS or Email options on the right, link to this post from your blog, recommend DadCooksDinner to your friends, or buy something from Amazon.com
through the links on this site.  Thank you!