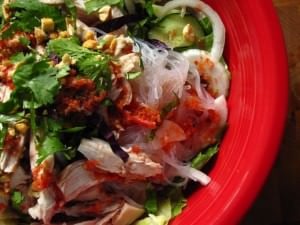 Time to use some leftover chicken! If you're following along, you have some grilled asian chicken in your refrigerator, and (hopefully) some of the dipping sauce.
*If not, that's OK - I've made this salad with "plain" leftover chicken, and made the dressing on the fly. Or, a la minute in French. I bet you didn't think I could work my love of france into an Asian Noodle Salad, did you?
When I have leftovers, one of my first thoughts is "salad". Steak and blue cheese salad, Greek Salad with chicken, chicken caesar salad* - if you have some leftover protein and some greens you can whip up a meal that doesn't seem much like leftovers with very little effort. Just be sure to make your own salad dressing!
*(fill in protein here) caesar salad has turned into a cliche on restaurant menus. Do it at home, for a weeknight dinner that's ready in about 15 minutes, and you're a hero.
This salad is a work of art. The different colors and textures layered in this salad give it an amazing presentation. I like to serve it in one big bowl, and let everyone grab with a set of tongs.
I know this seems like a lot of prep work, but trust me*, it's worth it. If you've got average knife skills, this shouldn't take much longer to put together than any other dinner, and it winds up being a dinner in a bowl.
*My dad's a doctor...I know what I'm doing! Oh, and my brother is one, too.
**For some reason, that doesn't sound as impressive as when they do it.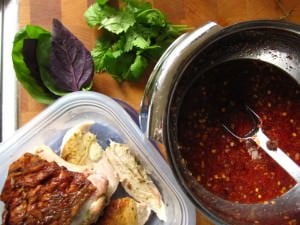 Recipe: Asian Noodle Salad with Chicken
Ingredients:
Dipping Sauce (hopefully, about ⅓ cup, left over from the Grilled Butterflied Chicken)
Pinch red pepper flakes
2 tablespoon distilled white vinegar
2 tablespoon lime juice (from 1 lime)
2 tablespoon granulated sugar
1 clove garlic, minced
1 teaspoon fish sauce
Everything else...
¼ cup peanut or vegetable oil
1 large carrot, peeled and grated or shredded
1 ounce thin rice noodles
2 cups shredded chicken (Half of a leftover chicken, skin and bones removed, meat pulled apart. Or 2 chicken breasts.)
1 small head greenleaf lettuce, torn into bite size pieces (Or, about 2 cups of bagged lettuce)
½ seedless cucumber, thinly sliced
¼ red onion, thinly sliced
1 tablespoon chopped fresh cilantro
6 basil leaves, thinly sliced
2 tablespoon dry-roasted peanuts, coarsely chopped
Directions:
1. Cook rice noodles: Cook the rice noodles according to the package directions.
*Usually, this means bringing some water to a boil and pouring it over the noodles, then letting them sit for about 5 minutes. An electric kettle makes this very easy.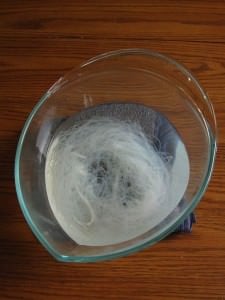 2. Make Dipping Sauce Vinaigrette: Put the dipping sauce ingredients in a bowl, and whisk to combine (or use leftover dipping sauce from the Asian Butterflied Chicken recipe). Drizzle the peanut oil into the bowl, whisking vigorously, until well combined. Add the grated carrot, and toss to coat. Let the carrot soak in the vinaigrette while you make the rest of the salad.


3. Shred the chicken: Pull the skin and bones off of your leftover chicken, and shred into pieces roughly ½" thick and 2" long. Put in a medium bowl, and toss with 2 tablespoon of the dipping sauce vinaigrette.
*Or whatever size you prefer - sometimes I pull the skin and bones, and slice the chicken ½" thick.


4. Prepare the rest of the ingredients: Clean and tear the lettuce, and slice the cucumber, onion, cilantro, basil, and peanuts.


5. Build the salad: In a large bowl, combine the lettuce, cucumber and onion. Toss with half the dressing until well coated. Top with the cooked rice noodles, then the chicken, then scatter the cilantro, basil and peanuts on top. Drizzle the whole thing with the remaining dressing, and serve.
*If you want to be fancy, after tossing the lettuce, build the salad on individual serving plates. I like the way it looks brought to the table in a big bowl.
Variations:
*The "easy" variation is to buy bagged lettuce and pre-shredded carrots. I don't trust pre-cut cucumbers or onions, and please, PLEASE don't buy those strips of pre-cooked chicken.
*If you have some of my pickled red onions, they make a great substitute for the thin-sliced red onions in the recipe. You want the crunch and flavor of fresh cucumber, though, so don't use my pickles for that.
*This scales up or down depending on ingredients; want to use more lettuce? Sure! Don't have the noodles? No worries, just skip them. No basil, or cliantro? Substitute some mint.
Notes:
*As I mentioned in the opening, this is a great way to use up leftover chicken. It doesn't matter what it was originally; once you strip the skin off and shred the meat, almost any roasted chicken will work for this recipe.
*As long as it wasn't barbecued; that would cause too much of a flavor conflict.
*Thin Rice Noodles are available in the Ethnic aisle of your local megamart, or your local Asian Market.
Questions? Comments? Other ideas? Leave them in the comments section below.
Related Posts:
Click here for my Grilled Butterflied Chicken
Click here for my Grill-Roasted Thai Chicken Breasts
Adapted from:
Su-Mei Yu, Cool Rice Noodles and Chicken [finecooking.com]
See her blog at [sumeiyu-thailiving.blogspot.com]