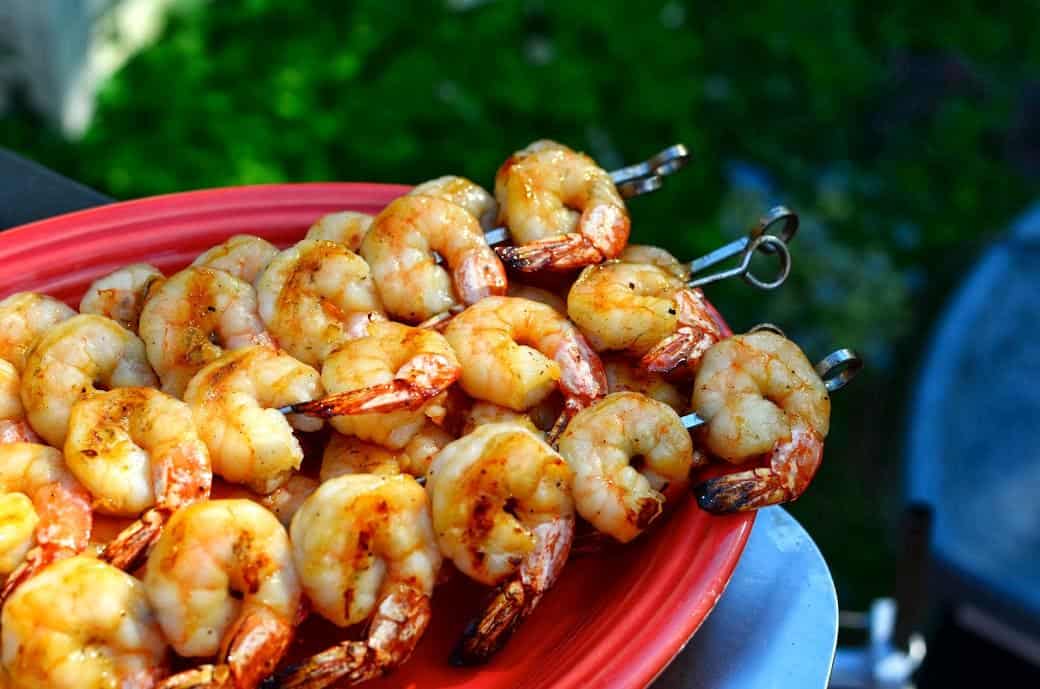 ---
This recipe is sponsored by Knob Creek Bourbon – they kindly sent me some bottles of their product, and are featuring this recipe on the Brothers of Bourbon site. Give them a visit, and tell them DadCooksDinner sent you!
---
Knob Creek and pineapple? Absolutely! Knob Creek plays particularly well with pineapple – the big bourbon flavor is a great match for the sweet and sour fruit. I layer those flavors on grilled shrimp, first as a marinade, then as a grilling glaze. Bland shrimp? Not when I'm done with it.These shrimp can be an appetizer or main course. If I'm serving the shrimp as an appetizer, I use short skewers, with three shrimp per skewer. I serve the skewers hot off the grill.
I made these for a party, and the smell of the grilling shrimp drew in my guests. I barely got them off the grill grates before they were devoured.
For dinner sized servings, I use longer skewers with six shrimp per skewer. That should make eight skewers, which is enough for four people.
Or one or two hungry guys. If you're serving more people, get more shrimp. The recipe easily scales up; the only real work is skewering.
And, of course, the bourbon flavor in the shrimp makes these a great match for a glass of Knob Creek. Enjoy!
Recipe: Grilled Shrimp Skewers with Knob Creek Pineapple Glaze
Cooking time: 6 minutes
Equipment
Ingredients
2 pounds shrimp, 21–25 count, peeled and deveined
Marinade
2 tablespoons Knob Creek bourbon
1/4 cup soy sauce
1/4 cup pineapple juice
1/2 cup vegetable oil
Glaze
2 tablespoons Knob Creek bourbon
1/4 cup pineapple juice
1/4 cup brown sugar
1/2 teaspoon fresh ground black pepper
Directions
1. Marinate the shrimp
Whisk the marinade ingredients in a medium bowl. Peel and devein the shrimp, put them in the bowl of marinade, and toss to coat. Marinate the shrimp for 30 minutes to one hour, stirring and tossing occasionally.

2. Set the grill for direct medium-high heat
I preheat my grill with all the burners on high for 15 minutes. Then I brush the grates with my grill brush and turn the burners down to medium-high.
3. Reduce the glaze
If you have a grill-safe basting pot, put the glaze ingredients in the pot, and put it in the grill while the grill is preheating to bring it to a simmer. Once the glaze is simmering, slide it off the heat and let it simmer while the shrimp is on the grill. Move it closer or farther from the heat as needed to maintain a simmer.
My "grill safe pot" is an enameled steel camping mug. If you don't have a grill safe pot, simmer the glaze on the stovetop until it reduces to a thick glaze.
4. Skewer the shrimp
While the grill is preheating, skewer the shrimp, letting excess marinade drip off.
5. Grill the shrimp
Quick Summary:
Grill the shrimp over direct medium-high heat until browned, about 6 minutes. Brush the shrimp with the glaze a couple of times during the last two minutes of cooking.
Details:
Put the skewers on the grill over direct medium-high heat, and cook for two minutes, or until the shrimp are starting to brown. Flip the skewers and cook for another two minutes, until browned on the other side. Brush both sides of the shrimp with the glaze, and cook for one minute to caramelize the glaze; brush both sides again with glaze, and cook for one more minute.
Remove the skewers to a platter and brush one last time with the glaze. Let the skewers rest for five minutes, then serve.

Notes
21 to 25 count shrimp are also called "Jumbo Shrimp", and oxymoron that George Carlin loved to point out. 21 to 25 count means 21 to 25 per pound, giving you roughly 48 shrimp to skewer and grill.
If you're using bamboo skewers, soak them in water for an hour before skewering the shrimp. Soaking he skewers keeps them from burning on the grill. Or, at least, it keeps them from burning right away – if they're over a hot spot, they'll still char.
I prefer metal skewers – no worry about them burning up. But watch out, because they come off the grill blazing hot, just waiting for me to forget and grab one with bare fingers. Um…not that I've branded my fingertips or anything.
What do you think?
Questions? Other ideas? Leave them in the comments section below.
*Enjoyed this post? Want to help out DadCooksDinner? Subscribe to DadCooksDinner using the RSS or Email options on the right, recommend DadCooksDinner to your friends, buy something from Amazon.com
through the links on this site, or donate through my tip jar. Thank you.