Instant Pot Boba Tea. Bubble tea, with the boba pearls cooked in the Instant Pot? Yes, it really works, in about half the time of stovetop cooking.
I can cook boba pearls in the Instant Pot? Really?
I love bubble tea, with its sweet, milky tea and chewy boba bubbles. I order it at Thai restaurants when it is on the menu, and it has spread to other Asian restaurants in my area. (I had boba tea with my sushi the other day.)
I stumbled across this recipe on the official InstantPot Recipes site and had to try it immediately. And it works! Well, it works with a few caveats...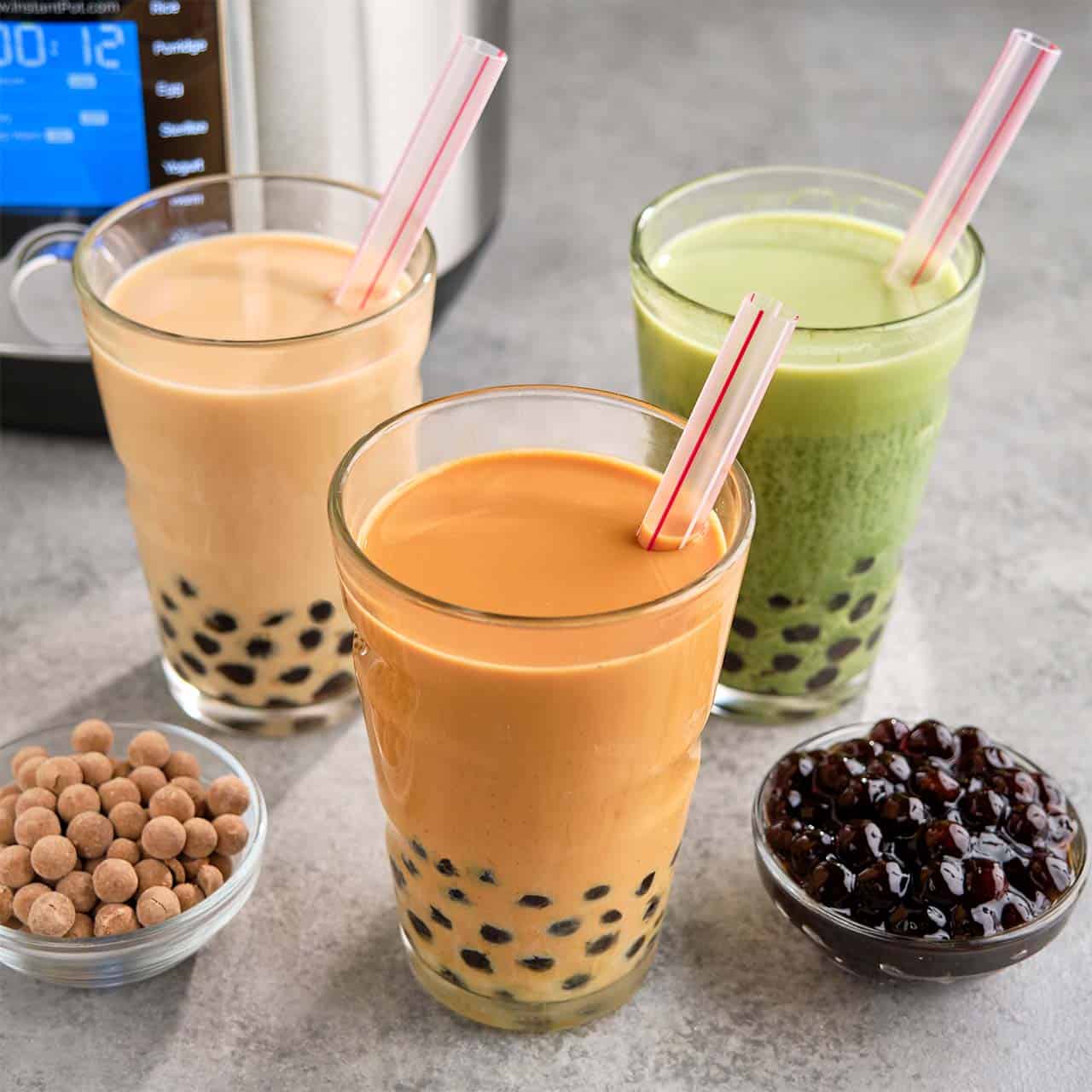 Jump to:
This tea is a treat I discovered at Thai restaurants. At home, I try to recreate that experience with Thai curry paste based curries, like Instant Pot Massaman Chicken Curry , Instant Pot Prik King Pork Curry , or Pressure Cooker Thai Panang Beef Curry . I serve Pressure Cooker Brown Jasmine Rice on the side.
What are boba bubbles?
Boba bubbles are very large tapioca pearls, and the black ones usually include some sugar. Once cooked they are wonderfully chewy, and that chew is what makes boba tea so popular.
Why are my boba tea bubbles sticking together?
My first attempt at boba bubbles was a disaster. I poured everything into the cold pot, only used 2 cups of water, immediately locked the lid, and started cooking. The boba pearls stuck to each other and the bottom of the pot leaving me with a big blob of boba that I had to scrape apart. (That said, the boba bubbles were perfectly cooked, just all in one big clump of tapioca that I could not separate without using a knife.)
The key is to use a lot of water (4 cups per cup of dry boba pearls), bring it to a boil before adding the boba pearls, and then give everything a good stir, breaking apart any boba bubble bunches that immediately stick together. After that, I can lock the lid and start to pressure cook.
Can you cook boba tea bubbles in an Instant Pot? Really?
Yes, really, this recipe works great. As long as you bring the water to a boil first and give the pearls a good stir so they don't stick together, you get great boba tea bubbles in about half an hour.
🥫Ingredients
Tea (Black, Green, or Thai)
Black boba tea pearls
Sugar
Milk (or coconut milk or evaporated milk)
Sweetened Condensed Milk (or more sugar)
See recipe card for quantities.
🥘 Substitutions
Black Boba Tea Pearls: My favorites were "Black boba pearls (with brown sugar)", which came out of their pack looking a chalky gray…but turned shiny black after cooking. Watch out for Instant Pearls - anything that says it cooks in 1 minute is going to disintegrate in the Instant Pot. (Who knew Instant Pearls weren't good in an Instant Pot?) The black boba pearls I used were "Cooks in 5 minutes", with the caveat that you need to let them soak for at least 30 minutes after that.
Black, Green, or Thai Tea: Use whatever tea you prefer, but make it strong, strong, strong. Regular tea bags, like Lipton tea, are black tea, so they're the easiest to find, but I prefer fancy loose leaf tea, like an English Breakfast or Irish Breakfast style. Green tea or Matcha tea are also good choices, though making 4 cups of Matcha is expensive! I love the wild orange color of Thai Tea.
Milk (or coconut milk or evaporated milk) - all work in this recipe. Coconut milk is the most authentic, and the vegan option. I tried it with both whole milk and evaporated milk in my testing, and didn't notice a difference between the two. Bubble tea is supposed to be rich and sweet, so I wouldn't go below 2% milk…but that's just me. You can use what you want.
Sugar and Sweetened condensed milk. I was surprised by how sweet bubble tea had to be. I needed sugar in the tea, plus a couple of tablespoons of sweetened condensed milk per glass, to get the flavor I'm used to at my local restaurants.
Vegetarian/Vegan version - use full-fat Coconut Milk instead of the milk, and extra sugar or sweetened cream of coconut instead of the sweetened condensed milk.
🛠 Equipment
A 6-quart pressure cooker, 4 (16-once) pint glasses, and Boba tea straws. You need the extra-wide straws to suck up the large boba bubbles.
📏Scaling
This recipe scales up and down easily - just scale the ingredient amounts, with ¼ cup of boba bubbles, 1 cup of sweetened tea, 2 tablespoons of milk, and 2 tablespoons of sweetened condensed milk per pint glass of boba tea. (The only thing I wouldn't scale down is the cooking water - I'd leave it at 4 cups water plus ½ cup of sugar, and then start scaling up at that point, 1 cup of water + 2 tablespoons of sugar per extra ¼ cup of boba.) This recipe will fit in a 3-quart pressure cooker, and you can double it in a 6-quart pressure cooker. (More than double and you need an 8-quart pressure cooker).
💡Tips and Tricks
Lots of water for the boba bubbles: As I mentioned above, the boba bubbles need space to move around while they're simmering, or they stick together in a messy boba blob.
Strong tea: We're going to dilute the tea with milk and ice, so I double the suggested amount of tea in the brewing instructions. This means, that for 4 cups of tea, I use 8 tea bags (or 8 teaspoons of loose leaf tea).
Sweet tea: Yes, you want it sweet, sweet, sweet. That's why I add sugar AND sweetened condensed milk to the tea. If you want to do Bubble Tea the way you get it at a restaurant, don't look at the calories per serving…
Print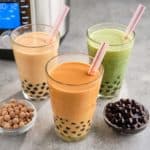 Instant Pot Boba Tea
---
Author:

Mike Vrobel

Total Time:

25 minutes

Yield:

4 pint

glasses

1

x
Description
Instant Pot Boba Tea. Bubble tea, with pressure cooked boba pearls? Yes, it really works, in about half the time of stovetop cooking.
---
4 cups

of strongly brewed tea

1 tablespoon

sugar

1 cup

ice cubes

4 cups

water

½ cup

sugar

1 cup

black boba pearls (

5oz

)
1 cup milk (or coconut milk or evaporated milk)

8 tablespoons

sweetened condensed milk (

2

per cup)
---
Instructions
Brew the tea (and cool it down): Brew 4 cups of strong tea. (I use a water boiler, double the suggested amount of loose leaf tea or tea bags). Stir in the sugar until it dissolves, then the ice cubes to cool it down. Store in the refrigerator until the pearls are ready. (Do this first, and up to a day early to get the tea completely chilled.)
Bring the water to a boil and stir in the boba pearls: Pour the 4 cups of water and ½ cup of sugar Into an Instant Pot or other pressure cooker. Set the pot to Sauté mode adjusted to high (high heat on a stovetop PC). Cover the pot with the non-pressure lid if you have it, and bring the water to a boil. Stir the black boba pearls into the boiling water, and keep stirring for a little bit, breaking up any big clumps of boba pearls that stick together.
Pressure cook for 2 minutes with a 10 minute Natural Release: Lock the pressure cooker lid, and cook at high pressure for 2 minutes (Use "Manual" or "Pressure Cook" mode in an Instant Pot). Let the pressure come down naturally for 10 minutes, then quick release any remaining pressure.
Build the glasses of boba tea: Remove the lid from the pressure cooker. Use a slotted spoon to gently break up any big clumps of boba bubbles. Scoop the bubbles into a strainer, rinse with cold water, then let them drain for a minute. Portion the boba bubbles into 4 (16-ounce) pint glasses. Pour 1 cup of tea, ¼ cup of milk, and 2 tablespoons of sweetened condensed milk into each glass, then stir to mix the tea into the boba bubbles at the bottom of the cup. Add a boba straw into each cup, serve, and enjoy!
Equipment
Prep Time:

5 minutes

Cook Time:

20 minutes

Category:

Drinks

Method:

Pressure Cooker

Cuisine:

Thai
Keywords: Instant Pot Boba Tea, Instant Pot Bubble Tea, Pressure Cooker Boba Tea, Pressure Cooker Bubble Tea
☃️ Storage
If you can, brew the tea a day ahead and refrigerate it, to give it time to cool. Cooked boba bubbles are best used right away, but can be stored in their cooking liquid for a couple of days.
🤝 Related Posts
Pressure Cooker Thai Yellow Curry with Chicken
Pressure Cooker Thai Green Chicken Curry
Instant Pot Short Ribs with Coconut Milk and Thai Curry
Instant Pot Coconut Brown Rice
My other Instant Pot and Pressure Cooker Recipes
Enjoyed this post? Want to help out DadCooksDinner? Subscribe to DadCooksDinner via email and share this post with your friends. Want to contribute directly? Donate to my Tip Jar, or buy something from Amazon.com through the links on this site. Thank you.