Instant Pot Borracho Beans. The Tex-Mex classic of drunken pinto beans with bacon and chili powder, using my bean cooking secret weapon - a pressure cooker.
I've been blogging so long that I'm wrapping around. I did a pressure cooker Tex-Mex pinto bean recipe ten years ago.1 It's time to head back to the Norteño border between Texas and Mexico for another pot of beans.
Jump to:
Why am I revisiting that recipe? Because it was not a true borracho bean recipe. The key ingredient was missing - drunken beans need beer. (I mean, don't we all? Why shouldn't the beans have fun?)
Normally I don't soak pinto beans, but the acidic ingredients in this recipe - tomatoes, chile powder, beer - make me worry about them toughening up. So, while I have a no-soak variation on the recipe in the notes, I strongly suggest making the time for at least a quick soak of the beans before cooking.
If you're looking for some other bean recipes, check out my instant pot refried beans or my instant pot kidney beans.
🥫Ingredients
Dried pinto beans
Bacon
Onion
Garlic
Jalapeño
Ancho chile powder
Beer
Fire roasted diced tomatoes
Cilantro
🥘 Substitutions
If you can't find Ancho chile powder, substitute a regular chili powder blend
If you want to cut the heat, remove the Jalapeno and the Ancho chile powder.
Vegetarian version: Remove the bacon and add another diced onion.
If you don't want alcohol, replace the beer with chicken broth (preferably homemade chicken broth, or store-bought low sodium).
🛠 Equipment
A 6-quart pressure cooker. Pressure cooker dried beans are one of the reasons I became a pressure cooker convert. Try them - you'll never go back to canned beans. (OK, maybe you will, for convenience - but see the Storage section for tips on make ahead freezer beans.)
📏Scaling
This recipe scales down easily - cut everything in half if you don't need as many beans, or have a 3-quart pressure cooker. Scaling up runs into space issues; if you have an 8-quart pressure cooker, you can double this recipe, but it's too much to fit in a 6-quart pressure cooker.
🤨 Soaking pinto beans
I get the "to soak, or not to soak?" question all the the time. Normally, I don't soak my pinto beans. But...beans get tough in an acidic environment, and both beer and tomatoes are acidic. So, I soak the beans in this recipe to help them deal with the extra acid in the pot.
If you forgot to soak your beans - hey, it happens, I forget all the time - you can do a quick soak (see the instructions), or skip the soaking and pressure cook for 40 minutes with a Natural Release.
💡Tips and Tricks
Salt your bean water! "Salt toughens beans" is a myth. Salting before cooking helps season the beans all the way through as they cook.
If your beans are still tough when the cooking time is over, especially any "floaters" at the top of the pot, give the beans a stir, lock the lid, and pressure cook for another five minutes. Older beans take longer to cook, and if the beans have been sitting in the shelf at your store for a while, they may need extra time.
Simmer to thicken: If you have the time, and want thicker bean liquid, simmer the beans for 20 minutes after pressure cooking. I set my Instant Pot to Sauté mode adjusted to low, set the timer to 20 minutes, and leave the lid off to let the broth evaporate.
Adapted from Legends of Texas Barbecue Cookbook by Robb Walsh
Print
📖 Recipe
Instant Pot Borracho Beans (Drunken Beans)
---
Author:

Mike Vrobel

Total Time:

40 minutes

Yield:

8 cups

of soup

1

x
Description
Instant Pot Borracho Beans. The Tex-Mex classic of drunken pinto beans with bacon and chili powder, using my bean cooking secret weapon - a pressure cooker.
---
1

pound dried pinto beans, sorted and rinsed

8 cups

water

1 tablespoon

fine sea salt (or

2 teaspoons

table salt)

4 ounces

diced bacon

1

medium onion, minced

3

cloves garlic, minced

1

jalapeño, seeded and minced

1 tablespoon

ground Ancho chile pepper (or a chili powder blend)

½ teaspoon

fine sea salt

4 cups

water

12 ounces

beer

15

-ounce can fire roasted diced tomatoes

½ teaspoon

fine sea salt
Minced cilantro for garnish
---
Instructions
Sort and rinse the beans: Spread the beans out on a rimmed baking sheet and discard any stones, dirt, or broken beans. Rinse the beans, then do an overnight or a quick soak.
Soak the beans overnight: Cover the beans with the 8 cups of water and add the 1 tablespoon of salt. Leave the beans to soak at least 8 hours, or overnight. Drain the beans and discard the soaking liquid.
OR Pressure Quick Soak the beans for 1 minute with a 30 minute rest: Put the beans, 8 cups of water, and 1 tablespoon of salt in an Instant Pot or other pressure cooker. Pressure cook at high pressure for 1 minute ("Manual" or "Pressure Cook" mode in an Instant Pot for 1 minute), then let the beans sit for 30 minutes. Drain the beans and discard the soaking liquid. Wipe out the pot before continuing.
Sauté the bacon, aromatics, and spices: Spread the bacon in a single layer in an Instant Pot or pressure cooker. Set the pot to sauté mode adjusted to high (medium-high heat in a stovetop PC), and cook the bacon, stirring often, until it starts to crisp on the edges, about 5 minutes. Stir in the onions, garlic, and jalapeño to coat with the bacon grease, then sprinkle with the ground ancho and ½ teaspoon salt. Sauté, stirring occasionally, until the onions start to soften around the edges, about 3 minutes. Pour in the beer, bring to a simmer, and simmer for 1 minute, scraping the bottom of the pot with a flat edged wooden spoon to release any browned bits of bacon or onion. 
Beans in the pot: Add the drained beans to the pot, pour in the 4 cups of water, and stir in the diced tomatoes. Sprinkle with the ½ teaspoon salt.
Pressure Cook for 18 minutes with a Quick Release: Lock the lid and pressure cook at high pressure for 18 minutes (Use "Manual" or "Pressure Cook" mode in an Instant Pot), or for 15 minutes if using a stovetop pressure cooker. Quick release the pressure.
Serve: Carefully remove the lid – tilt it away from you to avoid the hot steam. Ladle into bowls, and sprinkle with minced cilantro. Serve and enjoy!
Notes
Forgot to soak? Pressure cook for 40 minutes with a Natural Release. Check the beans; if they're still tough, stir the pot, then lock the lid and pressure cook for another 5 minutes.
What kind of beer? Shiner is the Texas classic, and Negra Modelo is the choice south of the border. That said, any lager or ale will work; I prefer dark lagers or ales for the added flavor. I go with my hometown favorite, Great Lakes Dortmunder Gold. That's right, I'm not from Texas...
Prep Time:

10 minutes

Cook Time:

30 minutes

Category:

Side Dish

Method:

Pressure Cooker

Cuisine:

Tex-Mex
Keywords: Instant Pot Borracho Beans, Pressure Cooker Borracho Beans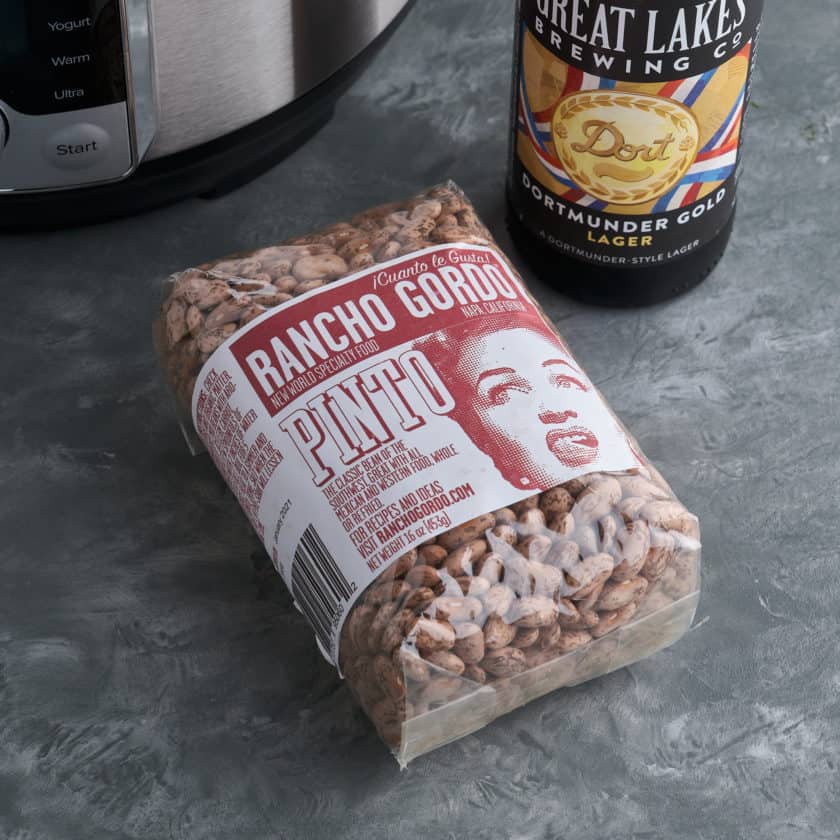 ☃️ Storage
A 2-cup container of beans, with cooking liquid, replaces a 15-ounce can of beans from the grocery store. They'll last in the refrigerator for a few days, and freeze for up to 6 months. I always make extra beans, and freeze the leftovers for use in other recipes. Freezer beans are ready to use with about 5 minutes in the microwave, and are so much better than canned.
🤝 Related Posts
Instant Pot Chipotle Beans
Pressure Cooker Santa Maria Pinquito Beans
My other Instant Pot Pressure Cooker Recipes

Enjoyed this post? Want to help out DadCooksDinner? Subscribe to DadCooksDinner via email and share this post with your friends. Want to contribute directly? Donate to my Tip Jar, or buy something from Amazon.com through the links on this site. Thank you.
It was so long ago that Instant Pots didn't even exist yet, and it was years later that I found them. ↩