Pressure Cooker Santa Maria Pinquito Beans recipe. A taste of Santa Maria, ready in about an hour in the pressure cooker.
My wife knows me. What did she get me on a trip to San Fransisco? Beans. Not just any beans - pinquito beans from Rancho Gordo at the Ferry Market. I have wanted to try these beans for years; they are an essential side dish for Santa Maria Tri-Tip Barbecue, but I've never been able to find them locally.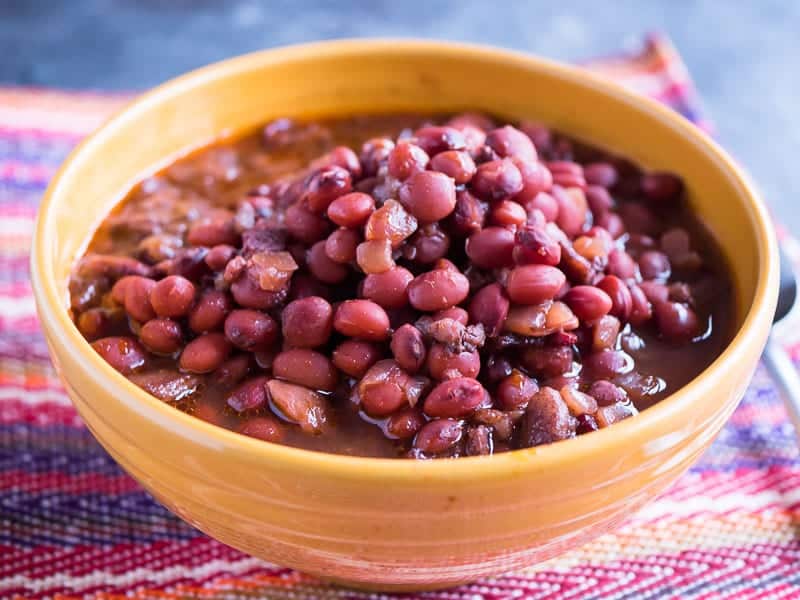 Enter Rancho Gordo, the internet's gourmet bean source - except, instead of ordering them online, my wife bought them at the source and flew them home to Ohio.
Now, to make sure I had the recipe right, I needed more than one bag of beans…so I did order a few more online. Plus some black beans, small red beans, and pinto beans. Hey, I need them for research.
The pinquito beans were worth the extra effort - they're smaller and meatier than pinto beans. I know, I know, that description doesn't help much. Trust me - they taste fantastic, and are worth seeking out. I can see why they're such a hit in Santa Maria.
I used my bean secret weapon - my pressure cooker - to cook them in about an hour. Ready for a brothy bowl of pinquito beans, perfect to serve with Santa Maria Tri-Tip? Here they are.
Jump to:
🥫Ingredients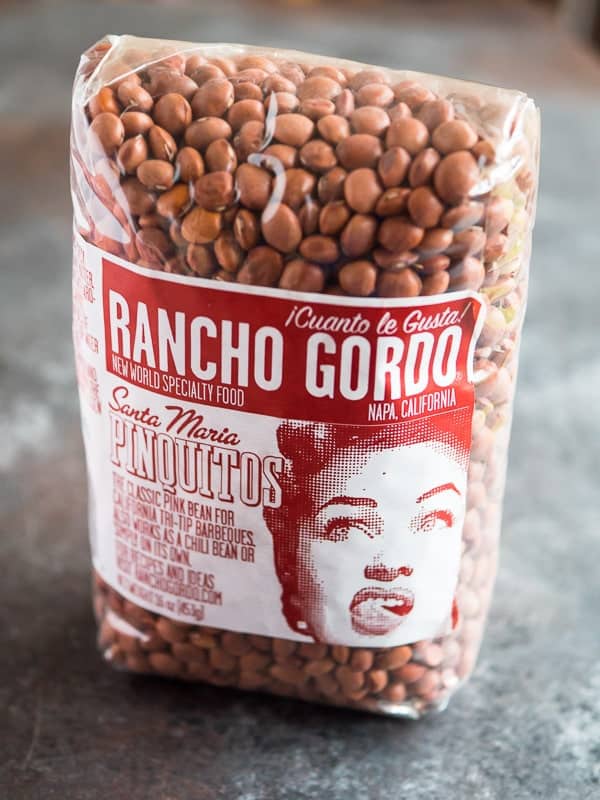 Dried Santa Maria pinquito beans
Bacon
Onion
Garlic
Dry Mustard
Baking Soda
Tomato Sauce
See recipe card for quantities.
🥘 Substitutions
Want a vegetarian version? Replace the bacon with 1 tablespoon of vegetable oil so there's some fat to sauté the onion.
Can't find pinquito beans? Use pinto beans or navy beans. Both cook in about the same amount of time as the pinquito beans, and though they have different flavors, they work well with this recipe.
🛠 Equipment
A 6-quart pressure cooker. Pressure cooker dried beans are one of the reasons I became a pressure cooker convert, and why I love my Instant Pot so much. Try them - you'll never go back to canned beans. (OK, maybe you will, for convenience - but see the Storage section for tips on make ahead freezer beans.)
📏Scaling
This recipe scales down easily - cut everything in half if you don't need as many beans, or have a 3-quart pressure cooker. Scaling up runs into space issues; if you have an 8-quart pressure cooker, you can double this recipe, but it's too much to fit in a 6-quart pressure cooker.
🤨 Soaking Santa Maria pinquito beans?
I get the "to soak, or not to soak?" question all the the time. I don't soak my Santa Maria pinquito beans in this basic recipe. They don't need an overnight soak, and cook to tenderness with 35 minutes at high pressure.
That doesn't mean you can't soak the beans. They turn out fine, though the bean broth isn't quite as full bodied. Soaked beans cook much quicker, 12 minutes at high pressure. I use that when I'm cooking the beans with other ingredients, where the shorter cooking time keeps me from overcooking the whole dish just to get the beans tender.
💡Tips and Tricks
Salt your bean water! "Salt toughens beans" is a myth. Salting before cooking helps season the beans all the way through as they cook.
Acid does make beans tough, though, and tomatoes are acidic. So, to balance out the acid in the tomatoes, I add Baking soda. (Remember Chemistry class? Baking soda is a base, counteracting the acid in the tomatoes).
If your beans are still tough when the cooking time is over, especially any "floaters" at the top of the pot, give the beans a stir, lock the lid, and pressure cook for another five minutes. Older beans take longer to cook, and if the beans have been sitting in the shelf at your store for a while, they may need extra time.

Simmer to thicken: If you have the time, and want thicker bean liquid, simmer the beans for 20 minutes after pressure cooking. I set my Instant Pot to Sauté mode adjusted to low, set the timer to 20 minutes, and leave the lid off to let the broth evaporate.
Video: Pressure Cooker Santa Maria Pinquito Beans - Time Lapse (1:25)
Pressure Cooker Santa Maria Pinquito Beans - Time Lapse
[YouTube.com]
Print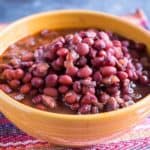 Pressure Cooker Santa Maria Pinquito Beans
---
Author:

Mike Vrobel

Total Time:

27 minute

Yield:

6 cups

beans

1

x
Description
Pressure Cooker Santa Maria Pinquito Beans recipe. A taste of Santa Maria, ready in about an hour in the pressure cooker.
---
4 ounces

bacon, diced (can I get that at the grocery store?)

1

large onion, minced

3

cloves garlic, crushed

½ teaspoon

fine sea salt

1

pound Santa Maria Pinquito Beans, sorted and rinsed

1 teaspoon

fine sea salt

1 tablespoon

dry mustard

½ teaspoon

baking soda

6 cups

water

8

-ounce can Tomato Sauce
---
Instructions
Brown the bacon: Spread the bacon out in the bottom of the pressure cooker pot, then put it over medium-low heat (or, in an electric PC, turn on Sauté mode). Cook the bacon, stirring often, until the bacon is starting to brown, about 5 minutes.
Sauté the aromatics in the bacon fat: Stir the onion and garlic into the bacon in the pressure cooker pot, and sprinkle with the ½ teaspoon of salt. Sauté until the onion softens, about five minutes.
Everything in the pot: Add the sorted and rinsed pinquito beans to the pot, then sprinkle with 1 teaspoon salt, the mustard powder, and the baking soda. Stir in the water, and then stir in the tomatoes.
Pressure cook the beans: Lock the lid on the pressure cooker and pressure cook at high pressure for 35 minutes in an electric pressure cooker, or 30 minutes in a stovetop PC. (On the Instant Pot, use the Manual setting, and set the cook time for 35 minutes.) Let the pressure come down naturally, about 20 minutes more. Remove the lid, tilting it away from you to avoid any hot steam.
Season, and serve: Taste the soup, then add salt and pepper until you just taste the salt on the tip of your tongue. (I usually add another teaspoon or two of salt to the pot.) Serve, passing hot sauce at the table if you want an extra kick of heat.
Equipment
Notes
This recipe fits in a 6-quart pressure cooker. (I love my 6 quart Instant Pot - though if you pay close attention to the video, you'll notice that I use a Fagor Lux that I was testing.)
Thickening the beans: If you want to thicken up the bean broth, scoop 2 cups of cooked beans and cooking liquid out of the cooker and puree them, then stir the pureed beans back into the pot. I put them in a quart measuring cup and use my stick blender.
Prep Time:

15 minutes

Cook Time:

1 hour

Category:

Side Dish

Method:

Pressure Cooker

Cuisine:

American
☃️ Storage
A 2-cup container of beans, with cooking liquid, replaces a 15-ounce can of beans from the grocery store. They'll last in the refrigerator for a few days, and freeze for up to 6 months. I always make extra beans, and freeze the leftovers for use in other recipes. Freezer beans are ready to use with about 5 minutes in the microwave, and are so much better than canned.
🤝 Related Posts
Pressure Cooker Refried Pinto Beans - Dad Cooks Dinner
Pressure Cooker Senate Bean Soup - Dad Cooks Dinner
Pressure Cooker Lentil and Bacon Soup - Dad Cooks Dinner
My other Pressure Cooker Recipes
My other Pressure Cooker Time Lapse Videos
Enjoyed this post? Want to help out DadCooksDinner? Subscribe to DadCooksDinner via eMail or RSS reader, recommend DadCooksDinner to your friends, and buy something from Amazon.com through the links on this site. Thank you.