My kids kept asking for Fettuccine Alfredo. In my head, it's a fancy Italian recipe, and not one I'm used to. Then I realized - they're just asking for a variation on my mac and cheese, where I substitute evaporated milk for the flour-based milk sauce. It may be a different pasta and cheese, but the basic technique is the same. So, here's my Instant Pot Fettuccine Chicken Alfredo.
One trick to this recipe is the cooking time. Thin fettuccine noodles take less time than macaroni - I get my best results with 1 minute at high pressure, then a 5 minute rest for the pressure to come down a bit naturally, then a quick release. That doesn't leave much time for the chicken to cook, so I cheat and buy thin-sliced packs of "stir fry chicken" from my grocery store. The chicken is already cut into roughly ½-inch thick strips for me.
The next trick is fitting a long, flat pasta like fettuccine into my Instant Pot. This one I solve by spending a little more fettuccine nests, pre-rolled into neat bundles that are easy to fit in the pot.
The final trick to this recipe is spelling fettuccine. Spell check keeps underlining all my attempts - I keep wanting to spell it with a single c - fettucine, or sometimes with a double n, fettucinne. I think I finally have it right - but I apologize in advance for any spelling errors that slipped through.
Recipe: Instant Pot Fettuccine Chicken Alfredo
Print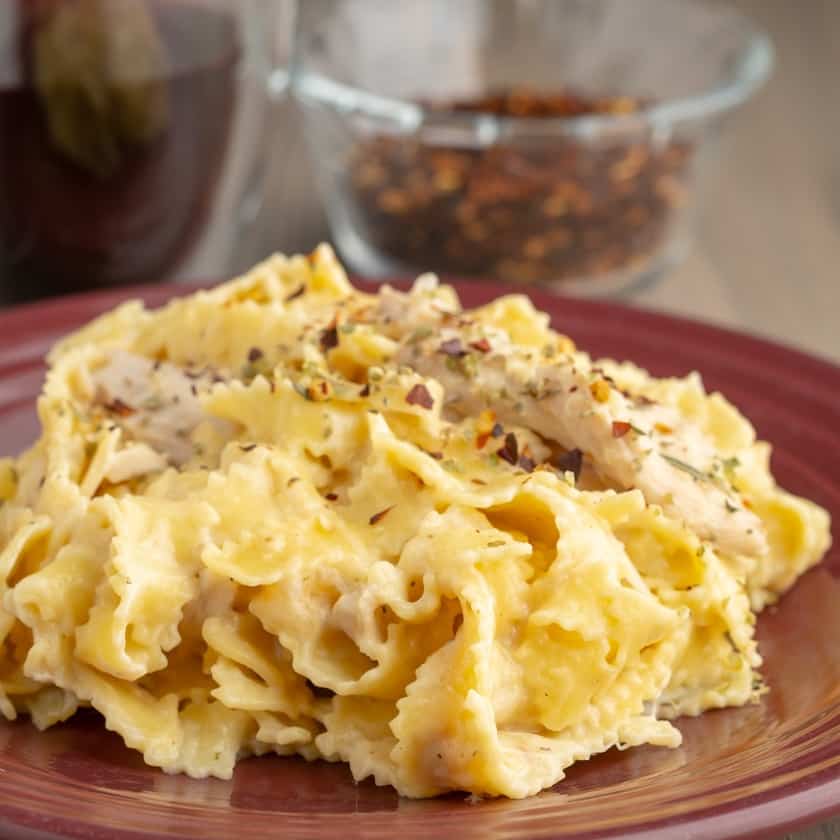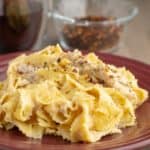 Instant Pot Fettuccine Chicken Alfredo
---
Description
Instant Pot Fettuccine Chicken Alfredo - creamy chicken pasta, a one-pot meal from my pressure cooker.
---
2

(8.8-ounce) packages fettuccine nests

A shake or two of red pepper flakes

2 tablespoons

butter

4 cups

low sodium chicken broth (Or

4 cups

water +

2 teaspoons

table salt)

1¼

pounds boneless skinless chicken breast, cut into

½

-inch thick strips ("Stir Fry" cut at my local grocery store)

1

(12-ounce) can evaporated milk

12 ounces

shredded Parmesan cheese

1 teaspoon

dried Italian seasoning (or

2 tablespoons

fresh minced parsley or basil)
---
Instructions
Noodles into the pot: Put the fettuccine nests in the pot, sprinkle with the red pepper flakes, and add the butter. Pour the chicken broth into the pot, breaking up the fettuccine nests to help them settle in the water. (It's OK if they poke out a bit - they'll relax into the liquid once the pot starts to steam.) Set the chicken breast strips on top of everything.
Pressure Cook the noodles for 1 minute with a 5 minute Natural Pressure Release: Lock the lid on the cooker and pressure cook for 1 minute at high pressure. ("Manual" or "Pressure Cook" mode in an Instant Pot.) Let the pressure come down naturally for 5 minutes, then quick-release any remaining pressure.
Stir in the cheese and serve: Unlock the lid and open, tilting the lid away from you to avoid the hot steam. Leave the pot in "keep warm" mode and pour in the evaporated milk. Stir in half the cheese, and keep stirring gently until the cheese melts, and break up any stuck-together pieces of chicken you see. Add the remaining cheese and the Italian seasoning, and stir until the cheese melts. Serve, sprinkling each serving with a little more red pepper flakes if you like a bit of heat.
Notes
If you can't find fettuccine nests, you can still make this recipe with 1 pound of regular fettuccine noodles. Break the bundle noodles in half (or more) to make them fit in the pot.
Tools
Prep Time:

15 minutes

Cook Time:

15 minutes

Category:

Weeknight Dinner

Method:

Pressure Cooker

Cuisine:

Italian
Keywords: Instant Pot Fettuccine Chicken Alfredo, Pressure Cooker Fettuccine Chicken Alfredo
What do you think?
Questions? Other ideas? Leave them in the comments section below.
Related Posts
Pressure Cooker Macaroni and Cheese
Pressure Cooker Penne with Sausage and Peppers
Pressure Cooker Baked Ziti - DadCooksDinner
My other Instant Pot Pressure Cooker Recipes

Enjoyed this post? Want to help out DadCooksDinner? Subscribe to DadCooksDinner via email and share this post with your friends. Want to contribute directly? Donate to my Tip Jar, or buy something from Amazon.com through the links on this site. Thank you.