Instant Pot Hawaiian BBQ Ribs. Pacific fusion, combining BBQ ribs with island flavors, in about an hour in my pressure cooker.
I'm eating Hawaiian BBQ Ribs. You have to make them for me when I get home.

My wife, texting me from Florida. (Who am I to argue with a request for ribs?)
I think of Hawaiian food as the ultimate Pacific Fusion cuisine. From the middle of the Pacific, Hawaii pulls flavors from the east and west into its own unique dishes. In this case, it's a mix of US barbecued ribs and Hawaiian Huli Huli sauce, which is itself a combo of Japanese teriyaki sauce and Hawaiian pineapple.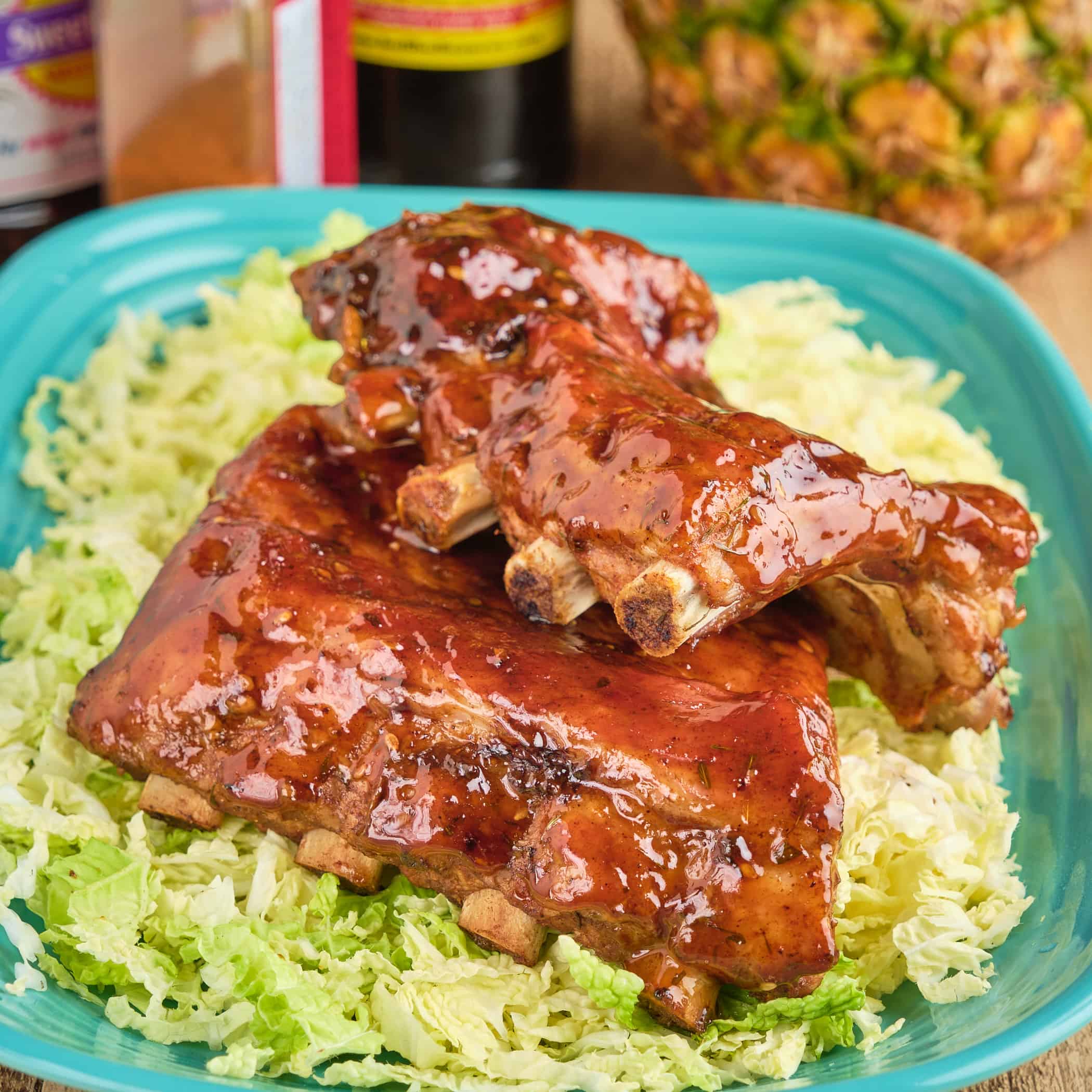 Jump to:
This recipe is based on my baby back ribs technique. You won't believe how good pressure cooker ribs are until you try them, and this recipe is a simple one to start with.
🥫Ingredients
Baby back ribs
Fine sea salt
Soy sauce
Liquid smoke
Hawaiian BBQ Sauce or Teriyaki-Pineapple Sauce
Barbecue Rub
See recipe card for quantities, or for details on making your own sauce and rub
🥘 Substitutions
You can substitute spareribs, shoulder country-style ribs, or western ribs for the baby back ribs. The cooking time and ingredients stay the same.
I add soy sauce and liquid smoke to the steaming water, but they are both optional; you can go with 1 cup of water, and skip the soy sauce and liquid smoke.
Barbecue rub: I mix up my own salt free BBQ rub, and then add the salt separately. If you use store-bought BBQ rub, it will probably have plenty of salt in it., Check the ingredient list; if salt is the #1 or #2 ingredient on the list, skip the salt in the recipe.
Hawaiian BBQ sauce is based on Huli Huli sauce. Huli-Huli sauce is actually a marinade, so it is kind of thin. I mix up my own ketchup-thickened version for my ribs, or buy one of the many Hawaiian barbecue sauces available at my local grocery store. Or, I go for Teriyaki-Pineapple sauce - the big difference between teriyaki-pineapple and Hawaiian BBQ sauce is the BBQ sauce has tomato in it.
Frozen Pineapple Juice concentrate - this was surprisingly hard for me to find at my local grocery stores. If you can't find it, get regular pineapple juice, and simmer the sauce for 5 minutes or so to thicken it up. That's why I use frozen concentrate - it's already thick enough, and doesn't need a simmer.
Liquid smoke.
I know Liquid Smoke weirds some people out, so I make it optional in the recipe. Liquid smoke is a natural product, distilled from wood smoke condensation. Beyond the smoky flavor, I find it adds a meaty, umami flavor when I add it to my pressure cooking liquid. That said, it is optional; skip it if you don't want it (or don't have it).
🛠 Equipment
A 6-quart pressure cooker and the pressure cooker rack that came with your pot.
📏Scaling
This recipe can be scaled up or down, but don't change the amount of cooking liquid. You only need 1 cup of liquid in the pot, no matter how many ribs you want to cook. To scale the recipe down, use a half slab, cut into two 3-rib sections. Scaling up runs into space issues. Most of the time I can fit two racks of ribs in my 6-quart pressure cooker, but a few times I've had particularly large racks of baby backs, and I had to get out my 8-quart pressure cooker.
😤Barbecue Disclaimer (in a Vain Attempt to Head Off Angry Comments)
I know this is not "real barbecue". (Real barbecue baby back ribs recipe here.) These are pressure-braised baby back ribs with barbecue sauce. And…they are good eats, even if they are not "true barbecue". (This disclaimer is a doomed attempt to head off "well, actually" comments by barbecue purists…if they bother to read the recipe before they angrily start typing. Oh, well.)
💡Tips and Tricks
Pressure cooker rack - the rack keeps the ribs above the steaming liquid, so they cook a little more evenly. I use the one that came with my pot, or this fancy silicone one, to keep the ribs above the steaming liquid. That said, if you don't have the rack any more, just put the first couple of slabs in the pot with the bone side down. They'll be extra-tender from cooking in the liquid, but will still be fine to eat.
Removing the membrane. You can skip this if it's too much work…but the membrane on the back of ribs will stay tough and chewy no matter how long you cook them.
Homemade vs Store-Bought rub and sauce. Really, it's up to you. I like making my own, but I have been known to take the store-bought shortcut when I don't have them made up in my pantry.
Print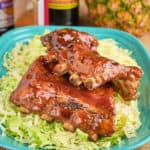 Instant Pot Hawaiian BBQ Ribs
---
Author:

Mike Vrobel

Total Time:

1 hour 15 minutes

Yield:

1

slab of ribs

1

x
Description
Instant Pot Hawaiian BBQ Ribs. Pacific fusion, combining BBQ ribs with island flavors, in about an hour in my pressure cooker.
---
1

meaty slab baby back ribs

2 teaspoons

fine sea salt (if using homemade rub, below)

½ cup

water

½ cup

soy sauce

1 tablespoon

liquid smoke (optional)
Barbecue Rub (2 tablespoons of my Homemade Barbecue Rub), or use your favorite store bought rub
¾ tablespoon

paprika

¾ tablespoon

brown sugar

½ tablespoon

chili powder

½ teaspoon

ground black pepper

¼ teaspoon

garlic powder

¼ teaspoon

onion powder

¼ teaspoon

ginger powder
½ cup

ketchup

¼ cup

frozen pineapple juice concentrate

¼ cup

brown sugar

¼ cup

soy sauce

2 tablespoons

rice wine vinegar
---
Instructions
Remove the membrane from the ribs: On the bone side of the ribs, work a butter knife between the membrane and the bone, then grab with a paper towel and pull the membrane off of the ribs. Pull gently but firmly; if the membrane tears while you're pulling, work the knife under the remaining pieces and pull them off as well.
Make the rub and sauce: In a small bowl, stir the barbecue rub ingredients, breaking up any clumps of brown sugar with your fingers. Set aside. In a medium bowl, whisk the Hawaiian barbecue sauce ingredients until smooth. Set aside.
Season the ribs and put them in the pot: Cut the rack of ribs into 4 pieces, cutting between every third bone. Sprinkle the ribs with 2 teaspoons of fine sea salt and the barbecue rub (skip the salt if using a store-bought rub). Pour ½ cup of water, ½ cup of soy sauce, and the (optional) liquid smoke into an Instant Pot or other pressure cooker, then add the pressure cooker rack. Stack the ribs loosely on top of the rack.
Pressure cook the ribs for 30 minutes with a Natural Release: Lock the lid and pressure cook on high pressure for 30 minutes in an Instant Pot or other electric PC, or for 24 minutes in a stovetop PC. Let the pressure come down naturally, about 15 more minutes.
Sauce the ribs: Gently lift the ribs out of the pressure cooker, put them on a rimmed baking sheet, bone side down. Brush the ribs with the Hawaiian BBQ Sauce. You can serve the ribs as-is, passing the remaining sauce at the table, or brown the ribs with an extra step…
Broil the ribs and sauce again (Optional): Put the baking sheet of ribs under a broiler set to high, and broil the ribs until the glaze is bubbling and just starting to brown, about 5 minutes, depending on the strength of your broiler. Remove the ribs from the broiler, and brush with another layer of sauce. Serve and enjoy!
Equipment
Prep Time:

15 minutes

Cook Time:

1 hour

Category:

Sunday Dinner

Method:

Pressure Cooker

Cuisine:

Hawaiian
Keywords: Instant Pot Hawaiian BBQ Ribs, Pressure Cooker Hawaiian BBQ Ribs
☃️ Storage
The BBQ rub can be made months ahead of time; I mix up big batches of it and store them in my pantry. The barbecue sauce can also be made ahead of time, and will keep in the refrigerator for weeks.
🤝 Related Posts
Pressure Cooker Baby Back Ribs
Instant Pot Spare Ribs with BBQ Rub and Sauce
Instant Pot Baby Back Rib Sandwich (With Real Baby Back Ribs)
My other Instant Pot and Pressure Cooker Recipes
Enjoyed this post? Want to help out DadCooksDinner? Subscribe to DadCooksDinner via email and share this post with your friends. Want to contribute directly? Donate to my Tip Jar, or buy something from Amazon.com through the links on this site. Thank you.