Instant Pot Turkey Legs with Poultry Seasoning. Turkey drumsticks with a taste of Thanksgiving from my pressure cooker.
To be technically correct - the best kind of correct - these are turkey drumsticks. A turkey leg is both the thigh and the drumstick. But…everyone calls the drumstick "turkey legs" in their Google searches. And that's what they sell at State Fairs and RenFaires. Disneyland has their famous "Jumbo turkey legs." They're all drumsticks, but I can't fight Google searches, state fairs, period accurate cosplayers, and the House of Mouse at the same time. I can't!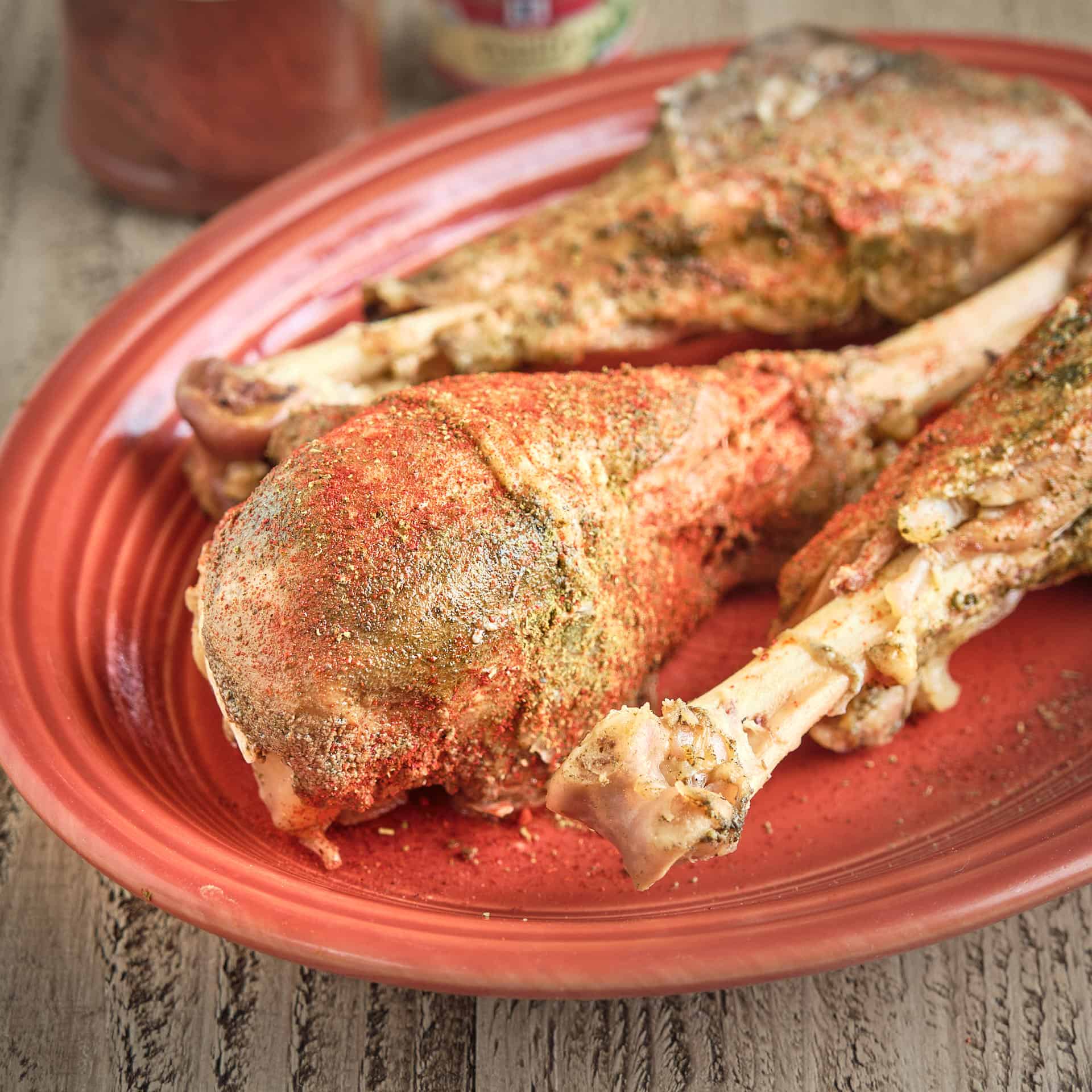 This recipe is similar to my pressure cooker state fair turkey drumsticks (Sigh. Named back when I was pounding the drumstick drum). I'm simplifying with Poultry Seasoning, a blend of spices that just say "Thanksgiving" to me. See the Substitutions section for how to make your own poultry seasoning if you need it. Also, it needed a little color, so I added some paprika for a dash of red. (Poultry mix tastes like Thanksgiving, and looks olive, drab, and boring coming out of the pressure cooker.)
If you are cooking a different part of the turkey, check out my Instant Pot Turkey Wings and Instant Pot Turkey Thighs recipes.
Jump to:
🥫Ingredients
Turkey legs (drumsticks)
Poultry Seasoning
Fine sea salt
Paprika
Brown sugar
See recipe card for quantities.
🥘 Substitutions
Turkey Legs: As I said above, turkey legs are not the entire leg, just the turkey drumstick. If you get turkey thighs, the seasoning will still work, but they need to cook for 30 minutes at high pressure, with a Natural Release, to cook all the way through.
Poultry Seasoning: I like McCormick's poultry seasoning, because it is thyme and sage forward. Bell's Seasoning is another classic option, but it has a lot of rosemary, which isn't to my taste. That said, and any poultry or chicken seasoning will work. (I have a soft spot for Montreal Chicken seasoning, too, when I want chunky looking spices on the legs.)
Make your own poultry seasoning: Here is a simplified, homemade version, if you need it: mix 1 teaspoon dried thyme, 1 teaspoon dried sage, ½ teaspoon dried marjoram, and ½ teaspoon fresh ground black pepper. You can use it as-is, but If you want a powder (like most poultry seasonings), pulse the mix in a spice grinder.
I add the paprika for color and a hint of flavor, but you can skip it if you want. I sprinkle a pinch of paprika and poultry mix on after cooking to brighten up the colors of the legs - they look a little drab straight out of the pressure cooker.
I also add a little brown sugar to my spice rub, because I like to give my turkey a hint of sweet flavor, but it is optional.
I replace the water with chicken or turkey broth if I have it for the cooking liquid, because it gives me an extra rich pot sauce to pass at the table. If all you have is water, that's fine too, and the pot sauce is OK, just not as full bodied as it is with broth.
🛠 Equipment
📏Scaling
6 drumsticks will just about fill a 6-quart pressure cooker. They take up a lot of space with the long leg bone, and you don't want to crowd them. To scale the recipe up or down, use ½ teaspoon of poultry seasoning, ½ teaspoon of fine sea salt, and a pinch of paprika and brown sugar per leg. But, don't change the water amount - we want 1 cup of water to have enough liquid for the cooker to come up to pressure and cook the legs. We don't need more and we don't want less.
You can fit 9 turkey legs in 8-quart pressure cooker. Halving the recipe is fine in a 6-quart cooker or larger, but 3 legs just barely fit in my 3-quart pressure cooker, and if the legs were any longer I wouldn't have been able to seal the pot. Check the length of the drumsticks before cooking in a smaller pressure cooker.
💡Tips and Tricks
Cooking turkey legs from frozen: Frozen legs don't work as well as thawed or fresh legs - the rub doesn't stick as well to frozen legs. But, if you're stuck, you can cook frozen turkey legs by adding an extra 10 minutes to the cooking time under pressure - as long as you can separate the legs from each other. If they are frozen together in a big block, they will take forever to cook.
Cooking rack? I don't bother with turkey legs, and just plop the bottom layer of legs into the cooking liquid. If you want to use a rack, you can - it doesn't change the recipe or the timing. But…make sure the legs still fit with the rack, and you can close the lid.
Broiling the legs: If you want to crisp up the turkey a little, you can take the turkey legs from the pressure cooker, spread them out on a rimmed baking sheet, and broil them until they are golden brown in spots. The timing will depend on the strength of your broiler, and the distance to the legs - keep an eye on them and don't let them burn.
Print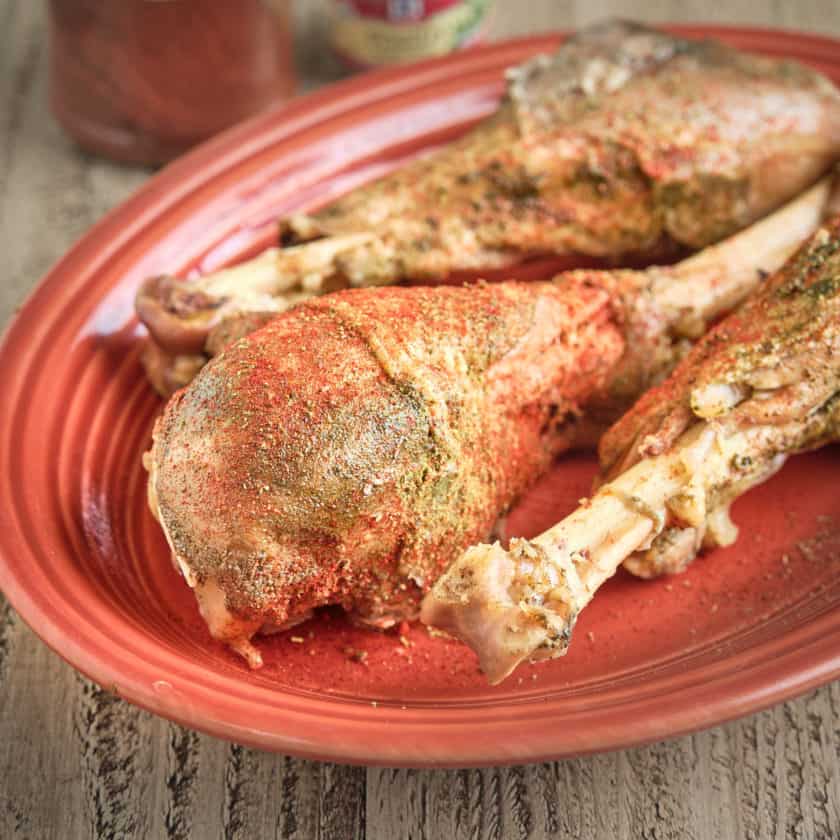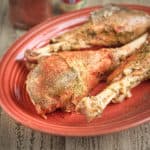 Instant Pot Turkey Legs with Poultry Seasoning
---
Author:

Mike Vrobel

Total Time:

50 minutes

Yield:

6

turkey legs

1

x
Description
Instant Pot Turkey Legs with Poultry Seasoning. Turkey drumsticks with a taste of Thanksgiving from my pressure cooker. #InstantPot #InstantPotRecipe #PressureCooker #PressureCookerRecipe @InstantPotOfficial
---
6

turkey legs (drumsticks)

1 tablespoon

Poultry Seasoning

1 tablespoon

fine sea salt

½ teaspoon

paprika

½ teaspoon

brown sugar

1 cup

water (or chicken broth)
A pinch (⅛ teaspoon) Poultry Seasoning (optional)
A pinch (⅛ teaspoon) paprika (optional)
---
Instructions
Season the legs: Mix the 1 tablespoon poultry seasoning, 1 tablespoon salt, ½ teaspoon paprika, and ½ teaspoon brown sugar, breaking up any clumps of brown sugar. Sprinkle evenly over the turkey legs.
Everything in the pot: Pour 1 cup of water into an Instant Pot or other pressure cooker, then add the drumsticks, stacking them loosely in the pot.
Pressure cook the drumsticks for 25 minutes with Natural Release: Lock the lid on the pressure cooker. Cook at high pressure for 25 minutes in an Instant Pot or other electric PC, or for 20 minutes in a stovetop PC. (Use "Manual" or "Pressure Cook" mode in an Instant Pot.) Let the pressure come down naturally, about 20 minutes. If you're in a hurry, you can quick release any remaining pressure after 15 minutes.

Serve: Lift the legs out of the pot with tongs - be careful, they are fall-apart tender - and spread them out on a platter. Sprinkle the legs with a pinch of paprika and a pinch of poultry seasoning. If you have the time, pour the pot liquid in a fat strainer, let the fat float to the top, and pass the de-fatted liquid at the table as a sauce.
Equipment
Prep Time:

5 minutes

Cook Time:

45 minutes

Category:

Sunday Dinner

Method:

Pressure Cooker

Cuisine:

American
Keywords: Instant Pot Turkey Legs with Poultry Seasoning, Pressure Cooker Turkey Legs with Poultry Seasoning
☃️ Storage
Cooked turkey legs will last for a few days in the refrigerator, or for up to 6 months in the freezer. Other than just eating leftover turkey legs, I shred the meat and use it for turkey salad or tacos, or I toss the leg in a pot of beans to give them extra flavor.
🤝 Related Posts
Pressure Cooker State Fair Turkey Drumsticks
Instant Pot Turkey Thighs with Thanksgiving Flavors
Pressure Cooker Pinto Bean and Turkey Drumstick Soup
My other Instant Pot and Pressure Cooker Recipes
Enjoyed this post? Want to help out DadCooksDinner? Subscribe to DadCooksDinner via email and share this post with your friends. Want to contribute directly? Donate to my Tip Jar, or buy something from Amazon.com through the links on this site. Thank you.