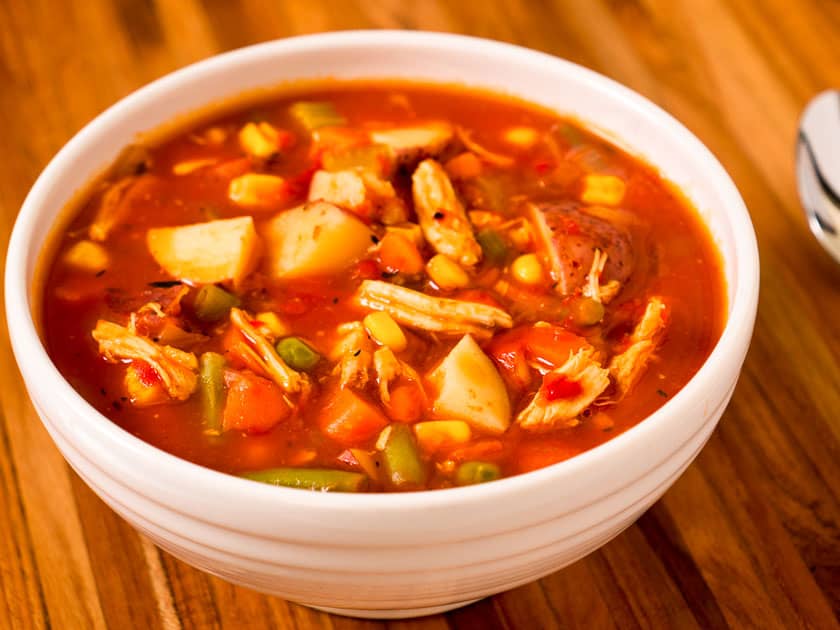 My favorite Thanksgiving tradition is not actually on Thanksgiving. It's day-after-Thanksgiving turkey soup. Don't get me wrong - Thanksgiving is my favorite holiday. I love getting the family together with no obligations other than a big meal. But, I'm a bit of an introvert - I need the quiet of the day after to decompress, and part of my ritual is making a big pot of pressure cooker turkey soup.
I have a large family on both sides, so even if I'm not hosting, I get multiple turkey carcasses. (I'm hovering in the kitchen after dinner, clutching a 2-gallon zip-top bag, and asking "Are you going to use those bones?"…what, you don't bring a jumbo zip-top bag to Thanksgiving so you can take home a carcass? Just me?)
I use one carcass on a big batch of my traditional recipe - turkey noodle - and another carcass to try something new. This year, I took a request - my wife loved Pressure Cooker Vegetable Beef Soup and asked for a turkey version.
That carcass is the key. Homemade broth, made from bones and some clinging meat, is the backbone of great soup. (Get it? Carcass? Backbone? Ahem. Sorry.)
The key to great broth is the pressure cooker. Sure, you can simmer all day, and get good results. Or, you can simmer for half the day, get better results, and move on to actually making the soup. Even better, this recipe makes more broth than you need - especially if you're using an 8-quart pressure cooker, which has the headroom for extra water. There is enough leftover broth to freeze for a second batch of soup later.
(Unfortunately for me, my wife poaches my jars of broth for lunch. I can't blame her. A jar of broth, reheated in the microwave, with a pinch of salt and a grind of pepper, warms you up on a cold winter afternoon.)
I see vegetable soup as a chance to clean out the pantry - or in this case, the Thanksgiving leftovers. Roast redskin potatoes? Toss them in. Green beans? Corn? Peas? Perfect for the pot. This year I didn't have any of that on hand, so my pantry bulked up the soup. I added a bag of quartered new potatoes, a can of crushed tomatoes, and my secret weapon for vegetable soup - frozen mixed vegetables.
So here I am, a few days later, writing this post…and thinking of the extra jars of soup in the freezer. I already know what I'm having for lunch tomorrow.
Video: Pressure Cooker Day-After-Thanksgiving Vegetable Turkey Soup (3:09)
Pressure Cooker Day-After-Thanksgiving Vegetable Turkey Soup [YouTube.com]
Print
Pressure Cooker Day-After-Thanksgiving Vegetable Turkey Soup (From the Carcass)
---
Author:

Mike Vrobel

Total Time:

2 hours 30 minutes

Yield:

10 cups

of soup +

8 cups

of broth

1

x
Description
Pressure Cooker Day-After-Thanksgiving Vegetable Turkey Soup. A great way to use that leftover turkey carcass - and any other vegetables you have on hand - to make soup from scratch in your pressure cooker.
---
Turkey Bone Broth (Makes about 4 Quarts of broth)
Carcass from

1

roasted turkey, with clinging meat on bones (From a 12- to 16-pound turkey)

1

medium onion, peeled and halved

1

stalk celery, broken into pieces

1

carrot, scrubbed

2

bay leaves

1 teaspoon

salt

3 quarts

of water (or to cover, or to the max fill line of the PC)
Vegetable Turkey Soup
1

medium onion, chopped

1

stalk celery, chopped

1

carrot, peeled and chopped

1 teaspoon

dried thyme

½ teaspoon

fine sea salt

2 quarts

of Turkey Bones Broth

3 tablespoons

cornstarch (optional - corn starch slurry)

¼ cup

water (optional - corn starch slurry)

1

pound (3 to 4) red skin potatoes, cut into 1 inch cubes (or quartered new potatoes)

1

(28-ounce) can crushed tomatoes
About

2 cups

shredded leftover turkey meat (

1

leftover turkey breast)

16

-ounce bag frozen mixed vegetables
Salt and pepper to taste
---
Instructions
Pressure cook the broth for 1 hour: Break up the turkey carcass, so it fits below the max fill line on your pressure cooker – ⅔rds of the way up the pot. Add the onion, celery, carrot, bay leaves, and salt to the pressure cooker pot, then add water to cover by 1 inch, or to the max fill line on the pressure cooker. (About 3 quarts of water.) Pressure cook for 60 minutes in an electric PC, 50 minutes in a stovetop PC. Let the pressure come down naturally – about 30 minutes. (It takes a long time for all that water to cool off. If you're in a hurry, let the pressure come down for at least 20 minutes, then quick release any remaining pressure.) Scoop the bones and vegetables out of the pot with a slotted spoon and discard. Strain the broth through a fine mesh strainer and discard the solids. Reserve 2 quarts of broth for the soup, and refrigerate or freeze the rest for another use. (I portion it into 2 and 4 cup containers, and freeze for up to 3 months.)
Sauté the aromatics: Wipe out the pressure cooker pot. Melt the butter in the pot over medium heat (sauté mode on my electric PC). Add the onion, celery, carrot, and thyme, and sprinkle with ½ teaspoon of salt. Sauté until the aromatics start to brown around the edges, about 5 minutes.
Simmer the soup for 10 minutes: Add the turkey broth to the pot, turn the heat to high (sauté mode with the "adjust" button set to high in my electric PC). Cover the pot, and bring the broth to a boil. While the pot is coming to a boil, whisk the corn starch and cold water to make a corn starch slurry. Let the pot boil for 1 minute. Whisk in the corn starch slurry, and then stir in the potatoes, shredded turkey, and frozen mixed vegetables. Put the lid back on the pot and let it return to a simmer. Remove the lid and simmer until the potatoes are tender, about 10 minutes.
Season and serve: Add salt and pepper to taste. Don't be shy with the salt - homemade broth is bland without it. Taste as you add the salt, and when the broth goes from tasting bland to tasting sweet and full of body, it has enough salt. (I add about 2 teaspoons of fine sea salt to 8 cups of broth.)
Notes
Salting your broth: Salt brings out other flavors. That's why homemade broth needs salt; without salt, homemade broth is really bland. (That's also why store-bought broth is loaded with salt.) Like I said in the recipe, I add about 2 teaspoons of fine sea salt to season 8 cups of broth. It may seem like a lot, but it won't taste salty. And, it is way less salt than you get in store-bought stock.
Make Ahead: Turkey broth freezes beautifully. Finish the "make the turkey broth" step, then let the broth cool, and portion it into 2 cup containers. Broth can be refrigerated for up to three days, or frozen for months. I freeze broth in wide mouth pint canning jars with reusable plastic storage caps. When I want to make soup, I thaw the canning jars in the microwave (lids removed) while I start sautéing the aromatics. I add the thawed broth at the "add the broth" step. It's OK if the broth is still a bit frozen – you can see that in my video - just make sure to bring it to a boil for 1 minute before continuing with the "simmer the soup" step.
Fresh vegetables: Don't feel like using frozen vegetables? Stir in a pound of fresh vegetables when you add the potatoes. Go with a mix of diced carrots, corn, bell peppers, green beans, or whatever other vegetables you feel like you need in your vegetable soup. Simmer until they are tender - about 10 minutes.
Leftover vegetables: Trying to use up a lot of leftover vegetables from Thanksgiving? You can substitute roasted potatoes for the red skin potatoes, and/or a mix of cooked vegetables for the frozen vegetables. (We usually have some corn and green beans left over). Cut the vegetables and potatoes into bite-sized pieces, and add them in the "simmer the soup" step after the broth comes to a simmer. Cook until heated through, about 5 minutes.
Tools
6 quart or larger pressure cooker…preferably 8 quarts, because turkey carcasses are BIG, and you have to break them up a lot to get them in a 6 quart PC. I pull out my jumbo Instant Pot Duo 8 Quart for this one.
A second inner cooking pot is the perfect size to strain the broth, and a non-pressure lid helps with the simmering step.
Prep Time:

2 hours

Cook Time:

30 minutes

Category:

Sunday Dinner

Method:

Pressure Cooker

Cuisine:

American

What do you think?
Questions? Other ideas? Leave them in the comments section below.
Related Posts
Pressure Cooker Day-After-Thanksgiving Turkey Carcass Soup
Pressure Cooker Turk-A-Leekie Soup
Turkey Ramen Soup
My other Pressure Cooker Recipes
My other Pressure Cooker Time Lapse Videos
Enjoyed this post? Want to help out DadCooksDinner? Subscribe to DadCooksDinner via eMail and share this post with your friends. Want to contribute directly? Donate to my Tip Jar, or buy something from Amazon.com through the links on this site. Thank you.