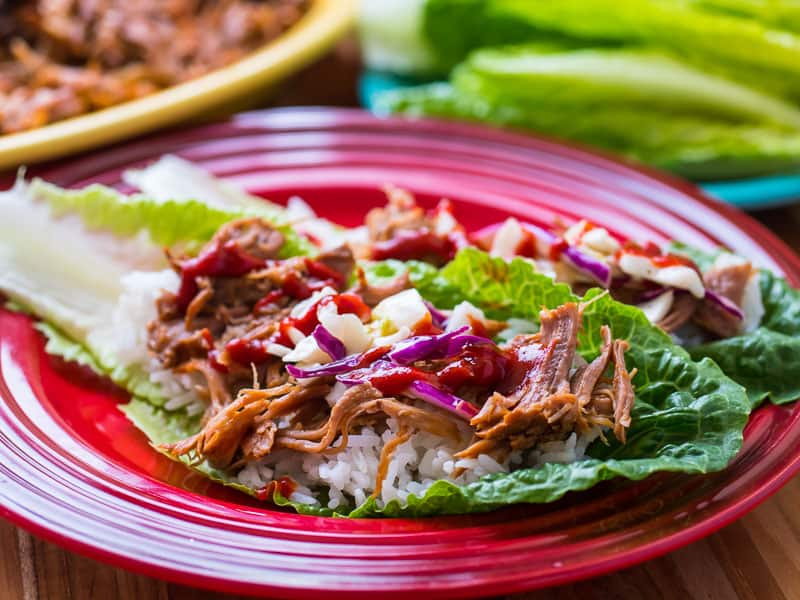 Pressure Cooker Korean BBQ Pork Lettuce Wraps - Pressure cooker pork, Korean style with gochujang sauce, wrapped in lettuce leaves.
When I first wrote about Gochujang, I had to shop at Asian specialty markets to get it. Now my family is addicted - and it looks like we're not the only ones. It went from a specialty ingredient to the international aisle of my grocery store, right next to the bottles of teriyaki sauce.
The big difference between specialty market gochujang and grocery store gochujang is the packaging - and the thickness of the paste. When I buy it at an Asian market, it comes in a rectangular tub with a texture like peanut butter. If I want to use it as a sauce, I have to thin it out, usually with soy sauce and water. When I buy it at my grocery store, it comes in a squeeze bottle, thin enough to squirt on a food - similar to ketchup. I've used both, and in recipes, they work about the same - I haven't noticed a difference. But that squeeze bottle? That's why my family is addicted. Every time we have an Asian meal - doesn't have to be Korean - they want to squirt gochujang on the rice. It's taken the place of sriracha as our favorite Asian hot sauce.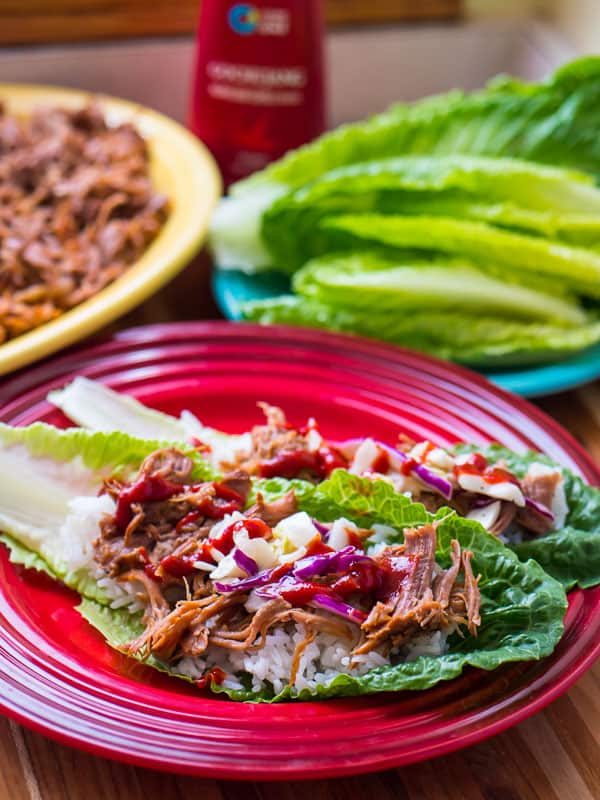 As for this recipe - Pressure cooker Korean BBQ recipe is definitely a cheat. Authentic Korean BBQ is thin-sliced cuts of meat, marinated in soy sauce and gochujang, grilled over charcoal, and wrapped in lettuce. I'm taking inspiration from that meal, using the flavor profile, and converting it to the pressure cooker.
(I'm also assuming there are Korean BBQ purists, like there are Texas BBQ purists, and Carolina BBQ purists, and Memphis BBQ purists, and…well, you get the idea. I always have to fight off a swarm of "that's nice…for a Yankee from Ohio" comments whenever I do a BBQ recipe; I'm assuming Korea is as passionate about their BBQ as everyone else, so I'll start apologizing advance. Sorry about this, BBQ purists, no matter where you're from.)
The only trick to this recipe, other than shopping for the Korean ingredients of Gochujang (spicy red pepper paste) and Kimchi (spicy pickled cabbage - detecting a spicy theme?), is the cut of pork. I buy "Pork Western Ribs" at my grocery store…which aren't really ribs. They're a pork shoulder roast, cut into 1.5 inch thick strips, roughly rib shaped. They are perfect for the pressure cooker - instead of having to cook an entire roast, the strips of pork cook through much quicker. If you can't find Western ribs, cut up a pork shoulder yourself. (It's what I do when the shoulder is on sale, but the Western ribs are not).
Video: How To Pressure Cook Korean BBQ Pork for Lettuce Wraps (1:32)

Pressure Cooker Korean BBQ Pork Lettuce Wraps - Time Lapse [YouTube.com]
Recipe: Pressure Cooker Korean BBQ Pork Lettuce Wraps
Print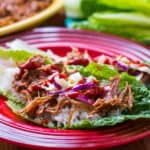 Pressure Cooker Korean BBQ Pork Lettuce Wraps
---
Author:

Mike Vrobel

Total Time:

1 hour 25 minutes

Yield:

3

pounds shredded pork

1

x
Description
Pressure Cooker Korean BBQ Pork Lettuce Wraps - Pressure cooker pork, Korean style with gochujang sauce, wrapped in lettuce leaves.
---
3

pounds Pork Western Ribs

½ teaspoon

fine sea salt

½ cup

water

½ cup

soy sauce

3

cloves garlic

1

inch piece of ginger, cut in thin slices (each about the size of a quarter)

2 tablespoons

Gochujang (Korean red pepper paste)
Lettuce Wraps
Romaine hearts (or Bibb lettuce), separated into leaves
Korean Kimchi (Korean spicy pickled cabbage) or shredded cabbage
More Gochujang sauce for drizzling
---
Instructions
Everything in the pot: Sprinkle the western ribs with the ½ teaspoon of salt. Add the pork to the pressure cooker pot, then pour in the water and soy sauce, scatter the garlic cloves and ginger slices, and top with the gochujang sauce.
Pressure cook on high for 45 minutes with a Natural Pressure Release: Lock the lid and pressure cook on high pressure for 45 minutes in an electric PC or 40 minutes in a stovetop PC. Let the pressure come down naturally, about 15 minutes.
Shred the pork and serve: Scoop the pork to a platter with a slotted spoon, discarding the garlic and ginger. Pour the pot juices into a fat separator. Shred the pork with forks, then pour just enough of the defatted pot juices over it to make it wet. Let your diners build their own lettuce wraps: hold a lettuce leaf like a bowl, and put a thin layer of white rice inside it. Top with some shredded pork, a little Kimchi or cabbage, and an extra squirt of gochujang on top of everything. Wrap up like a taco, and dig in.
Notes
Can't find Pork Western Ribs? Like I mentioned in the header, substitute a pork shoulder roast. Cut the pork roast into rough 1.5 by 1.5 by 6-inch strips, and it's ready for this recipe.
Country Ribs will work in this recipe…but they're not as good as pork shoulder. They come from the loin, a leaner cut of meat. They dry out a bit more than pork shoulder in the pressure cooker.
I prefer romaine hearts or bibb lettuce leaves for my lettuce wraps - the leaves are in a natural cup shape, making it easy to fill with ingredients.
Tools
Prep Time:

10 minutes

Cook Time:

75 minutes

Category:

Weeknight Dinner

Method:

Pressure Cooker

Cuisine:

Asian
What do you think?
Questions? Other ideas? Leave them in the comments section below.
Related Posts
Pressure Cooker Korean Short Ribs
Pressure Cooker Korean Beef Stew (Beef Doenjang Jjigae) - Dad Cooks Dinner
Pressure Cooker Chinese Pepper Steak - Dad Cooks Dinner
My other Pressure Cooker Recipes
My other Pressure Cooker Time Lapse Videos
Enjoyed this post? Want to help out DadCooksDinner? Subscribe via eMail or RSS reader, recommend DadCooksDinner to your friends, and buy something from Amazon.com through the links on this site. Thank you!