---
It's Wild Boar Week on DadCooksDinner. (Why wild boar? I…I don't know. Why not wild boar?)
---
It's Mario's fault.
It has to be Mario's fault. I think of wild boar as an ingredient for traditional Italian cooking. But I'm not sure why. As much as I love the cuisine, I'm certainly not Italian. My best guess is an episode of Molto Mario, lodged in the back of my brain years ago.
Now, why wild boar? Try it and you'll see. Traditional Italian ragu is wild boar's killer app. The complex flavor of wild boar - mainly pork, but nuttier, and deeper, like some beef is mixed in - makes the perfect base for a pasta sauce.
For more on "why wild boar", see my post from Tuesday. And I still say Feral Swine is a great name for a punk band.
Can't find wild boar? Substitute pork shoulder. (If you want to try to duplicate the complex boar flavor, add a little beef chuck roast, say a 2:1 ratio of pork to beef.) It won't be wild boar…but it will still taste great on linguine.
No pressure cooker? No worries. See the Notes section at the end of the recipe for details.
Recipe: Pressure Cooker Wild Boar Ragu (Ragu Di Cinghiale)

Adapted from: Mario Batali, Pappardelle with Boar Ragu (via FoodNetwork.com)
Prep Time: 10 minutes
Cook Time: 60 minutes
Equipment
Ingredients
Aromatics
1 tablespoon olive oil
1 large onion, minced
1 celery rib, minced
1 large carrot, peeled and minced
4 cloves garlic, crushed
2 tablespoons tomato paste
1 teaspoon hot red pepper flakes (optional)
½ teaspoon kosher salt
Boar and Liquids
1 cup red wine
2 pounds wild boar shoulder, cut into 1 inch chunks
1 teaspoon kosher salt
½ teaspoon fresh ground black pepper
28 ounce can crushed tomatoes
1 bay leaf
1 sprig fresh rosemary
Pasta
Linguine or pappardelle pasta, cooked according to package directions
Toppings (optional)
Grated pecorino Romano cheese
Minced fresh parsley
Directions
1. Saute the aromatics
Heat 1 tablespoon of olive oil in the pressure cooker pot over medium-high heat until the oil is shimmering. Add the onion, celery, carrot, garlic, and tomato paste to the pot. Sprinkle with the red pepper flakes and ½ teaspoon salt. Saute, stirring and scraping the the bottom of the pan to keep the tomato sauce from sticking, until the onions are softened, about five minutes. Add the red wine to the pot, bring to a simmer, and scrape the bottom of the pot again to loosen any browned bits.
2. Everything into the pot
Add the boar to the pot, sprinkle with 1 teaspoon of salt, and stir to coat with the aromatics and red wine. Add the sprig of thyme and rosemary, and then pour the tomatoes on top, but don't stir.
3. Pressure cook the ragu
Lock the lid on the pressure cooker, bring the pressure cooker up to high pressure, then cook at high pressure for 25 minutes (30 minutes for an electric pressure cooker). Remove from the heat, allow the pressure to come down naturally - about 20 minutes. Remove the lid from the pot - be careful, the pot will be full of hot steam.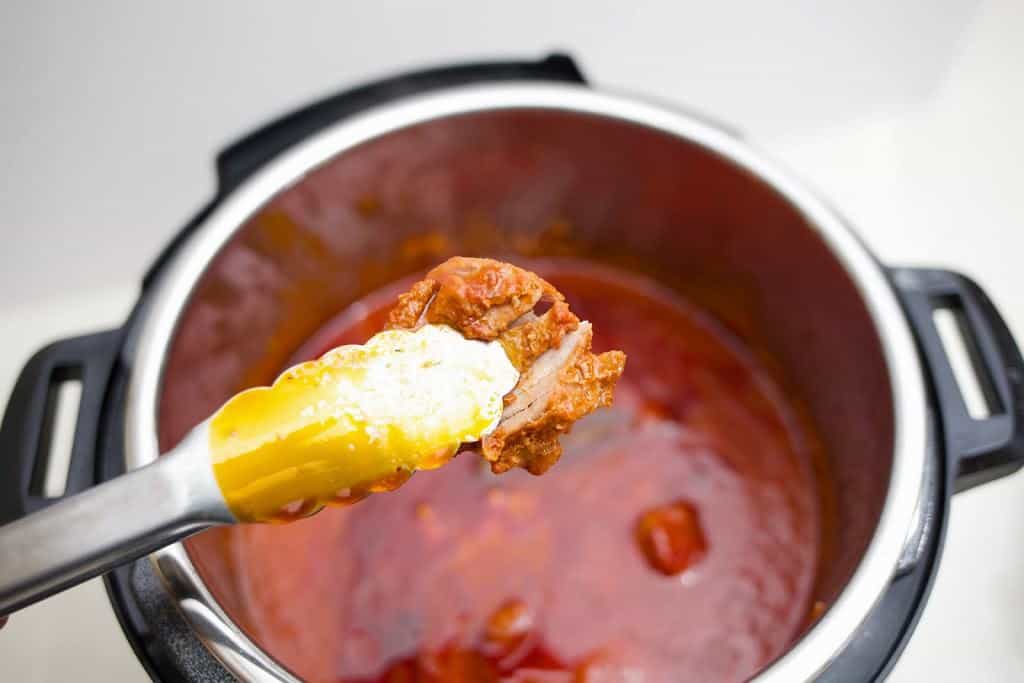 The boar is ready - a squeeze of the tongs and it shreds itself.
4. Shred the boar and serve
Break up the chunks of boar by pressing them against the side of the pot with the back of a spoon; they should break into shreds with a little pressure. Stir the shredded pork into the sauce. Taste for seasoning, add more salt and pepper if necessary, and serve on pasta, sprinkling with pecorino Romano and/or parsley at the table.
Notes
No pressure cooker? No worries. Use a heavy bottomed dutch oven with a lid. Increase the amount of wine to 2 cups. Follow the instructions right up until "lock the lid". Then, instead of pressure cooking, bring the pot to a boil, cover, and move the pot to a preheated 350°F oven. Bake for 2 ½ hours, or until the boar is tender and shreds easily when squeezed.
Can't find wild boar? Substitute pork shoulder. It won't have the taste of wild boar, but it will still be great.
What do you think?
Questions? Other ideas? Leave them in the comments section below.
Related Posts
Pressure Cooker Pasta Fazool (Pasta and Bean Stew)
Slow Cooker Bolognese Sauce (Ragu Bolognese)
Weeknight Tomato Sauce
Enjoyed this post? Want to help out DadCooksDinner? Subscribe to DadCooksDinner via eMail or RSS reader, recommend DadCooksDinner to your friends, buy something from Amazon.com through the links on this site, or donate through my tip jar. Thank you.