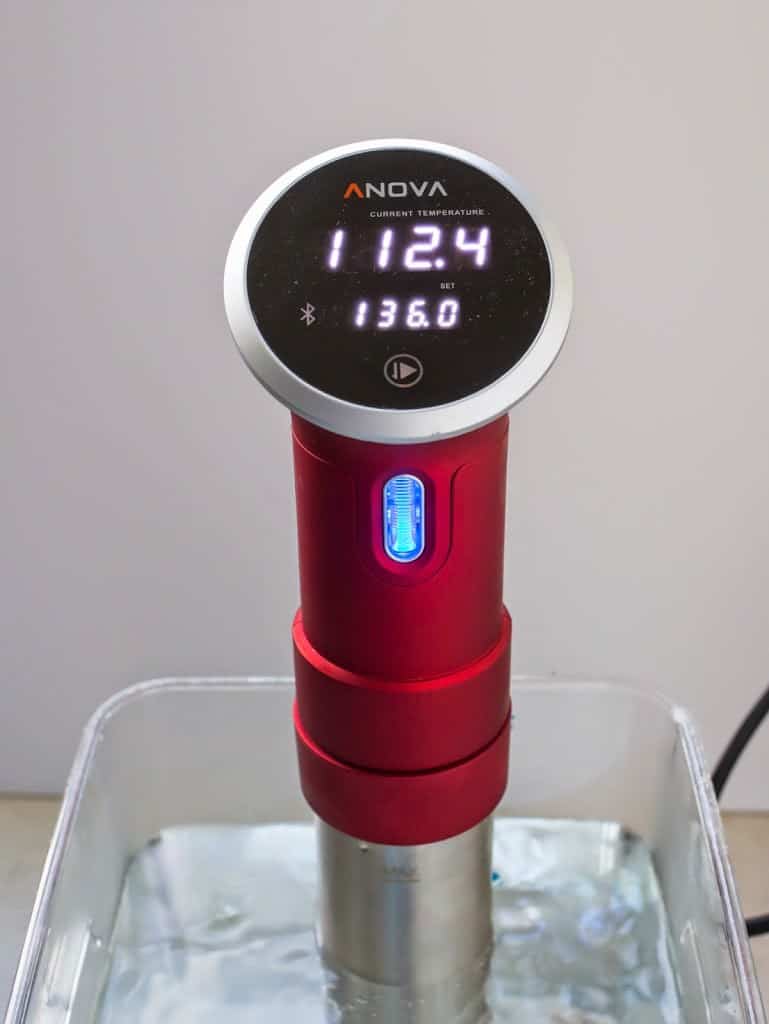 Anova's Kickstarter for their second generation sous vide unit, the Anova Precision Cooker, was a roaring success. I was an early backer and got a great deal on the Anova Precision Cooker. It finally arrived last month.
I had to wait longer because I wanted it in red.
It was worth the wait. The Precision Cooker is light, compact, inexpensive ($179), and easy to use. The controls are simple - a temperature display, a touchscreen play button, and a glowing blue scroll wheel to adjust the temperature. (The play button acts as the control button for the other functions - press it for three seconds to switch between °F and °C; press it for eight seconds to turn on the timer mode). I love the simple interface - it's obvious how to adjust the unit, and easy to get started. It also has an adjustable clamp; it slides up and down on the unit, so it will fit in a wide range of pots.
Is it perfect? Almost…but not entirely. Unlike the all-in-one SousVide Supreme unit, the Anova is just a water circulator. You have to provide a separate pot or food storage container to hold the water. It is not as precise as the PolyScience Professional Creative. The Anova would occasionally drift +/- of 0.1°F away from the target temperature; the PolyScience holds the temperature +/- 0.01°F.
Both of these are minor complaints; the Anova costs half as much as both of those units. Providing your own food storage container isn't a big of a deal - if you have a pasta pot, you're ready to go. And, plus or minus a tenth of a degree isn't going to affect your sous vide cooking at all.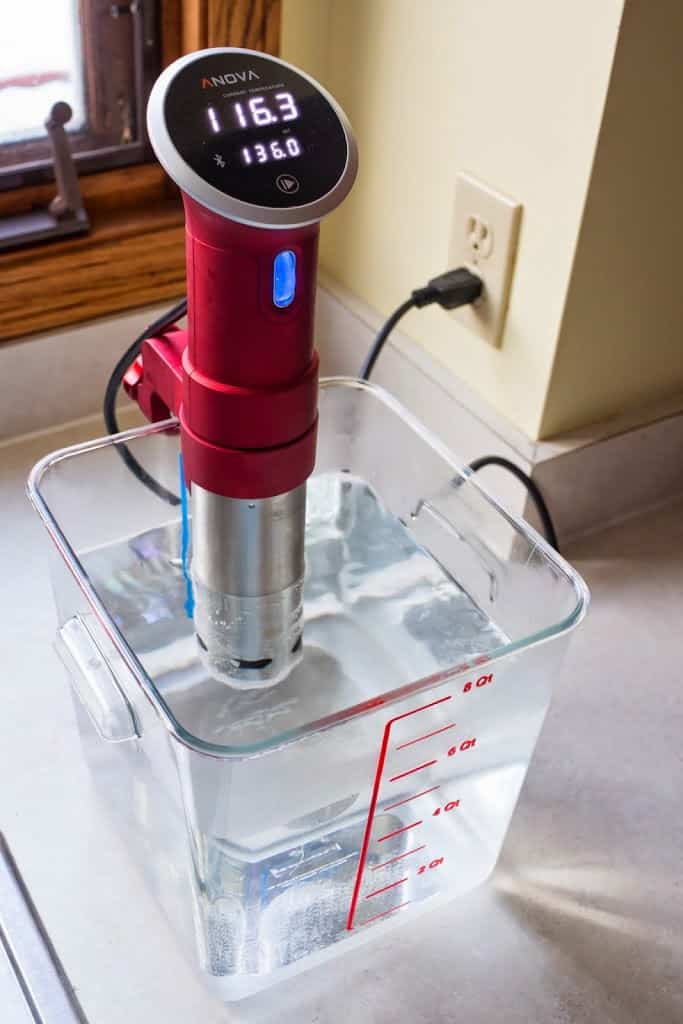 8 quart brining container is now
a sous vide water bath
Summary
If you have dabbled with Beer Cooler Sous Vide, enjoyed a perfectly medium-rare steak (or three), and want to move up to a real immersion circulator at a low price, this is the unit to get. It's a solid unit at a great price, and will keep you happily sous videing* for years. And, as a gadget geek, I can't wait for them to come out with the bluetooth app, so I don't have to get my lazy butt off the sofa can check on my sous vide from the living room.
Vieding is a word, right? No? How about "precision cooking for years" - sounds better.
Highly Recommended
Anova Precision Cooker [AnovaCulinary.com]
Note: as of the time of this writing, the Precision Cooker is only available through AnovaCulinary.com, and is back-ordered with a 2–3 week wait time for shipping.
What do you think?
Questions? Other ideas? Leave them in the comments section below.
Related Posts
SousVide Supreme Demi First Impressions (and Sous Vide Grilled New York Strip Steaks
Review: PolyScience Professional Creative Sous Vide Immersion Circulator
Beer Cooler Sous Vide Grilled New York Strip Steaks
Enjoyed this post? Want to help out DadCooksDinner? Subscribe to DadCooksDinner via eMail or RSS reader, recommend DadCooksDinner to your friends, and buy something from Amazon.com through the links on this site. Thank you.