I was looking for another rotisserie recipe idea. And what should appear in my mailbox? Cooks Country
magazine
, and my weekly Acme Grocery
flyer
. In the former was a recipe for grill-roasted ham, in which they recommend you use two skewers to turn the ham like a rotisserie while it cooks. In the latter was a sale for ham, $0.89 a pound as their Easter special.* It was fate!
*I know that ham is the traditional Easter meal for a lot of people. Growing up, we always had ham sandwiches on rye at Grandma's house. Now that I'm a food snob, I'd rather cook Lamb for my Easter dinner.
**But for $0.89 a pound, I wasn't going to turn down the ham!

Recipe: Rotisserie Ham, Barbecue Style
Equipment
Grill with Rotisserie attachment (I used a Weber Summit 650 with an infrared rotisserie burner. Here it is.)
Aluminum foil drip pan (9"x11", or whatever fits your grill)
Print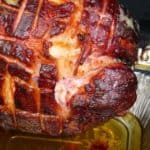 Rotisserie Ham, Barbecue Style
---
Author:

Mike Vrobel

Total Time:

3 hours 15 minutes

Yield:

12

-

1

6

1

x
Description
Rotisserie ham, barbecue style. Sprinkle the ham with barbecue rub and crisp it up on your grill's rotisserie.
---
1

bone-in ham (NOT spiral sliced; it will dry out. If you can find it, you want "ham in natural juices".)
Barbecue Rub
---
Instructions
Rub and rest the ham: Two hours before cooking, remove the ham from the refrigerator. Score in a diamond pattern, ¼" deep at 1" intervals, with a paring knife. Sprinkle all over with the barbecue rub, then let rest at room temperature.
Prepare the grill: Set your grill up for rotisserie cooking at medium low heat (300*F), and allow to preheat. For my Weber Summit, this meant turning the two outer burners (burners 1 and 6) to medium-high, and leaving the infrared burner off. Then I put my drip pan in the middle, over the unlit burners.
Skewer the ham: Aim for center mass, along side the bone, and skewer the ham.
Cook the ham: Put the spit on the grill, and start the rotisserie spinning. Cook the ham with the lid closed until it reaches 100*F (minimum) to 140*F (USDA safe) internal temperature, as measured in the thickest part of the ham. This means roughly 10 minutes per pound for the minimum temperature, or 15 minutes per pound for the USDA safe version. For my 12 lb ham, it took about 3 hours to reach 140*F.
Carve and serve: Cut the ham away from the bone in large chunks, and slice ½" thick. Serve with barbecue sauce and mustard.
Prep Time:

15 minutes

Cook Time:

3 hours

Category:

Rotisserie

Cuisine:

American

Notes
Serve with cheap white buns and barbecue sauce (goes well with the barbecue rub). I also had applesauce, dill pickles, various mustards and some cabbage slaw on the side. I think it would have been fine with my usual rye bread, swiss cheese, lettuce and mustard. Or with some sauerkraut and grainy mustard.
Why does mustard go so well with ham? My theory is: Ham gives you salty and sweet; mustard gives you sour and hot. It's a yin and yang kind of thing.
Leftovers: be ready! 12 pounds of ham has meant, so far: ham sandwiches, denver omelets (diced ham and peppers), and...more ham sandwiches. I have the ham bone waiting in the freezer for split pea and ham soup. And I've still got ham left over. Ham salad, maybe? Anyone have any other ideas? Leave them in the comments.
Why the variation in finished temperatures? Ham is pre-cooked, so you don't have to cook it as long as you would, say, pork. In theory, if it's been processed correctly, it doesn't have to be cooked at all; it's just like the cold cuts you get at your local deli. Your choices are to live dangerously, cook it until just warm on the inside (100*F), and save yourself an hour or so of cooking time. Or, follow the USDA guidelines (here), and cook it to 140*F, which will kill any bacteria that might have got into the ham, but takes an extra hour or more in cooking time. I had the time, so I went with the 140*F, but Cook's Country recommends only cooking it to 100*F. It's up to you.
What kind of ham? Don't get a country ham for this - that's more like prosciutto, which wouldn't work in this recipe. Stay away from spiral sliced hams as well - they will dry out on the rotisserie. You want a bone in ham, and the more it looks like it once came from a pig's leg, and the less it looks like a large aspirin tablet, the better. I let frugality get the best of me for this one (did I mention it was $0.89 a pound?), and the results were still great.
Want to know a lot about ham? Watch Alton Brown's "Ham I Am" episode of Good Eats.
And, of course, this makes me think of the greatest book on sales technique ever written: Green Eggs and Ham by Dr. Seuss. 2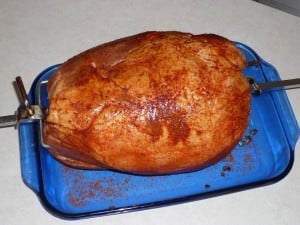 Questions? Comments? Other ideas? Leave them in the comments section below.
Related Posts:
Inspired by:
Cook's Country Magazine, April/May 2009 - Grill Roasted Ham (
recipe here
, subscription required)
---
Everything you could ask about the rotisserie,
plus 50 (mostly) new recipes to get you cooking.
It's a Kindle e-book, so you can download it and start reading immediately!
---
*Enjoyed this post? Want to help out DadCooksDinner? Subscribe to DadCooksDinner using the RSS or Email options on the right, link to this post from your blog, recommend DadCooksDinner to your friends, or buy something from Amazon.com
through the links on this site. (Like my Rotisserie Grilling cookbook...)