An eagle eyed reader spotted these in the background my rotisserie flank steak recipe, and asked about them. Anonymous, here you go: my recipe for Rotisserie Pan Smashed Potatoes.
When I saw Ree Drummond's recipe for smashed red-skin potatoes on The Pioneer Woman, I had to try them. Smashing the potatoes* gives them lots of nooks and crannies to brown and crisp, turning them into extra thick potato chips. Or whole food tater tots. Either way, I can't stop eating them.
*Good name for a band..."Smashing the potatoes".
Since my motto is "everything tastes better on the rotisserie"*, I cook my smashed potatoes in the drip pan while my main ingredient spins above them. The high heat of the grill crisps the potatoes while they soak up the drippings and fat from the main ingredient.
*If you follow this blog, you're probably thinking: now he figures out his motto? What took him so long?
Recipe: Rotisserie Pan Smashed Potatoes

Adapted From: Ree Drummond Crash Hot Potatoes [thepioneerwoman.com]
Equipment:
Ingredients:
1 ½ lbs new potatoes (preferably red-skin new potatoes)
1 tablespoon kosher salt (for the boiling water)
1 ½ teaspoon Kosher salt (for sprinkling on the potatoes)
½ teaspoon fresh ground black pepper
1 tablespoon vegetable oil
Directions:
1. Pre-cook the potatoes: Put the potatoes in a pot, cover with water, and add 1 tablespoon kosher salt. Bring to a boil, then simmer for 10 minutes, until the potatoes are just cooked through - they should offer only slight resistance when pierced with a paring knife. Drain the potatoes.
2. Smash the potatoes: Spread the potatoes out in the drip pan with about an inch of space between each potato. Using a potato masher, gently smash each potato until it is half its original height. (See picture below). Sprinkle the smashed potatoes evenly with the salt and pepper, then drizzle with the vegetable oil.
3. Prepare the grill: Set the grill up for rotisserie cooking at the heat your recipe calls for - rotisserie pan potatoes work best at medium to high heat. For my Weber Summit, this means removing the grates, turning the two outer burners (burners 1 and 6) to high, and turning the infrared burner to high. Then I put my drip pan in the middle, over the unlit burners, and let the grill preheat for ten to fifteen minutes. (See My Rotisserie Basic Technique Post for more rotisserie setup details.)
4. Cook the potatoes: Put the drip pan under your main rotisserie ingredient and cook for one half hour to one hour, until the potatoes are well browned. If possible, rotate the drip pan halfway through the cooking time; my grill has an infrared rotisserie burner on the back wall of the grill, so the potatoes closer to the burner brown quicker.
5. Serve: As soon as the potatoes are well browned, remove them from the drip pan using a slotted spoon. Dripping fat can be too much of a good thing if the potatoes sit in the pan too long.
Variations:
*Microwave method: Replace step 1 with: Put the potatoes in a microwave safe bowl, cover with plastic wrap, and microwave on high for 6 minutes.
Notes:
*I prefer new red-skin potatoes, about 1 to 1 ½ inches across for this recipe. Fingerling potatoes also work well. If you want to go with regular sized red potatoes, you may have to boil them for 15 minutes to get them tender enough to smash.
*When pre-cooking the potatoes, you want them just barely cooked through - firm enough to hold together when you smash them, but not so firm that they can't be smashed at all.
*If my main ingredient cooks a longer than an hour, I add the potatoes with about an hour left in my cooking time. I pull the drip pan out (carefully - it is hot and full of fat) and smash the potatoes in it. If I had a second drip pan, I could swap it in, but I think most of the fat and drippings happen in the first hour of cooking, and I'd rather the potatoes sat in them while they cooked than in a clean pan.
*Also, if my main ingredient is really fatty, like duck or pork ribs, I skip drizzling the potatoes with the vegetable oil.
What do you think? Questions? Other ideas? Leave them in the comments section below.
Related Posts:
Rotisserie Pan Potatoes
Rotisserie Baby Back Ribs
Rotisserie Duck
Rotisserie Stuffed Pork Loin (Smashed potatoes bathed in dripping pork fat and cheese. Don't tell your cardiologist.)
Click here for my other rotisserie recipes.
Adapted from:
Ree Drummond Crash Hot Potatoes [thepioneerwoman.com]
The Pioneer Woman Cooks: Recipes from an Accidental Country Girl
---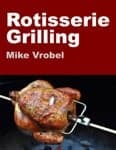 Check out my cookbook, Rotisserie Grilling.

Everything you could ask about the rotisserie,
plus 50 (mostly) new recipes to get you cooking.

It's a Kindle e-book, so you can download it and start reading immediately!
---
*Enjoyed this post? Want to help out DadCooksDinner? Subscribe to DadCooksDinner using the RSS or Email options on the right, link to this post from your blog, recommend DadCooksDinner to your friends, or buy something from Amazon.com
through the links on this site. (Like my Rotisserie Grilling cookbook...)