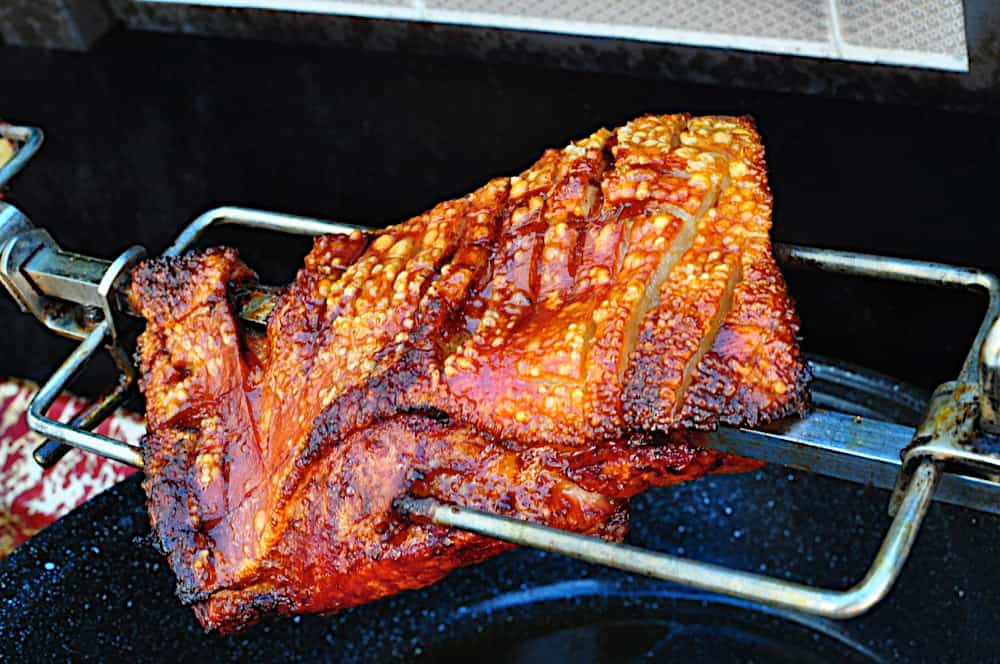 Pork belly is the current "It" ingredient at restaurants. (Replacing short ribs, I think.) Why? When cooked long and slow, it is a wicked combination of pork meat and melting pork fat. Never heard of it? Sure you have. Cured pork belly is commonly referred to as bacon. Who doesn't like bacon? Chefs know that; they love bacon as much as everyone else. A good chef uses pork belly as a canvas for all his technique, and the diner gets the deliciousness of high-end bacon. It's a win-win situation.
Pork belly, in spite of its popularity in restaurants, is hard to find in grocery stores. I wanted to try it on my rotisserie, but I could not find it in my local stores. (And I wasn't organized enough to special order it.) Then, I got lucky. I found pork belly in the meat case of my local Asian market. I bought it immediately. And? Pork belly cooked on the rotisserie has crackling skin, covering layers of luscious fat and tender meat.
*Pork belly needs long, slow cooking. For good results, most of the fat has to melt out. Again, think of bacon. Undercooked bacon is all chewy fat. Perfectly cooked bacon has a balance of fat, tender meat, and crunch. That's what we're looking for with pork belly.
How did pork belly go over with the kids? I was a little worried; pork belly seemed like a name that would turn them off. But, when I brought the spit in from the grill, I was surrounded. "What's that, Dad?" (I think they were drawn in by the heavenly smell.) I gave everyone a sample. Natalie kept coming back, asking for more. No, I told her, not until dinner. "Pork belly, Pork belly, Pork belly" she started chanting, dancing in circles around the room. I couldn't help myself - she got her second taste.
Cook time: 3 hours
Equipment:
Ingredients:
1.5 pound pork belly (1 ½" thick - thicker is better)
2 quarts water
½ cup table salt (1 cup kosher salt)
2 tablespoon brown sugar
Directions:
1. Brine the pork belly: Score the skin side of the pork belly in a crosshatch pattern, spaced 1 inch apart, cutting through the skin and into the fat, but not into the meat. Dissolve the salt and brown sugar in the water, then add the pork belly and refrigerate for 4 to 8 hours.
2. Prepare the grill: Set the grill up for rotisserie cooking at high heat. For my Weber Summit, this means removing the grates, turning the two outer burners (burners 1 and 6) to high, and turning the infrared burner to high. Then I put my drip pan in the middle, over the unlit burners, and let the grill preheat for ten to fifteen minutes. (See My Rotisserie Basic Technique Post for more rotisserie setup details.)
3. Skewer the pork belly: While the grill is pre-heating, skewer the pork belly on the rotisserie spit. Aim for center mass, skewer the belly lengthwise, and secure it with the spit forks.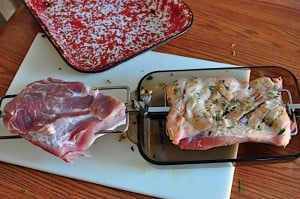 Scored and skewered
(see the variations for the herb rub on the right hand piece of belly)
4. Cook the pork belly: Put the spit on the rotisserie, and cook with the lid closed. Cook on high (500*F or higher) for a half an hour to 45 minutes, until the pork belly is starting to brown. Turn the heat down to medium-low (325*F).
*On my Weber Summit, I do this by turning off the infrared rotisserie burner; charcoal burns down naturally, and I add about 12 coals per hour to maintain the medium-low temperature.
Cook on medium-low for about 2 ½ hours, or until the pork belly reaches 160*F internal temperature. (Pork belly is hard to overcook, so don't worry too much about specific timing or temperature.)
| | |
| --- | --- |
| After 30 minutes - good browning, turn down the heat | 3 hours total - ready to eat! |
5. Serve: Take the pork belly off the spit immediately, then rest for at least 15 minutes. Carve into ¼" thick slices and serve.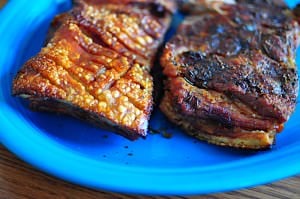 Resting...
Variations:
*Herb rubbed: After brining, rub the pork belly with the zest of a half a lemon and 2 tablespoon of minced fresh herbs. Use your favorites of thyme, rosemary, oregano, and marjoram.
Notes:
*I wanted to test my assumptions about pork and brining. I am a fan of dry brines, but with pork, wet brines have worked better. I had two pieces of pork belly from the store, so I tested a dry versus wet brine.  One piece was dry brined with a herb rub; the other used the wet brine version I share in the recipe. Both versions were good, but the wet brined belly was everyone's favorite. The dry brined pork turned out, well, a little dry - the wet brine improved the moistness of the pork. (Moistness is a word, right?)
*I've read that herbs don't really work in a brine. That was something else I should have tested. Darn!
What do you think? Questions? Other ideas? Leave them in the comments section below.
Related Posts:
Rotisserie Pork Shoulder
Rotisserie Pork Loin, Brined and Maple Sugar Glazed
Click here for my other rotisserie recipes.
---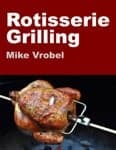 Check out my cookbook, Rotisserie Grilling.

Everything you could ask about the rotisserie,
plus 50 (mostly) new recipes to get you cooking.

It's a Kindle e-book, so you can download it and start reading immediately!
---
*Enjoyed this post? Want to help out DadCooksDinner? Subscribe to DadCooksDinner using the RSS or Email options on the right, link to this post from your blog, recommend DadCooksDinner to your friends, or buy something from Amazon.com
through the links on this site. (Like my Rotisserie Grilling cookbook...)