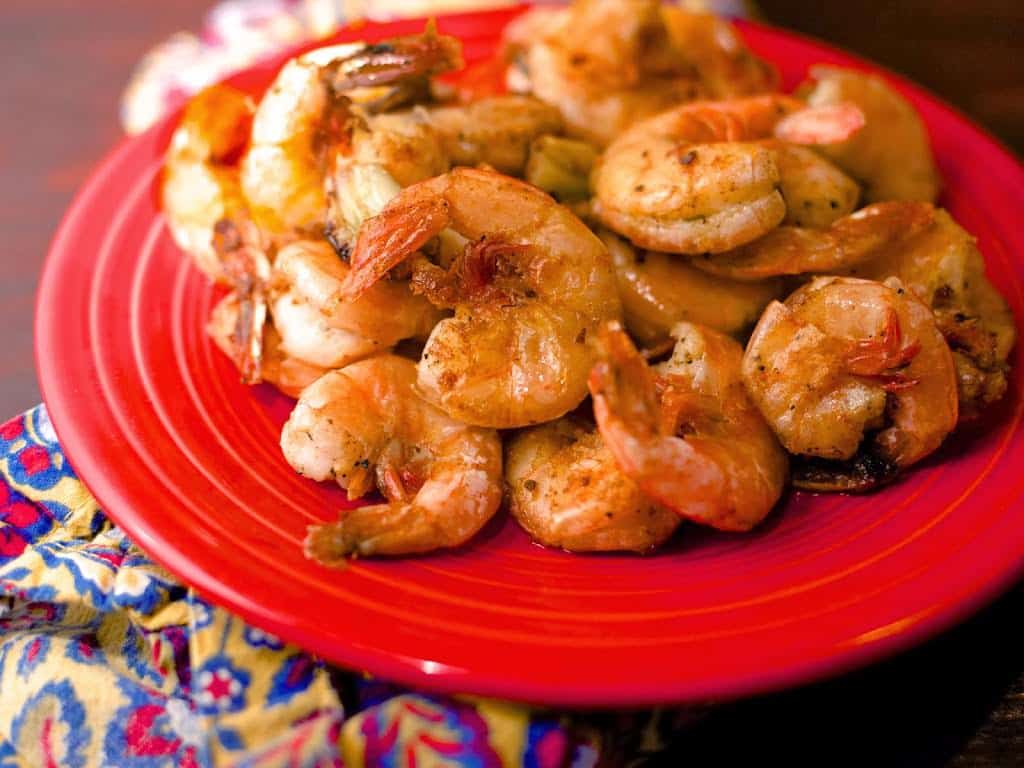 I had plans. This weekend would be my don't let a little winter weather stop you from grilling post. I had shrimp and skewers ready...
...and then "Snowpocalypse 2 - Electric Boogaloo" descended on Ohio.
I'm exaggerating, of course. (Any excuse to mention Electric Boogaloo is a good one). This was Just a normal winter storm. The kind where I don't want to shovel five inches of snow off the deck...in the middle of a storm that is blowing sideways...and supposed to add another five inches of snow before the night is through.
I've seen worse. In my day, we walked to school with snowdrifts above our head. And it was uphill both ways! Kids these days...ahem. Sorry. My crotchety old guy crept out there. Now get off my lawn!
The snow beat me. I went with a pan saute. Which, all things considered, is another way to defy winter - pretend it's a beautiful summer day, dining on shrimp doused in garlic butter. Quick and easy too, so I can get back under the blanket in front of the fire.
Recipe: Shrimp Saute with Garlic Butter
Adapted From: Pam Anderson, Sauteed Shrimp, Fine Cooking Magazine #50
Prep time: 10 minutes.
Cook time: 7 minutes
Equipment
Ingredients
1 pound 21-26 shrimp, backs split and deveined (aka "Easy Peel" shrimp)
1 teaspoon kosher salt
½ teaspoon fresh ground black pepper
2 tablespoons butter
1 tablespoon vegetable oil
3 garlic cloves, smashed
¼ teaspoon red pepper flakes (optional)
½ cup minced fresh parsley (optional)
Directions
1. Season the shrimp
Pat the shrimp dry between two layers of paper towels, then sprinkle with the salt and pepper.
2. Saute the garlic
Heat the butter and vegetable oil in a large frypan over medium heat until the butter melts and stops foaming. Add the garlic cloves and red pepper flakes, and let them sizzle until you smell garlic, about 1 minute.
3. Saute the shrimp
Add the shrimp, stir to coat with butter, then arrange in a single layer on the pan. Cook until the shells are pink and speckled white on the bottom, and the shrimp are pink around the edges, about 3 mintues. Flip the shrimp and cook until the shrimp are pink all the way through - check the split back of the larger shrimp - about 3 more minutes. Stir the shrimp to coat in garlic butter again, pour everything onto a serving platter, and drizzle the last of the butter in the pan over the shrimp. Sprinkle with the minced parsley and serve.
Notes
I skipped the fresh parsley. My youngest is in a "no food touching, no green stuff" phase. I didn't want to provoke him.
I served the shrimp with angel hair pasta, tomato sauce, and steam-sauteed broccoli.
What do you think?
Questions? Other ideas? Leave them in the comments section below.
Related Posts
Ribeye Steak Saute with Red Wine Pan Sauce
Salmon Saute with Tequila Orange Pan Sauce
Sauteed Chickpeas

Enjoyed this post? Want to help out DadCooksDinner? Subscribe to DadCooksDinner using the RSS or Email options on the right, recommend DadCooksDinner to your friends, buy something from Amazon.com through the links on this site, or donate through my tip jar. Thank you.