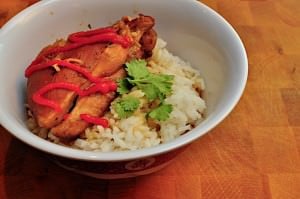 I've been reading a lot of authentic chinese cookbooks
 recently, looking for ideas to expand my weeknight stir-fries. One technique that caught my eye was red cooking, braising meat for a long time in a Shaoxing wine, soy and caramelized sugar broth. The result of red cooking is tender meat with a reddish hue from the broth.
I don't have one of the traditional Chinese sand pots
 that are used for red cooking.  And, I was looking for a weeknight dinner, not a weekend extravaganza.  So, I turned to my trusty slow cooker. It seemed like a natural for red cooking - a long simmer at low heat is exactly what the slow cooker does best. My cooking instincts were good - red cooking chicken thighs in the slow cooker is a great idea. The chicken was fall off the bone tender, and flavored through with the sweet, sour and salty broth. The only problem was the aroma - it smells so good, but you have to wait six hours to eat!
Now, my red-cooked chicken thighs weren't exactly red.  It was more of a dark, wine/brown color that looked quite interesting. At least, I thought the color was interesting.  The kids were put off by the color at first. "Oh, no, not the slow cooker!" was Ben's comment. I replied: "Try it - it's been simmering in chinese barbecue sauce all day".
*Yes, I'll bend the truth a little if I think it will get them to try something. I think of it as marketing. If I can get my kids to try a new food because they think it's something else, I'm OK with that.
After some hemming and hawing, he tried it. And loved it! He went back for seconds, even mixing some of the sauce in with his rice. If you're looking for a simple slow cooker meal with an international flair, try out these red cooked chicken thighs.
Recipe: Slow Cooker Chinese Red Cooked Chicken Thighs

Adapted From: RedCook.net
Equipment:
6 quart or larger slow cooker (Crock Pot brand is fine, but I like my fancy ones from All-Clad and KitchenAid)
Ingredients:
½ cup Shaoxing wine (Chinese cooking wine) or dry sherry
½ cup soy sauce
¼ cup brown sugar
3 cloves garlic, peeled and crushed
1 inch piece of ginger, peeled and crushed
½ teaspoon five-spice powder (or: 2 star anise pods and 1 stick cinnamon)
3 lbs bone-in chicken thighs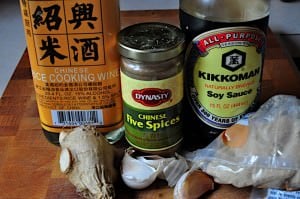 Directions:
1. Prepare the chicken: Put the wine, soy sauce, and brown sugar in the slow cooker. Peel and crush the garlic and ginger, and add to the slow cooker. Add the five-spice powder, then stir until the sugar is dissolved. Remove the skin from the chicken thighs, then add them to the slow cooker, turning to coat with the sauce.
2. Slow cook the chicken: Slow cook for 6 hours on low or 3 hours on high.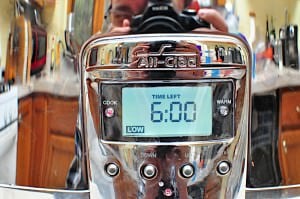 3. Serve: Remove the chicken to a platter. Spoon ½ cup of the liquid from the crock over the chicken, and pour the rest of the liquid into a gravy boat to pass at the table. (If you have a fat separator
, use that as your gravy boat.)
Variations:
*Common additions to red cooking broth are scallions, cut into 2" lengths, and a length of orange peel.
Notes:
*Removing the chicken skin, while an annoying step, is necessary for this recipe. Since the chicken isn't browned, the skin will still be full of fat. If it is left on the chicken, the sauce will be very greasy.
What do you think? Questions? Other ideas? Leave them in the comments section below.
Related Posts:
Slow Cooker Pork Pot Roast
Slow Cooker Caribbean Black Beans and Rice
Adapted From: RedCook.net
*Enjoyed this post?  Want to help out DadCooksDinner?  Subscribe using your RSS reader or by Email, recommend DadCooksDinner to your friends, or buy something from Amazon.com through the links on this site.  Thank you!