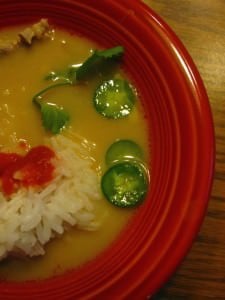 Thai Coconut Soup is another chicken broth based soup that I make a lot. I view it as a variation on the Tortilla Soup recipe I posted yesterday.
*I think this is a universal recipe; every culture has it. Yesterday we did the Mexican version, today we'll do the Thai version. We did the American version with our turkey noodle soup from a while back.



The basic steps are exactly the same; saute your aromatics and spices, add your chicken broth, simmer, then pour over your starch and meat. The differences are in the details. As an example, let's look at the aromatics:
Mexican: Onion, hot pepper, garlic, tomato, lime juice, cilantro, cumin
Thai: Onion, hot pepper, garlic, cilantro, lime juice, fish sauce, thai curry paste, coconut milk
There's a lot of overlap on those lists, no?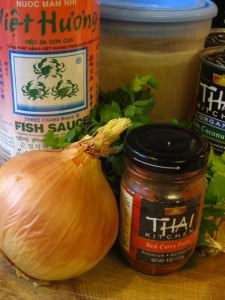 Ingredients:
1 tablespoon peanut oil (or vegetable oil)
1 medium onion, halved and sliced thin
1 teaspoon Thai Curry Paste (use up to 1 tablespoon if you like hot food)
3 cloves of garlic, minced or pressed
Stems from ¼ bunch of cilantro
1 lemongrass stalk (optional, but good if you can find it)
3 cloves of garlic, minced or pressed
1 quart homemade chicken stock
2 cans coconut milk (Regular or Light, not sweetened)
1 teaspoon fish sauce
2 tablespoon soy sauce
Juice of 2 limes
1 tablespoon sugar
Toppings
Leftover cooked rice, preferably Jasmine rice
Cooked chicken, sliced (I use about 1 pound, or a couple of chicken breasts)
Cilantro leaves, minced
Jalapeno, sliced thin (or serrano, or thai bird chile if you can find it)
Optional toppings and garnishes
Peanuts, minced
Sriracha sauce or other asian hot sauce
Lime wedges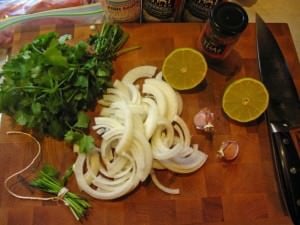 Directions:
1. Saute the aromatics: Heat the peanut oil in a dutch oven over medium-high heat until shimmering, then add the onion. Saute until just starting to brown, about 8 minutes. Make a hole in the center of the pan and add the cumin and garlic. Toast for 30 seconds to 1 minute, or until you start to smell garlic.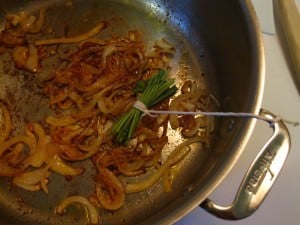 I tie the cilantro bundle to the handle to make it easy to fish out later
2. Simmer the broth: Add the chicken stock, coconut milk, and fish sauce to the pot. Tie the cilantro stems and lemongrass into a bundle, and put in the pot. Scrape the bottom of the pot to loosen up any browned bits of onion, then turn the heat to high. Bring the pot to a boil, and boil for 1 minute. Reduce the heat and simmer for 10 minutes to allow the flavors to mingle.
*I keep my stock in the freezer, so I thaw it in the microwave while I'm doing step 1. If it's still frozen at this point, that's OK. Just put the big ice cube of stock into the pot, and it will melt on its way to boiling.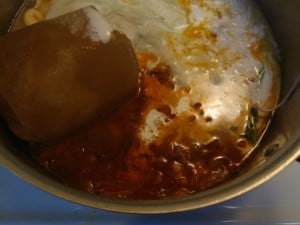 Note the big block of frozen chicken stock on the left...
3. Season the soup: Remove the cilantro stem/lemongrass bundle, and discard. Add the soy sauce, lime juice and sugar, then season to taste with salt, pepper, more soy sauce, more lime juice, more sugar, and maybe a little hot sauce. Remember that in Thai cooking, the goal is to balance hot, sour, salty and sweet.


4. Serve: I prefer to build the soup in individual serving bowls. Put some rice and chicken in a bowl, and cover with the broth. Top with a little cilantro and some slices of hot pepper, and whatever optional garnishes you have.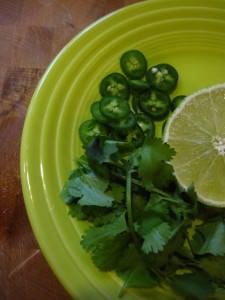 Garnishes, ready to go
Variations:
*Want to cook this with fresh chicken? After simmering the broth, and before seasoning, add a pound of boneless, skinless chicken breasts cut into ¼" slices. They'll cook through in three to five minutes - simmer until they are just no longer pink.
*Pork is a good substitute for the chicken in this dish as well. Either pork loin or tenderloin will work.
Notes:
*This is a hearty soup, so I usually serve it on its own. If I'm really hungry, I make some stir fried vegetables as a side dish.
*I used to be able to find lemongrass at my local grocery stores, but they don't seem to carry it any more. I'll have to keep an eye out for it the next time I go to an asian market.
*Make sure you use coconut milk in this recipe, not coconut cream. Coconut milk is the backbone of Thai cooking. Coconut cream is sweetened, and should be used to make fruity beverages. It's way too sweet for this recipe.
Questions? Comments? Other ideas? Leave them in the comments section below.
Related Posts:
Pressure Cooker Chicken Stock
This recipe is a great way to use up Grilled Thai Chicken
Asian Noodle Salad
Inspired by:
Meredith Deeds and Carla Snyder: The Take-out Menu Cookbook
*Enjoyed this post? Want to help out DadCooksDinner? Subscribe to DadCooksDinner using the RSS or Email options on the right, link to this post from your blog, recommend DadCooksDinner to your friends, or buy something from Amazon.com
through the links on this site. Thank you!