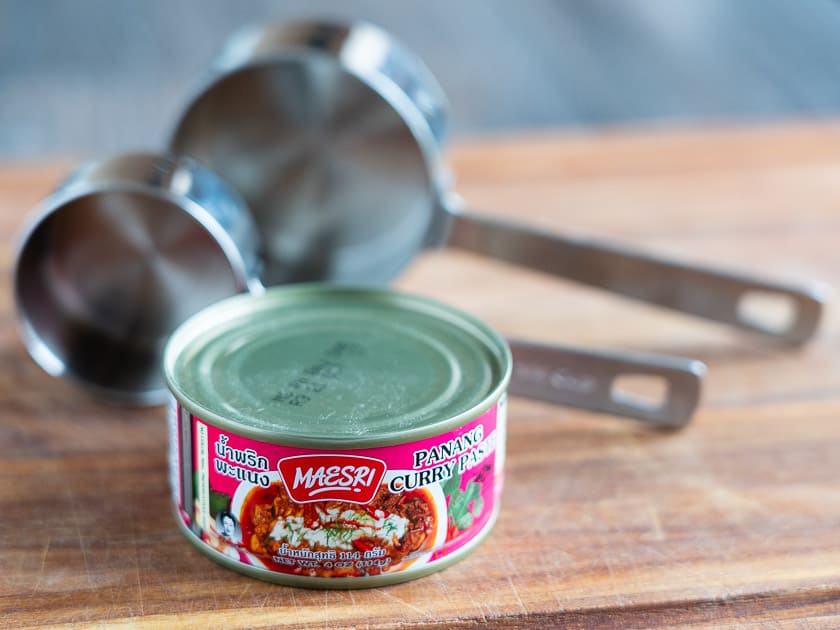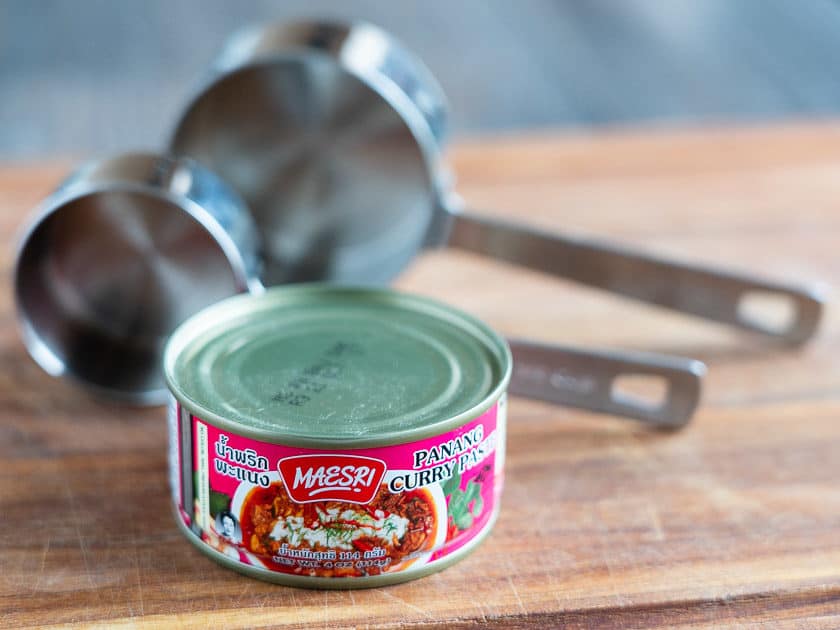 My favorite Thai curry paste comes in 4-ounce cans. When I was testing my pressure cooker Thai curry recipe, I thought "what if someone can't get those cans? How much should they use from a tub of curry paste?"
The next time I wanted curry for dinner, I picked up a tub of curry paste instead of my usual can. I scooped tablespoons of curry paste from the tub until I had a mound about the size of my usual can of paste. 4 tablespoons looked right when I compared it to the can.
Later, I updated my ingredient list to say:
4 tablespoons Thai curry paste (a whole 4 oz can)
That quick estimate came back to bite me. Every few months I get a comment on a curry recipe: "Actually (adjusts glasses), you did your math wrong. 1 tablespoon = 0.5 ounces. 4 tablespoons = 2 ounces, not 4 ounces."
OK, OK, I'm imagining the glasses adjustment. (I've worn glasses since I was 12 - I always adjust my glasses when I correct someone online. It's part of the Nerd Code.)
My answer: Weight vs. Volume.1 In English units, ounces measure weight, and fluid ounces measure volume. Unfortunately, we drop the word "fluid" from measuring cups and spoons. An ounce (of weight) does not equal a (fluid) ounce (of volume) unless you're measuring water.2
My can of Thai curry paste says: "Net Wt. 4 oz". In other words, it's a weight measurement, even though a can seems like it should measure volume.3 Curry paste is denser than water, so if you measure by volume, the curry paste weighs more. When I scoop curry paste out of a tub, I use a volume measuring device - a tablespoon. I should have cleared up the weight vs volume issue in the recipe, but I figured my actual measurements were sound.
Years pass. The questions keep trickling in. Most of them are not questions, they're statements. "Your math doesn't add up!"4 I know I checked this - I remember scooping out the paste, comparing it to the can. Maybe I'm off a little, but it can't be that much. I stick to my guns. Weight vs. Volume.
Another comment came in this week, and I'm having a bad day. Cranky kids, lots of running around, a big trip coming up. Fine! It's time to re-check my measurements! Rigorously, with pictures this time. I'll show them!
The players:
4-ounce can of curry paste
¼ cup measure (4 tablespoons, 2 fluid ounces)
½ cup measure (8 tablespoons, 4 fluid ounces)
I spooned curry paste into the ¼ cup measure, confident it is large enough. Maybe it needs a rounded top, but it will fit. And…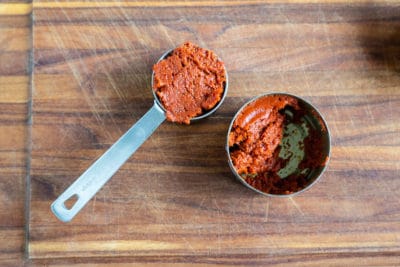 …whoops. I've got a lot left over, don't I? Hmm. Well. It's not going to fill the half cup measure, is it?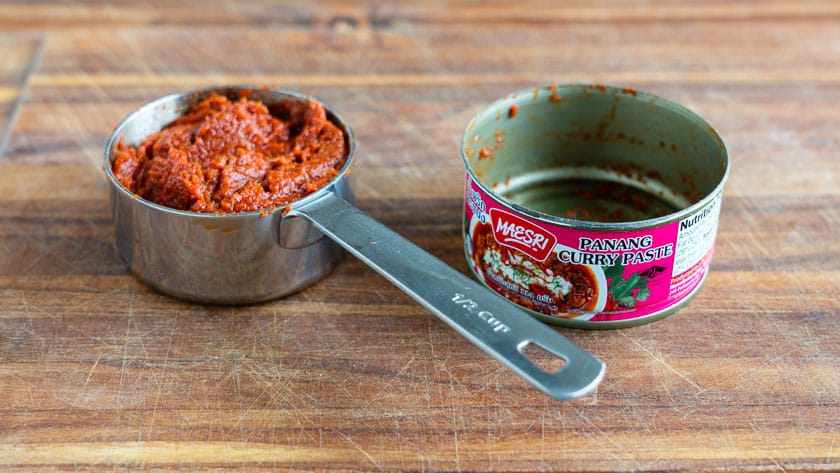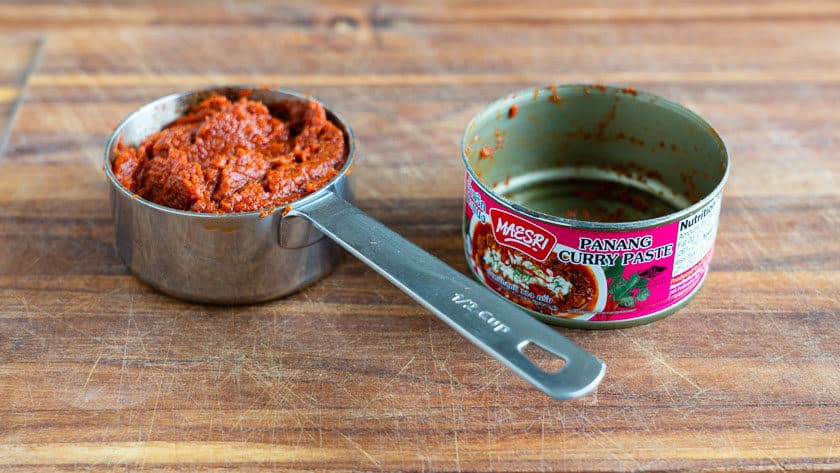 Darn. It's not quite full, but it's close. In other words: I was wrong. 4 ounces (by weight) of curry paste takes up almost 4 fluid ounces of volume.
Where did I go wrong? Two things:
I'm a heaping scooper, and a close enough cook. When I was scooping out of the big tub of curry paste, my "tablespoons" were "how much curry can I possibly stack on this tablespoon", not "this is a leveled, exactly measured tablespoon".
When I got to 4 heaping scoops, I said "Looks like the size of the can. Good enough." and started cooking dinner.
That's what I get for sloppy measuring.
My apologies to everyone I brushed off with a "Weight vs. Volume NEXT QUESTION." You were a lot closer to right than I was. I could play this off with "I meant to say heaping tablespoons", but that type of measurement drives me bananas in recipes. (Even though I'm a "heaping tablespoon, eyeball it" cook when I'm not working on a recipe. "Eh, close enough." is my kitchen motto.)
Speaking of which: now comes the close enough part. I don't quite get ½ cup of curry paste. It's closer to 7 tablespoons - 3.5 fluid ounces - than it is to 4 fluid ounces. To be technically correct, I should use 7 tablespoons. And technically correct is the best kind of correct. But that's not going to stop all the questions, is it?
So, I'm changing my ingredient list to say:
½ cup Thai curry paste (a whole 4-ounce can)
…and hope no one uses a heaping ½ cup.
Sorry for the confusion…and I hope you were buying cans of curry paste.
Maesri Thai Curry Paste [Amazon.com]
Mae Ploy Green Curry Paste [Amazon.com]
What do you think?
Questions? Other ideas? Any other measurements you don't think I have right? Leave them in the comments section below.
Related Posts
Pressure Cooker Thai Green Chicken Curry
Pressure Cooker Thai Red Beef Curry
Pressure Cooker Thai Yellow Curry with Chicken
Pressure Cooker Thai Panang Beef Curry
My Pressure Cooker Recipes Index
Enjoyed this post? Want to help out DadCooksDinner? Subscribe to DadCooksDinner via email and share this post with your friends. Want to contribute directly? Donate to my Tip Jar, or buy something from Amazon.com through the links on this site. Thank you.