How does a food blogger know that Thanksgiving is coming? All the Questions. They start early in the month, when enthusiastic cooks start looking for recipes.
On the Saturday before Thanksgiving, the fire hose opens up. My cell phone starts buzzing with notifications. Questions come in via comments, emails, Twitter, and Facebook - and they sound more frazzled the closer we get to T-Day. On Thanksgiving itself, I'm in the back yard, keeping an eye on my rotisserie turkey and typing away on my phone, answering last-minute questions. Next year I'll collect this year's questions and, voilà, instant Thanksgiving week post.
Before we get to this year's batch of questions, here is a public service announcement…
Public Service Announcement: Make Post-Thanksgiving Turkey Stock!
Don't forget to save your carcass! Turkey stock made from leftover bones is a culinary treasure. I'll have my annual after-thanksgiving turkey soup recipe next week, for an example of what to do with it; for now, trust me, and save the bones.
Q&A
I want to use your dry brine on a grocery store "enhanced" turkey. Suggestions for altering the brine? - John B
From my Rotisserie Turkey cookbook1I mentioned I wrote a cookbook, right? Available now on Amazon? With a Kindle edition that you can download immediately, for last-minute Thanksgiving needs? Ahem…sorry. My inner marketer got loose there. Back to our answer…
If the turkey is "enhanced with a natural solution" of more than 6 percent, it already has enough salt inside it. Cut the salt in the dry brine down to 1 tablespoon.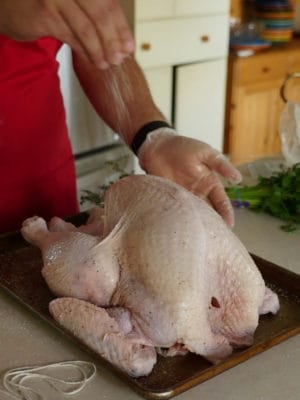 I will only have 24hrs to prepare natural turkey for the rotisserie. What would you do for brine? - @JMBatue via Twitter
24 hours is plenty of time for a dry brine to take effect on a turkey. It's better if it gets more time - I rubbed my turkey with its brine Monday night - but 24 hours is doable. When I get to less than 24 hours - say, overnight - I switch to a wet brine.
Your Rotisserie Chicken Legs Churrascaria Style is a fabulous recipe and my hands down favorite way to prepare chicken leg quarters on my Summit. Have you tried the same recipe with Turkey Leg Quarters on the Summit? - Justin
I've done turkey drumsticks in a similar style, but never turkey legs:
https://www.dadcooksdinner.com/rotisserie-turkey-legs-brined-and-honey-garlic-basted/
Turkey legs should work fine, though; just give them longer to cook, and turn off the rotisserie burner after a 30 to 45 minutes to keep the legs from burning. I estimate 90 minutes of cooking time, but go by the internal temp of the deepest part of the leg, and if there's any doubt, cook them longer. It's almost impossible to overcook turkey legs.
I see you have the 6 burner Weber Summit. I have the 4 burner - how big of a turkey can I fit on my rotisserie? - Garry (From my Rotisserie Grilling the Big Turkey post.)
Summits are the same size, height wise; the difference between the 6 burner and 4 burner is all in the width of the cooking box. I would say roughly 24 pounds is the biggest - that's what you see in the pictures above. I do use the smoker box, and while gas grills won't give you the deep smoky flavor you can get with a charcoal grill - too much air escapes - it does add a nice wood smoke touch to the bird.
Did you use the Weber Motor that came with the unit? What is the max weight that your motor will handle? (Also from my Rotisserie Grilling the Big Turkey post.)
I use the Weber motor. It's rated for 20 pounds, but it handled the larger bird just fine. (And abused it - look at yesterday's post about two rotisserie turkeys on one spit…) If you want motor rated for more weight, check out the OneGrill Stainless Rotisserie Motor, which is rated to 50 pounds. I have an older version of this motor, and use their other motors (like the one in the next question), so I trust OneGrill's products.
What cordless motor do you recommend for the rotisserie? - @BigJackV via Twitter
I like the OneGrill Cordless Rotisserie motor. I wouldn't push this one, though. It's rated to 25 pounds, but it seems to struggle more with heavy loads than my Weber motor. I'd stick to 20 pound turkeys (or less).
Have you ever stuffed the cavity with stuffing? - David L
I don't stuff my turkeys, because the breast meat will be wildly overcooked by the time the stuffing is heated enough to be safe to eat. If you HAVE to have stuffing, follow the technique in this post to pre-heat the stuffing before cooking:
https://www.dadcooksdinner.com/rotisserie-capon-with-chestnut-stuffing/
…but again, with a turkey, I don't recommend it.
I like the idea of using bacon to add flavor and slow the cooking of the turkey breast. Did the skin on the turkey beneath the bacon also brown? - Garry (From my Rotisserie Turkey Wrapped with Bacon recipe.)
Not as much as usual with a rotisserie turkey - it is covered with bacon, after all - but the skin does brown and crisp up a bit under all the bacon. That said, when you slice and serve, the strip of bacon and turkey skin is crispy and delicious.
What do you think?
Any other Thanksgiving questions? Leave them in the comments section below.
Enjoyed this post? Want to help out DadCooksDinner? Subscribe to DadCooksDinner via eMail or RSS reader, recommend DadCooksDinner to your friends, and buy something from Amazon.com through the links on this site. Thank you.