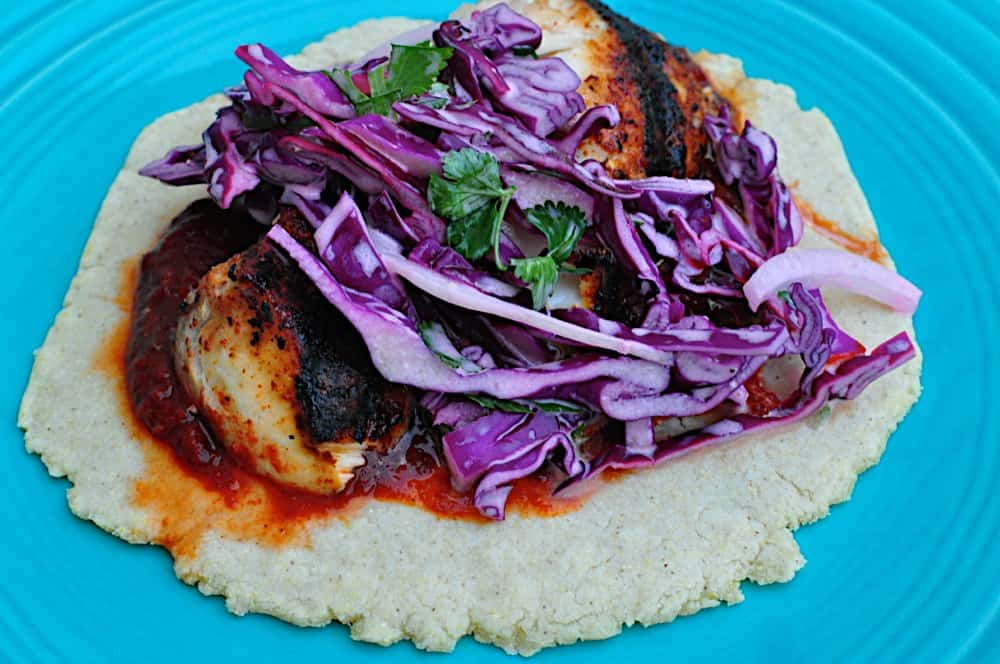 Fish Tacos, made with pantry ingredients
(other than the fish and purple cabbage, of course)
I cook a lot of Mexican food. Taco night, with fresh corn tortillas and shredded cheese, is my kids favorite meal.
*We can't make enough tortillas to keep up with them any more, so Diane insisted they help out.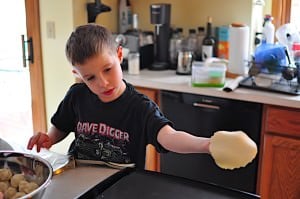 Making Tortillas
Here is my minimalist Mexican pantry, built on top of my original Ten Item Pantry list. I stock up at my local Mexican supermercado, because these ingredients are cheaper there. But, I can get everything on this list in the international aisle of my regular grocery store if I don't feel like the extra trip. With these items on hand, and I can make a wide variety of meals at a moment's notice.
As a reminder, here is my base Ten Item Pantry:

Extra Virgin Olive Oil
Onions
Garlic
Lemons
Balsamic Vinegar
Beans - canned or dried
Canned tomatoes (diced)
Pasta (or rice, or potatoes)
Chicken Stock (Homemade in the freezer, preferably)
Thyme (dried, or fresh if my thyme bush is in season)
The Ten Item Mexican Pantry
1. Fresh hot peppers - Jalapenos, Poblanos, Serranos
To my taste buds, the backbone of Mexican flavor is a combination of onion, garlic, and hot peppers. Mexican food depends on both the heat and the green flavor of fresh peppers.

2. Limes
A squirt of lime juice is the secret ingredient in a number of Mexican dishes, adding a hint of acidity and citrus that perks up the flavors.
3. Chipotle en Adobo
Chipotle peppers are smoke-dried jalapenos, and add a strong hit of heat and smoke. I buy them dried and ground, but my favorite way to get them is to buy cans of Chipotle en Adobo - peppers in a thick, red, vinegary sauce. I blend the entire jar until it forms a puree, store it in my refrigerator. Then I can spoon out a teaspoon (for a hint of heat) or a tablespoon (for a wallop of heat) whenever I need it.
4. Dried Ancho Peppers - chile powder or whole dried peppers
Yes, a third variety of pepper. Anchos are dried poblano peppers. They have a medium heat level, letting me add a lot of chile flavor without overwhelming heat. I'm torn between Ancho chile powder, which make the backbone of my Tex-Mex and Mexican dry rubs, and whole peppers, which I soak and blend up into salsa. If I had to choose only one, I'd go with the peppers, because they can be ground in a spice grinder to make a powder...but, really, get both.
5. Tortillas
The best tortillas are fresh corn tortillas. The best choice is corn tortillas straight from a tortilleria, or from a Mexican grocery that is stocked fresh every day. The next best choice is to make at home. We buy bags of Masa Harina, mix up the dough, and cook them ourselves right before serving.
The problem with corn tortillas is you can't store them. A day or two in the refrigerator and they are pale shadows of themselves. Flour tortillas don't have that problem - they'll last for weeks in the refrigerator, and once they're reheated, they're pretty good. If I have to buy tortillas from a grocery store, I buy flour tortillas.
I use both - I always have a a bag of flour tortillas in the fridge for emergency quesadillas, and plan one night a week to make homemade corn tortillas for tacos.
6. Cumin - whole seeds or ground
After dried chile peppers, cumin is the most used spice in Mexican cooking. Usually, the two are used together - cumin is a natural companion to dried chiles. Cumin can also stand on its own as a spice, especially with a squeeze of lime juice.
7. Mexican Oregano
A different plant from the Greek or Italian oregano that we are used to, I like its unique flavor in my Mexican dishes.
8. Mexican cheese
I know that drowning food in cheese is a Tex-Mex thing, not a Mexican thing. If I'm feeling Tex-Mex, my cheese is shredded colby jack. If I want a more authentic cheese, I crumble on some cotija or shred some oaxaca.
9. Tomatillos
Unwrap the husk of a tomatillo, and you'll find a small, green fruit that looks like an unripe tomato. But it is ripe, and ready to use, once the sticky coating has been rinsed away. Tomatillos are the main ingredient in green salsa, the perfect accompaniment to beef or Mexican chorizo.
10. Cilantro
Cilantro is a love it or hate it ingredient. Salsa just doesn't taste right without it, but I know some people have a strong negative reaction to the flavor. If you are cilantro-averse, substitute thyme or parsley.
The next five...especially if you have a Mexican grocery nearby
Tortilla chips (Can't have salsa without Tortilla chips...)
Tostadas (Fried corn tortillas. Think of the world's largest tortilla chip)
Chorizo (Make sure to get uncooked Mexican style chorizo. Spanish chorizo is dry cured and delicious, but the spices are wrong for Mexican cooking.)
Mexican Hot Sauce (El Yucateco green habanero, if I have to pick just one)
Avocados (I have a hard time thinking of avocados as a pantry ingredient, with how quickly they turn from ripe to browned...but how else could I make guacamole?)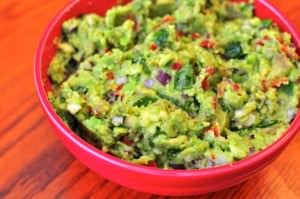 Guacamole!
What does this list give me?
With these ten ingredients in my pantry, and a quick stop at the grocery store, almost all of Mexican cooking is open to me. Some sample menus:
Buy some chicken thighs, sprinkle them with a rub of chile pepper, cumin, and mexican oregano, serve with a red salsa, black beans, and tortillas
Buy some skirt or flank steak, sprinkle with a rub of cumin and lime, and serve with tomatillo salsa, grilled poblano peppers and onions, corn, and tortillas
Buy some pork chops, make a dried pepper salsa and rub it into the chops. Grill, and serve with guacamole, refried beans, peppers, and tortillas.
What do you think? Questions? Comments? Ingredients you can't believe I left out? Talk about it in the comments section...
Suggested Reading:
Diana Kennedy - From My Mexican Kitchen
Rick Bayless - Mexican Everyday
*Enjoyed this post? Want to help out DadCooksDinner? Subscribe to DadCooksDinner using the RSS or Email options on the right, link to this post from your blog, recommend DadCooksDinner to your friends, or buy something from Amazon.com
through the links on this site. Thank you.