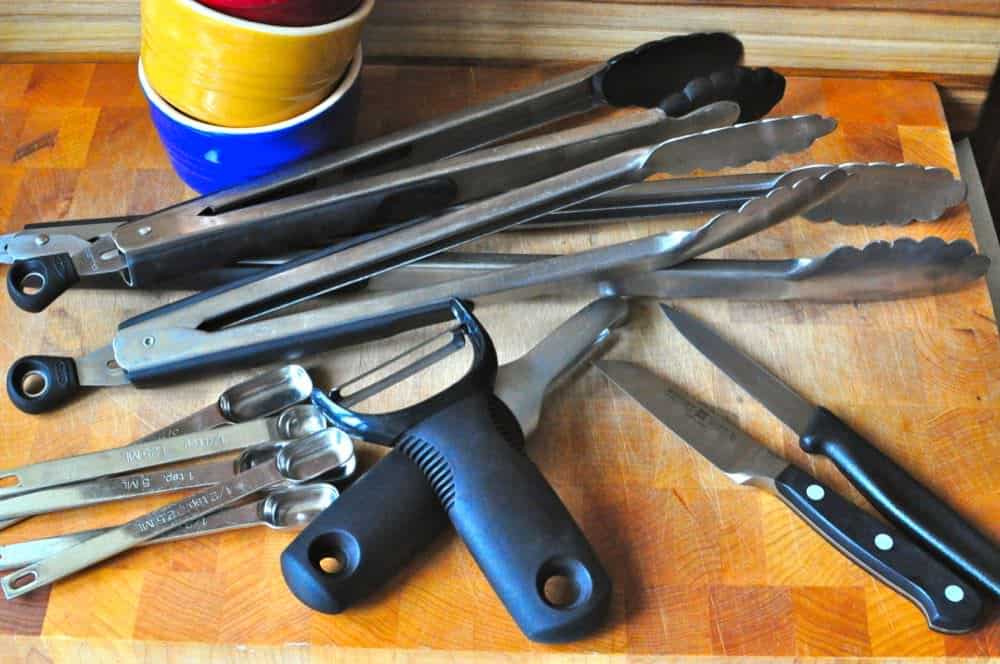 What kitchen tools do I really need? I was thinking back to my minimalist kitchen list...while trying to cram a whisk into my overflowing utensil crock. Why do I have all this stuff? It dawned on me - there are kitchen tools where I can't just have one. What tools are so necessary that I keep buying extras, just in case one is in the dishwasher?
1. Tongs
Spring loaded tongs are my hands, at the stove and on the grill. I keep three different styles of tongs. 12 inch tongs for general kitchen usage; 12 inch tongs with nonstick-safe heads, to protect nonstick and enameled cast iron cookware; and 16 inch tongs for grilling, to give me a little extra reach before I get over the fire.
2. Paring Knives
I love knives. I have a lot of paring knives; too many, honestly, but when I see a new knife I have to have it. Setting aside my knife addiction, the paring knives I use every day fall into two general types. The first is my cheap Victorinox paring knives. I use these for rough work; anything where I would want to throw it in the dishwasher when I was done. I use them for everything from trimming fat to opening packages to coring apples. The second type of knife is my (expensive) sheep's foot granton edge paring knife. This one comes out when I need to do fine work, like mincing and dicing shallots or garlic.
3. Peelers
I'm in the middle of a peeling conversion. I started with straight peelers; the Oxo peeler was a revelation when it first came out. Now I've switched over to Y peelers. "Hold it like a pencil" was what I read, I tried it, and I'm a Y peeler convert.
Why Y? Y not?
Either type, it always helps to have an extra peelers. If someone wants to help peel potatoes, I don't  turn them down.
4. Measuring Spoons/Measuring Cups
There's nothing worse than needing a half-teaspoon of baking soda and finding out the half-teaspoon is in the sink and covered in batter. I have two sets of measuring spoons and measuring cups, which means I don't have to constantly wash them out when I'm baking.
5. Pinch bowls/Ramekins
Mise en place, "everything in its place", is the key to professional cooking. I'm a home cook, so I prep as I go, but I'm always reaching for my pinch bowls to hold a few ingredients for later.
Honorable mention:
Why is my utensil crock overflowing? Because of: flat edged wooden spoons, ladles, serving spoons, spatulas, turners, and whisks. How could I get by with only one of those?
What do you think? I'm sure I forgot something...what did I miss? Leave them in the comments section below.
Enjoyed this post? Want to help out DadCooksDinner? Subscribe using your RSS reader or by Email, recommend DadCooksDinner to your friends, or buy something from Amazon.com through the links on this site. Thank you!