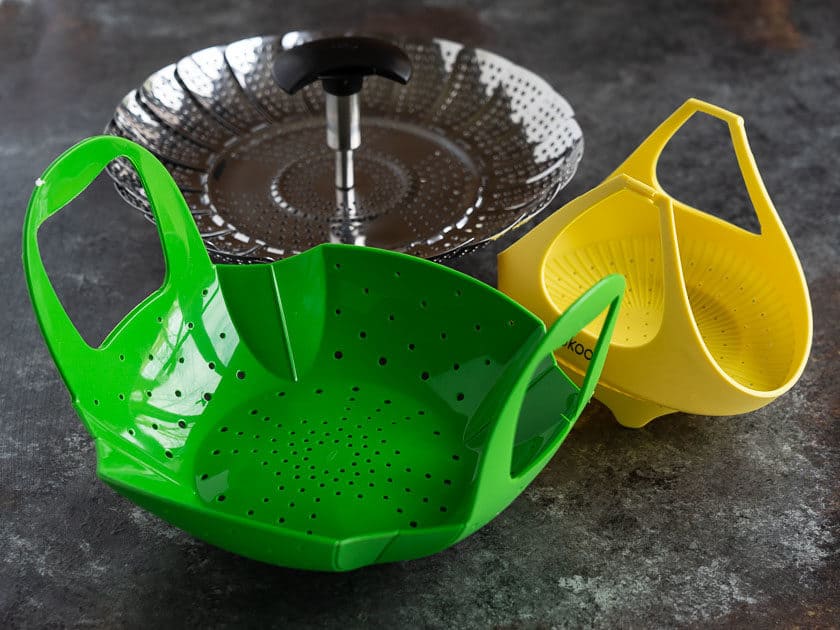 One of my oldest kitchen tools is a stainless steel steaming basket, the kind that flips open and closed, its metal petals folding in on themselves like a flower.
Every time I take it out, I have to flip it open and closed a few times. It's my version of a fidget spinner. Flip, flop. Flip, flop. Flip, flop, flip.
My generic basket lasted for decades, but it finally fell apart a month ago, when a couple of petals came loose. I suspect the kids in another kitchen murder…but it was old enough that the cheap stamped metal probably just gave up due to age.1
After a moment of respectful silence, it was time to go gadget shopping!
The kitchen silicone revolution has replaced my spatulas, oven mitts, and pressure cooker racks. I assumed the same would be true of steaming baskets, so I bought two silicone steamers with good Amazon rankings. Almost as an afterthought, I added an Oxo collapsible steel basket so that I could compare the silicone to the old-school stainless steel.
Silicone does not make good steamer baskets.
The killer feature of steel steamer baskets is how they adjust to the sides of a pot. When I lower the basket into, say, my pressure cooker, the basket adapts to precisely fit in the width of the pot. After cooking, the basket lifts out easily, expanding to full size once it clears the top edge of the pot.
My only problem with my old steel basket was the handle. If you can even call it that; there was a cheap metal ring attached to a short post in the center of the basket. Getting a grip on that tiny ring when it was wet and buried in the middle of a bunch of steamed vegetables was frustrating.
Oxo's stainless steel collapsible basket adds a large plastic handle on a telescoping neck. This is an excellent addition to the classic design. No more slippery metal ring; now I have a big handle to grab.
Then came the silicone baskets. They have one useful feature - easy to grab handles. Big silicone loops stick up from the sides on both baskets I tried, easy to grab even when wet. This is why I wanted to try them - it would solve my biggest problem with my steel basket.
But...
Silicone is sticky and not as strong as metal, so the silicone baskets can't use the same sliding flower petal design as the steel baskets.
The Skoo Vegetable Steamer basket does not try to adjust to the sides of the pot. It is smaller with solid sides, built to fit in an Instant Pot with space to spare. And...it is too small. The basket could steam a couple of servings of green beans, not a whole batch of baby potatoes.
The Oxo Silicone Steamer is big enough to be useful. It is built like a cross between a colander and a coffee filter, with thin, fluted sides next to the handles. Those flutes let the sides fold in, and the steamer squeezes itself into my Instant Pot. After cooking, the grippy silicone handles are easy to grab and lift. Unfortunately, the grippy silicone also grabs the sides of the pot. Every time I try to raise the basket, the steel Instant Pot liner comes with it. The basket will not let go of the pot, no matter how much I twist and pull the handles.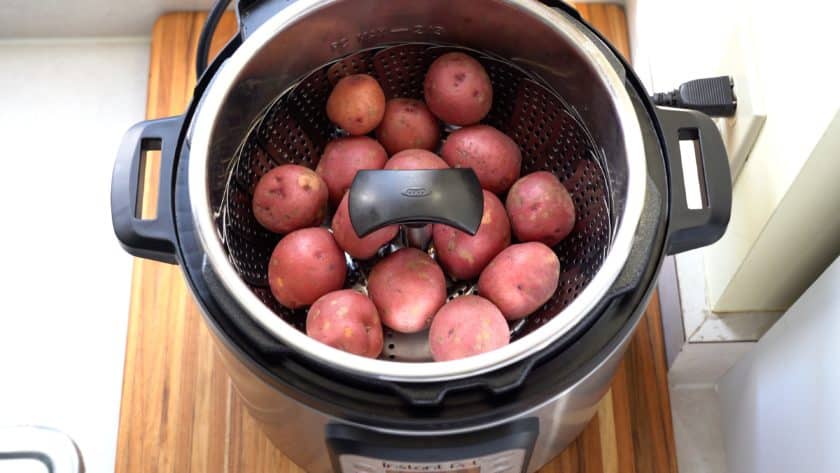 Summary
My new favorite is old faithful, a collapsible stainless steel steaming basket, updated with a big, easy-to-grab plastic handle. And I can flip it open and closed when I need to fidget in the kitchen.
Recommended
Oxo Stainless Steel Steamer with Extendable Handle [Amazon.com]
The silicone baskets (not so recommended)
What do you think?
Questions? Other ideas? Leave them in the comments section below.
Related Posts
Things I Love: Pinch Bowls
Things I Love: Thermapen Instant Read Thermometer
Things I Love: Flat Edged Wooden Spoon
Enjoyed this post? Want to help out DadCooksDinner? Subscribe to DadCooksDinner via email and share this post with your friends. Want to contribute directly? Donate to my Tip Jar, or buy something from Amazon.com through the links on this site. Thank you.
I didn't do it. Nobody saw me. You can't prove anything. ↩︎