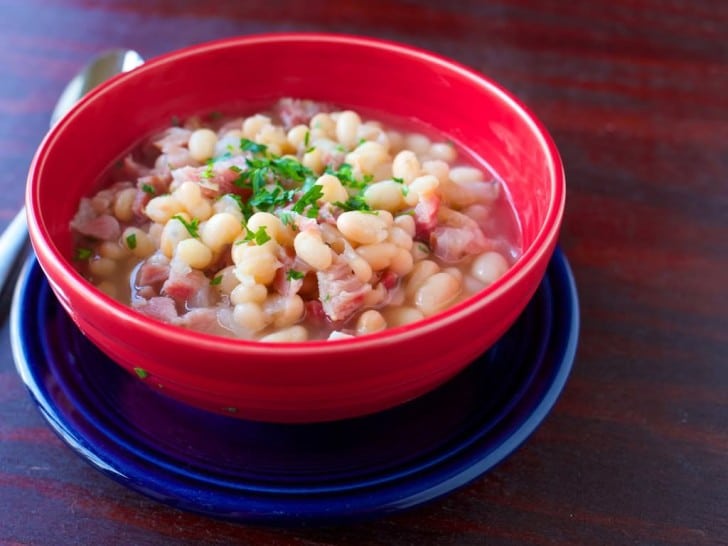 Double checks that it's not spelled "Capital"…phew, I'm good.
US Senate bean soup - served every day in the lunchroom of our nation's capitol - is a perfect example of the marriage of beans and smoked pork. In the Northeast, we use salt pork with beans, a holdover from our European roots and the sailors that crisscrossed the Atlantic. In the Southwest, we use bacon, while I imagine a cowboy nicknamed "cookie" stirring a cast iron pot, over a campfire, surrounded by the open prairie, the vast night sky above him.
Here in the Midwest, pork and beans comes when we have a leftover hambone. In my case, I always get one from our Easter ham, and go looking for bean soup recipes to cook.
Here's a video of one of my favorites - and one of the more popular recipes on my site - US Senate bean soup. Navy beans and ham hocks are what I wrote the recipe for…but a hambone can easily be swapped in for the ham hocks. We want the smoked pork and bones to add body to the bean soup; I'm not picky about where the bones come from.
Video
Pressure Cooker Senate Bean Soup - Time Lapse
[YouTube.com]
Here's the original recipe: Pressure Cooker Senate Bean Soup
What do you think?
Questions? Other ideas? Leave them in the comments section below.
Related Posts
Pressure Cooker Ham and Yellow Split Pea Soup - Dad Cooks Dinner
Pressure Cooker Lentil and Hambone Soup - Dad Cooks Dinner
Pressure Cooker Bean Mix Soup - Dad Cooks Dinner
My other Pressure Cooker Recipes
My other Pressure Cooker Time Lapse Videos
Enjoyed this post? Want to help out DadCooksDinner? Subscribe via eMail or RSS reader, recommend DadCooksDinner to your friends, and buy something from Amazon.com through the links on this site. Thank you!