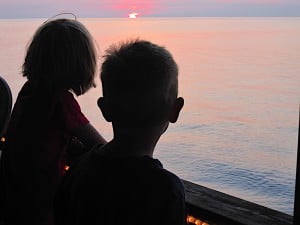 My family has a cottage on Lake Erie. When I go there on our annual vacation, I pack my Weber grill. Everyone packs a grill for a beach vacation, right?
The trick to cooking on vacation is not to get too elaborate. If I spend all day in the water, and the temperature is the 90s, I want to keep it simple; I'm too drained by the end of the day to go crazy. Quick and simple is the key, so I can spend time splashing with my kids, not slaving over a hot stove.
*Um...but, you know me. Later in the week you'll see the Paella I cooked while I was at the cottage. That was a production, but it was worth it. And the best meal I had? Probably my brother's mixed seafood grill, inspired by a cover picture from Fine Cooking magazine. He went to Euclid Fish for lobster and mussels, cooked them on the grill, and served them with some melted butter. Oh...it was amazing. I can still remember wrestling with the lobster claws, trying to get all the meat out...
**Oh, and the big advantage to bringing the grill is you can cook outdoors. When it is 95*F with 80% humidity, and the cottage doesn't have air conditioning, cooking outdoors is not a choice, it is a survival skill. Once, I made the mistake of stir frying some green beans on the stove. It was while Matt was grilling the lobsters. I couldn't just stand around; I was getting twitchy, and had to cook something, anything. I was drenched in sweat by the time I was done. The beans were good, though.


I learned simple summer cooking from my Mom. She was my Original Locavore, stopping at all the farm stands in Madison, Ohio, near our cottage. She didn't do this for any big, ethical reasons; she just knew that if she bought great tasting local corn, tomatoes, and fruit, she wouldn't have to mess with it. A little salt on some sliced tomatoes, some boiled corn, and all dinner needed was my dad or an uncle grilling some protein. Even as a teenager, when I would eat anything that wasn't nailed down, I could see why Mom would seek out fresh, local food. The flavors were eye opening - it tasted so much better when you bought it from the farm, the day it was picked.
*Even if I did get stuck with shucking a lot of corn. Now I find it soothing, kind of a zen experience.


This week, I'll be sharing a couple of recipes I cooked at the cottage. What recipes do you pull out when you're on vacation, trying to beat the heat, and relax by the water? Share them in the comments below.
*I want to apologize in advance - the pictures in this week's recipes are few and far between, because, well, I was on vacation!
Related recipes:
Here are some summer favorites from DadCooksDinner:
Grilled Corn
BBQ Chicken
Grilled Monster Zucchini
Green Bean Stir-Fry (not recommended, but if you're interested...)
*Enjoyed this post? Want to help out DadCooksDinner? Subscribe using your RSS reader or by Email, recommend DadCooksDinner to your friends, or buy something from Amazon.com through the links on this site. Thank you!