About DadCooksDinner:
Hello!
I'm Mike Vrobel, a food-obsessed dad who cooks dinner for his family every day. I blog to share my passion for food.
If I didn't share, I'd probably explode.
I believe in home cooking, simple cooking, and cooking with real food.
I believe that basic techniques set cooking free from recipes. I also believe that technique can constantly be improved.
Especially my technique. I'm a self-taught home cook, so I'm constantly learning new things.
I believe that understanding the science behind cooking makes me a better cook.
I focus on grilling and rotisserie cooking because I'm a guy, and cooking over a live fire satisfies deep seated Y chromosome needs. I write about weeknight cooking because I cook for myself, my wife, and our three kids every night. Beyond that, I go wherever food mania takes me. This covers a lot of ground, from what to do with that strange new vegetable in my CSA to how to make Vietnamese Pho in my pressure cooker.
DadCooksDinner is a one-man effort; I am the writer, editor, photographer, cook, recipe tester, grill lighter, and dishwasher.
*OK, my wife and kids help with the dishwashing.
I hope you enjoy my ramblings about food. Please stop back soon!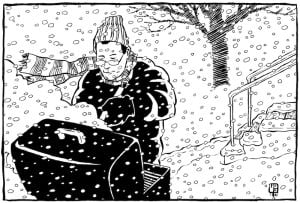 [DadCooksDinner grilling in the snow - picture by Kev Anderson]
Contact Information:
Email is the best way to contact me. Email me at dadcooksdinner@gmail.com
Follow me!
Subscribe to Dad Cooks Dinner by Email
Subscribe in a reader
As Seen On:
Blog Policies:
Disclosure Policy, where I disclose all the hidden secrets behind this blog and how I make money.
OK, there aren't any secrets. I don't make that much money, but I do want my FTC mandated disclosure to sound interesting.
Privacy Policy (required for Google Adsense)
I can't think of ANYTHING that would make a privacy policy interesting. I tried, but I came up with a blank. Sorry.
Advertising:
If you are a reader, and you want to support DadCooksDinner, thank you! If you buy something through the Amazon.com links on this site, I get a commission.
I am part of the BlogHer Advertising network and the Google Adsense network, both of which put restrictions on additional ads I can run. I am not looking for additional ads at this time.