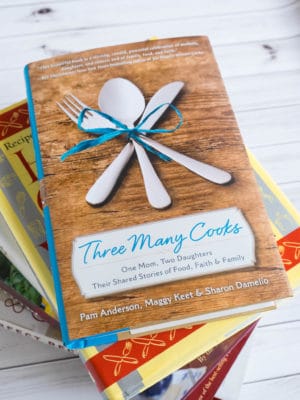 Pam Anderson is one of my biggest cooking influences, and I've been hearing stories about her daughters, Maggy and Sharon, since I attended a cooking class of Pam's back in 2002.
I own all of Pam's cookbooks, so I was excited to read Three Many Cooks: One Mom, Two Daughters: Their Shared Stories of Food, Faith & Family. I enjoy the stories on their blog, and I wanted to see what they had in a book. I was surprised - these stories cut close to the bone. They talk about love and loss, fear and hope, faith and doubt, dreams and tragedies. They don't sugarcoat their relationship with each other - they show how they love each other even with their disagreements.
They also show how food is more than just fuel. The stories show the good side of living to eat: bringing everyone together at the table, with a common purpose. How food is central to taking care of a family, celebrating, comforting, and sharing.
As the father of three children, with my oldest inching into his teen years, this book was riveting. This book is the history of a family. From a mom with squabbling kids, to angst-ridden teenagers, to distant college students and empty nest parents, to adults with jobs and responsibilities. They don't hold back - these are stories of the tough times, as well as the good times, and how both define a family.
Before I read this book, I felt like I knew Pam, Maggy and Sharon in that strange "internet friends" kind of way - we've exchanged emails a few times, and I read their blog. (I finally met them all in person at their Big Harvest Potluck blogger get together last year.) This book is exactly what I was looking for - a chance to find out more about the Three Many Cooks, a fun read, and surprisingly emotional. It made me fire up the grill and make Pam's Lemon Chicken Wings for dinner, to bring my family together at the table. What more can I ask for in a food memoir?
What do you think?
Questions? Other ideas? Leave them in the comments section below.
Related Posts
Road Trip: The Big Harvest Potluck 2014
DadCooksDinner and Pam Anderson, back in 2002
Review: Pam Anderson's Perfect One Dish Dinners
Enjoyed this post? Want to help out DadCooksDinner? Subscribe to DadCooksDinner via eMail or RSS reader, recommend DadCooksDinner to your friends, and buy something from Amazon.com through the links on this site. Thank you.